Sophomore composition student a semifinalist in London-based international music competition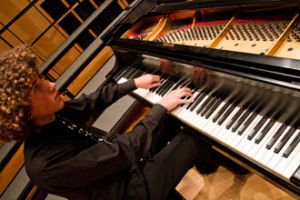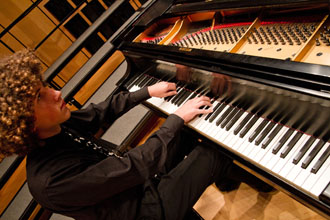 GOSHEN, Ind. – The best composers start at a young age: Chopin was 7 when he had his first piece of music published; Mozart was 5. Even though Henry Stewart already has his driver's license, at 19 years old he is still the youngest semifinalist in an international composition competition, and as a sophomore at Goshen College, he is the only undergraduate in the competition.
The Villiers String Quartet's New Works Competition, held annually in London, is the first classical music competition of its kind to allow public votes to decide the winner. The competition is limited to original, unpublished works for string quartet by composers aged 35 and under from all over the world. From the 54 original entries submitted in early January, it's now down to six semifinalists, and Stewart (of Lancaster, Pa.) is one of them – among students attaining their master's and doctorate degrees, aged 23 to 34.
For the second stage of the Villiers Quartet's New Works Competition, the quartet has recorded one movement from each of the six works and placed them on their website at www.villiersquartet.com/2012competition for a public online vote that opened for a month beginning on March 5.
The top three finalists with the most votes will be announced on April 5. They will have their works performed live in the final round by the Villiers Quartet on April 29 at St. Andrew's Church in Fulham Fields, London. Conductor and violinist Thomas Kemp will host the proceedings, and the concert will be streamed over the Internet.
The winner will be decided at the concert by audience vote, and will receive a cash prize of 500 pounds, a studio recording of his piece and the performance of his work by the Villiers Quartet in upcoming seasons.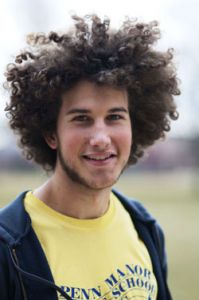 The first movement of Stewart's two-movement piece, titled "Threnody/Images," was inspired by a photograph of a woman he saw in Jerry Mason's 1979 collection of photography, "The Family of Woman."
"The look on the woman's face led me to think about the concepts of sorrow and beauty, and how they're mixed," said Stewart.
Inspiration for the second movement came from a sudden recollection of a childhood delirium, which reoccurred when he had nightmares or had a fever — a vision of a great, terrible, black fire on the horizon of an empty plain.
Stewart said that one of the most important things about composing for him is the ability to inspire emotions that he feels in other people.
But music isn't the only thing that Stewart studies at Goshen College; he's a music composition and biochemistry double major. "I wanted to come to college to learn stuff, and I didn't want to give anything up or leave any of my interests behind," he said. He sees his double major as a way for him to do something he likes (science) to support his passion (music).
Even though there aren't many composition students at Goshen (this year there are three), Stewart said he is learning something new each time he has a lesson. He is advised by Jorge Muñiz, adjunct professor of composition and Indiana University of South Bend music program director, theorist and composer. "I consider myself very fortunate to have Jorge as a teacher," said Stewart. "He is one of the most brilliant, gracious people I have ever met, and he has guided my composition education in a masterful way."
Before coming to college, Stewart said he hadn't ever formally composed a musical piece. Since becoming a composition student, he has composed around one piece a semester. "Threnody/Images" is only the third piece he has ever composed, and he wasn't even finished with it by the time he went on Christmas break at the beginning of December. Muñiz emailed him about the composition competition while he was on break, so he quickly put the finishing touches on the piece before submitting it a few weeks later.
As for being the youngest semi-finalist in the competition, Stewart doesn't attribute much importance to it. "This is still the beginning of the road for me," he said. "I still have lots of work to do."
Editors: For more information about this release, to arrange an interview or request a photo, contact Goshen College Acting News Bureau Coordinator Alysha Bergey Landis at (574) 535-7762 or alyshabl@goshen.edu.
### 
Goshen College, established in 1894, is a residential Christian liberal arts college rooted in the Anabaptist-Mennonite tradition. The college's Christ-centered core values – passionate learning, global citizenship, compassionate peacemaking and servant-leadership – prepare students as leaders for the church and world. Recognized for its unique Study-Service Term program, Goshen has earned citations of excellence in Barron's Best Buys in Education, "Colleges of Distinction," "Making a Difference College Guide" and U.S. News & World Report's "America's Best Colleges" edition, which named Goshen a "least debt college." Visit www.goshen.edu.