Incoming Goshen College first-year students to get an iPad as part of mobile technology initiative and new general education curriculum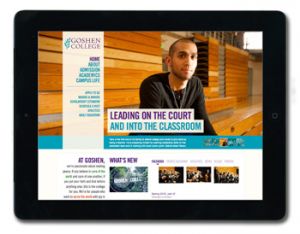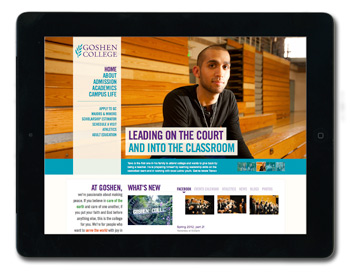 GOSHEN, Ind. – All new first-year students entering Goshen College in the fall of 2012 will get an iPad mobile computing device — the third-generation version announced Wednesday by Apple Inc. — to use as part of the college's new general education curriculum.
President James E. Brenneman said Thursday that providing the iPads will be the first phase of the college's new iCore Technology Initiative, a multi-year effort to help students, faculty and staff explore, develop and use cutting-edge mobile technology for educational purposes.
"I'm excited that we are building on Goshen College's tradition of educational innovation to support our core values and mission," Brenneman said. "We believe that the iCore Technology Initiative will help usto use mobile technology to support creative new approaches to teaching and learning. We also hope it will help our students and faculty better connect with one another and with the world."
Summary:
What: Goshen College announced an iCore Technology Initiative, which will support a transformational new curriculum for all new students called the Goshen Core. Phase one will include the distribution of iPads to new students to use with the Goshen Core curriculum.
When: Implementation of iCore Technology Initiative is under way, and new iPads are expected to arrive on campus in the coming weeks. Every new first-year student entering Goshen College in the fall of 2012 will get an iPad.
Why: Goshen College is embarking on a multi-year effort to help students, faculty and staff study, develop and use cutting-edge mobile technology for educational purposes. The central goal is to prepare students for life and work in a rapidly evolving information landscape in which mobile technology devices, including iPad-style tablets and smart phones, are replacing personal computers and laptops as primary computing devices.
Learn more: www.goshen.edu/iCore
---
Beginning this fall, the college will launch a new general education curriculum called the Goshen Core — a series of classes every student will take to graduate. The Goshen Core will include a first-year experience to solidify fundamental academic skills, an intercultural component to equip students with essential skills for the 21st century and perspectives courses focused on investigating complex problems to promote interdisciplinary exploration.
All incoming full-time, first-year students will receive an iPad to use for their academic, professional and creative endeavors, including the development of multimedia e-portfolios and easy access to electronic textbooks. Integrating the iPad into the new Goshen Core also is intended to prepare students for life and work in a rapidly evolving information landscape in which mobile technology devices, including iPad-style tablets and smart phones, are replacing personal computers and laptops as primary computing devices.
Later this semester, all faculty members involved in teaching courses in the Goshen Core curriculum will get the new iPads so they can begin to develop iPad-specific curriculum. It is expected that class readings will be done on iPads and that they also will be used for class schedules, communication, writing assignments and perhaps audio and video projects.
Current students and faculty members, not involved in the first-year program, will get access to iPads via a campus check-out program so they can explore how to incorporate the device in their courses and co-curricular programs.
Associate Academic Dean Ross Peterson-Veatch said the iCore Technology Initiative will support Goshen College's core value of passionate learning, with its call to master a major field of study as the basis for life-long learning, service, relationships and work in a socially and culturally diverse context as well as to develop an "extensive foundation of knowledge, skills, processes and methodologies" needed in the 21st century.
"Just as an earlier generation wrestled with the role of personal computers in a Goshen College education, the college now faces defining how mobile technology will influence teaching and learning," Peterson-Veatch said. "By equipping students with iPads, we will be establishing a digital foundation that supports innovation by students and faculty members."
Peterson-Veatch said he believes iPads will enhance learning through ready access to online resources, campus network services, digital reference materials, digital books, collaboration and productivity tools, and discipline-specific applications.
The iPad also will serve as the college's multimedia e-portfolio platform. That will allow students to create and store their work, tell their story and present themselves as interculturally competent, well-prepared professionals in ways that will support and distinguish the Goshen Core curriculum from offerings at other liberal arts colleges, Peterson-Veatch said.
The college's Student Life Office plans to use the iPad for orientation purposes. Information normally provided in printed form, including class schedules, a campus map, orientation materials and the residence life guide, instead will be pre-loaded on iPads so that incoming students will have immediate and continuing access to vital information.
In the process, the college expects to reduce paper consumption and the related direct and energy costs involved in the purchase and delivery of paper and ink and the printing of documents. Goshen College students, faculty and staff print about 2.6 million pages per year.
After deploying the iPads this fall, the college will focus on exploring, using and eventually developing iPad applications to be used in a wide range of disciplines and such learning assets as reference materials, content-creation tools, controllers, simulators and more. Faculty members and students are expected to drive innovation and learn from one another.
A committee, consisting of teaching faculty members, is being formed to address questions of curriculum, pedagogy, the appropriate uses of technology and how community values and personal connections can be enhanced amid extensive usage of iPads. A second committee, made up of faculty and staff, will continue addressing logistical, technical and policy issues.
Although iPads are not currently provided on a large-scale basis on campus, they have been used at Goshen College since Apple introduced them two years ago. Some faculty members use them to take class attendance, maintain appointments and schedules, find information on the Web and communicate with students via email or text messages. Others use them to prepare lesson plans, make classroom presentations, write papers and even create short videos.
Goshen students also are using iPads in and out of the classroom, and taking full advantage of the college's WiFi wireless network, which features high-speed access points throughout the campus.
Jan Matthias Zawadzki, a Goshen junior majoring in business, said he uses his iPad to read e-books, take notes, do homework, check and respond to emails, browse the Web and read the news. He said the device's touch-screen capabilities and applications, more commonly known as "apps," help him to study more efficiently. He said the iPad also saved him money on textbooks.
"Through buying e-books instead of paper books for this spring semester and last May term, I saved about $300 on four books that I purchased," Zawadzki said. "These prices are compared to the cheapest online prices that I could find. For instance, I was able to rent this year's international economics book online for $34 instead of $119 for a used version."
At a news conference Wednesday in San Francisco, Apple officials announced that the latest version of the iPad will be about the same shape and size as the two earlier versions, but will have improved screen clarity, more computing power, a better camera, enhanced video and photo-editing software, a microphone for dictation and a 10-hour battery.
—Written by Richard R. Aguirre
Editors: For more information about this release, to arrange an interview or request a photo, contact Goshen College Director of Public Relations Richard R. Aguirre at (574) 535-7571 or rraguirre@goshen.edu.
###
Goshen College, established in 1894, is a residential Christian liberal arts college rooted in the Anabaptist-Mennonite tradition. The college's Christ-centered core values – passionate learning, global citizenship, compassionate peacemaking and servant-leadership – prepare students as leaders for the church and world. Recognized for its unique Study-Service Term program, Goshen has earned citations of excellence in Barron's Best Buys in Education, "Colleges of Distinction," "Making a Difference College Guide" and U.S. News & World Report's "America's Best Colleges" edition, which named Goshen a "least debt college." Visit www.goshen.edu.