Finally able to cross under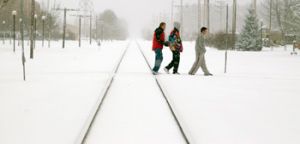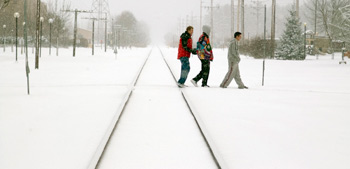 The train track that passes through the heart of the Goshen College campus – dividing most of the classrooms from most of the residence halls – is deeply fused in a love-hate relationship with the nostalgic memories of alumni about their college experience:
from being regularly awoken at 2 a.m. (as well as often at 4 and 6 a.m.!) by the train's horn to having a physics experiment rattled by the train's vibrations;
fromwatching lions, tigers and bears pass by on circus cars to watching a never-ending line of armored vehicles headed for war;
from using the train as an accepted reason for being late to class to waiting an hour to get to the dining hall for supper because of a stopped train.
Though the train isn't going anywhere (nor its horn or vibrations), on July 4 of this year a significant shift will occur when an underpass for pedestrians and bikers will finally be constructed. After more than 10 years of planning and considering possible designs, funding has been secured and construction details are falling into place.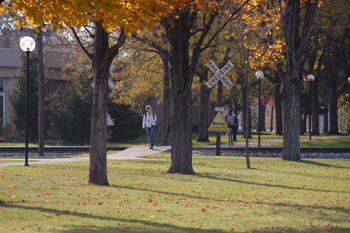 Students will no longer have an excuse for being late to class, but more importantly, a significant safety concern will be addressed. Regularly students (and others) are observed running to try and cross the tracks before a train arrives. And occasionally when trains come to a complete standstill while passing through campus, people cross through it (despite clear written warnings posted and $100 fines for those caught). There are also stories of students who have hopped on the train to catch a ride down the line.
"Now students won't need to run to beat a train or make a bad decision," said Jim Histand, vice president for finance. "I see it as a major safety improvement to campus. We won't use it all the time, but when we need it, it will be a big deal."
Because the train company, Norfolk Southern, is only willing to stop traffic on the tracks for 24 hours, the project will have the bulk of its work done in that short timeframe on July 4. The construction company, Northern Indiana Construction, will actually be fined $5,000 for every hour beyond what is scheduled.
"We are expecting a lot of big equipment and a lot of people that day," said Histand, but the preliminary work will begin in March and the project should be completed by October.
The 10-foot, lit tunnel will allow persons on foot or on bike to cross campus even when a train is passing through (or stopped). Steps will go down on the walkway between the Good Library and Umble Center to a tunnel and then up on the other side to the Kratz-Miller Residence Halls and Connector, with a "runnel" for bikes to use and a chair lift for disabled persons that will be activated if a train stops.
The $1.8-million project is being financed by a grant through the federal Congestion Mitigation and Air Quality Improvement program, and the college is funding the architectural, engineering and planning costs. As much as campus members will benefit from the improvement, it will also serve wider community members who travel through campus on the Winona Bike Trail.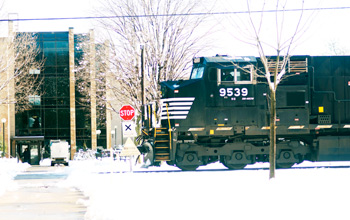 The train has played a significant role in a number of major institutional decisions. In 1903 as the college was considering moving to Goshen from nearby Elkhart, it was a significant reason the present location was chosen over seemingly more illustrious spots in the woods by the Elkhart River or on the city's only hill. At that time, the tracks were part of an interurban line.  Local entrepreneurs added financial incentives to persuade the college to choose a site bordering their railway, and the college recognized the convenience of access to transportation.  Students could easily board a train for downtown, travel to debate tournaments at other colleges, or send their laundry home to be returned, freshly washed and starched, several days later.
And when the Music Center was built in 2002, a location on a campus corner was chosen to minimize vibration and noise. Thanks to acoustical engineering, inside Sauder Concert Hall is possibly the only place on campus where the train can't be heard.
A part of the campus culture is changing, but the train whistles at 2 a.m. will remain and keep students rooted to history.
– By Jodi H. Beyeler
Take a virtual tour through the tunnel under the train tracks that will be constructed on the GC campus in 24 hours on July 4, 2012. Kudos to Utilities Manager and Sustainability Coordinator Glenn Gilbert for making this model in Google Sketchup!