Goshen College student talent show to raise money for employee Habitat house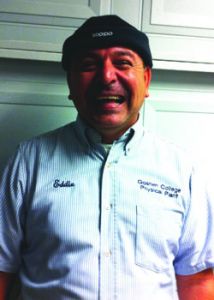 WHAT: The Kick-off talent show is a well-loved tradition among students at Goshen College that celebrates campus talent through song, dance, video and more. This year, the college is inviting the public to the show, and tickets will be sold as part of fundraising efforts to build a Habitat for Humanity house for a GC employee.
Tickets cost $10 for adults and $5 for students and can be purchased through the Welcome Center by calling (574) 535-7566, emailingwelcomecenter@goshen.edu or online at www.goshen.edu/tickets. Tickets also can be purchased at the door.
WHEN: Saturday, Jan. 28, 7:30-9 p.m.
WHERE: Goshen College Music Center's Sauder Concert Hall
WHO: Goshen College is inviting the public to help raise funds for Eddie Mayorga's Habitat for Humanity house. Mayorga is in his 11th year of working for the college's Physical Plant Department.
WHY IT'S NEWS: Habitat for Humanity usually raises money for houses through federal loans and donations, but recent changes in federal policy have left a $25,000 gap in funds for the house the organization was building for Mayorga and his family.
Habitat has decided to continue with the scheduled build for the Mayorgas, but asked Goshen College to help raise the money needed and to help build the house.
Construction of the house will begin on Feb. 27. Those interested in helping to build the house will be able to sign up at Kick-off. There will be additional fundraising opportunities in the coming weeks, as well.
Contact: Alysha Landis, (574) 535-7762, alyshabl@goshen.edu
###
Goshen College, established in 1894, is a residential Christian liberal arts college rooted in the Anabaptist-Mennonite tradition. The college's Christ-centered core values — passionate learning, global citizenship, compassionate peacemaking and servant-leadership — prepare students as leaders for the church and world. Recognized for its unique Study-Service Term program, Goshen has earned citations of excellence in Barron's Best Buys in Education, "Colleges of Distinction," "Making a Difference College Guide" and U.S. News & World Report's "America's Best Colleges" edition, which named Goshen a "least debt college." Visit www.goshen.edu.