Goshen College students to present art exhibit around theme of "North and South"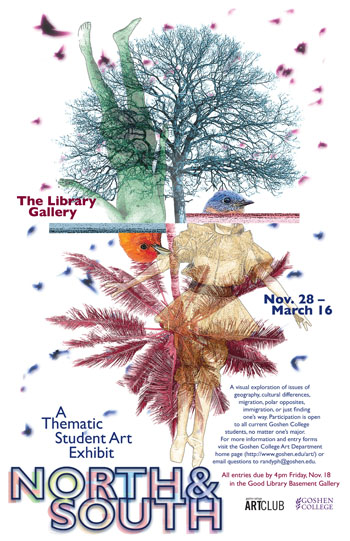 GOSHEN, Ind. – Goshen College students will focus on the theme "North & South" for the Fall Student Art Show, taking place from Nov. 28 to March 16 in the Good Library Basement Gallery. There will be an opening reception on Sunday, Jan. 8 from 3 to 5 p.m. The exhibit is free and open to the public.
The exhibit, co-sponsored by the Goshen College Art Club and the Art Department, will be a visual exploration of issues like geography, cultural differences, migration, polar opposites, immigration or finding one's way.
The Library Gallery, located on the lower level of the Harold and Wilma Good Library on the campus of Goshen College, is open from 8 a.m. to 11 p.m. on Monday through Thursday, 8 a.m. to 5 p.m. on Friday, 1 to 5 p.m. on Saturday and 3 to 11 p.m. on Sunday. Hours vary during academic breaks, summer and holidays. For gallery hours, call (574) 535-7418.
Editors: For more information about this release, to arrange an interview or request a photo, contact Goshen College Acting News Bureau Coordinator Alysha Bergey Landis at (574) 535-7762 or alyshabl@goshen.edu.
###
Goshen College, established in 1894, is a residential Christian liberal arts college rooted in the Anabaptist-Mennonite tradition. The college's Christ-centered core values – passionate learning, global citizenship, compassionate peacemaking and servant-leadership – prepare students as leaders for the church and world. Recognized for its unique Study-Service Term program, Goshen has earned citations of excellence in Barron's Best Buys in Education, "Colleges of Distinction," "Making a Difference College Guide" and U.S.News & World Report's "America's Best Colleges" edition, which named Goshen a "least debt college." Visit www.goshen.edu.