Afternoon sabbatical features GC men's soccer coach Tavi Mounsithiraj sharing his journey "From Laos to Goshen"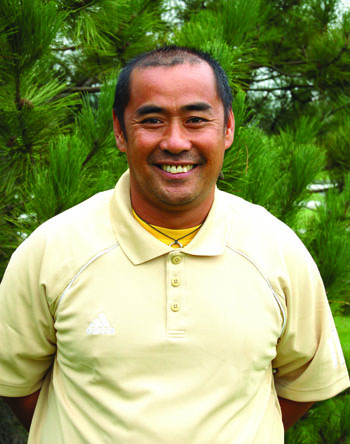 GOSHEN, Ind. – Tavi Mounsithiraj will share his story of fleeing Laos with his family as a 13-year-old boy and adjusting to life in another culture where today he is the head coach of Goshen College men's soccer, leading his team to national recognition. During Afternoon Sabbatical on Tuesday, Nov. 8 at 1 p.m. in Goshen College Music Center's Sauder Concert Hall, Terri Brenneman will help Mounsithiraj tell his story in an interview-style format as he recounts his journey "From Laos to Goshen." The event is free and open to the public.
The Mounsithiraj family was part of the half-million people who left Laos when communists took over the country in the '70s. Tavi Mounsithiraj's father worked for the Laotian government until the increasing communist involvement began causing problems. The family of eight fled the country to a refugee camp in Thailand where they stayed for a year until a Mennonite church in Sturgis, Mich., sponsored the family to come to the United States.
The Laotian family struggled to adjust to a new culture as they began to work and go to school in a country where no one spoke their language. "It was challenging to fit in to such a different culture," said Mounsithiraj. "There aren't very many Laotians in Michigan, so it was not easy to adapt to the new language, food, religion and customs."
In 1994, Mounsithiraj graduated from Goshen College, and two years later he became the college's men's soccer coach, leading them to conference and national championships.
"I have the ability to have faith in my community, believing that it's a good thing to be a part of," said Mounsithiraj. "Despite all of my challenges, I still succeeded and made something of myself."
A reception in the Music Center lobby will follow the program. Afternoon Sabbatical programs are usually on the second Tuesday of the month at 1 p.m. in Sauder Concert Hall or the College Church Fellowship Hall and are free and open to the public. For more information on the Afternoon Sabbatical series call the Goshen College Welcome Center at (574) 535-7566.
Future programs in the Afternoon Sabbatical series include:
Tuesday, Dec. 6, 2011, at 1 p.m. in Sauder Concert Hall, Music Center
"Celebrating Christmas in Art," by Merrill Krabill, professor of art and department chair
At Christmas Jesus' coming to earth is celebrated. How might artists help reveal some of what it means to encounter the divine? God in the form of a human infant seems to be a very different thing than God as the ruler of all. Krabill will explore these thoughts with images from the works of a wide variety of artists.
Tuesday, Feb. 14, 2012 at 1 p.m. in Sauder Concert Hall, Music Center
"Goshen's Coffee Connection," by Rosalyn Troiano, CSA string director, and a "merry band" of performers and singers
Love coffee? Zimmermann's Coffee House, from right here in Sauder Concert Hall, will present a delightful performance of "The Coffee Cantata" by J. S. Bach. Rosalyn Troiano and a "merry band" of instrumentalists will perform this humorous, coffee-loving cantata, featuring Danilelle Svonavec, soprano, Scott Hochstetler, baritone, and Jeff Martin, tenor.
Editors: For more information about this release, to arrange an interview or request a photo, contact Goshen College Acting News Bureau Coordinator Alysha Bergey Landis at (574) 535-7762 or alyshabl@goshen.edu.
###
Goshen College, established in 1894, is a residential Christian liberal arts college rooted in the Anabaptist-Mennonite tradition. The college's Christ-centered core values – passionate learning, global citizenship, compassionate peacemaking and servant-leadership – prepare students as leaders for the church and world. Recognized for its unique Study-Service Term program, Goshen has earned citations of excellence in Barron's Best Buys in Education, "Colleges of Distinction," "Making a Difference College Guide" and U.S.News & World Report's "America's Best Colleges" edition, which named Goshen a "least debt college." Visit www.goshen.edu.