Piano duo Jorge and Jennifer Muñiz to provide "a window to Europe" at Goshen College faculty recital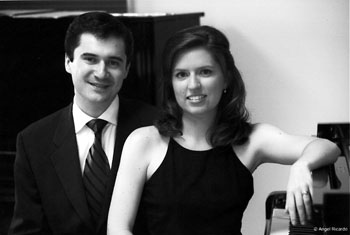 GOSHEN, Ind. – The Duo Vinlanda, husband-and-wife performers Jorge and Jennifer Muñiz, will perform a concert of music for two pianos, titled "Across the Atlantic – A Window to Europe from the America's on Saturday, Nov. 5 at 7:30 p.m. in Goshen College Music Center's Sauder Concert Hall. Tickets, available at the Sauder Box Office one hour before the concert, cost $7 for adults and $5 for seniors and students.
Jorge Muñiz, adjunct professor of composition at Goshen College, is a noted composer currently on the music faculty at Indiana University-South Bend. Jennifer Muñiz served as visiting instructor of piano at Goshen College in the spring of 2011. The program will feature works for two grand pianos by Francis Poulenc, Darius Milhaud, Osvaldo Golijov and 20th century American composer John Corigliano.
A dynamic Spanish-American composer, Jorge Muñiz has been recognized on two continents for his highly expressive style and refined artistry. For five years, he worked on the opera "Germinal," based on the novel by Emile Zola, commissioned by the Opera Festival of Oviedo, Spain. His works have been performed in Spain, Italy, Germany, France and the United States by groups including the Strasbourg Philharmonic Orchestra, Seville Symphony Orchestra, Malaga Symphony Orchestra, Carnegie Mellon Philharmonic, Das Scardanelli Quartett and Cámara XXI.
Jorge Muñiz has garnered many international awards. In addition to the First Grand Prize of the European Young Composers Competition, he has won top prizes from many competitions and foundations and received grants and fellowships from Fulbright and Rotary International, among other institutions.
Born in Switzerland in 1974, Jorge Muñiz earned his master's degree in composition at Carnegie Mellon University, and his doctorate in musical arts in composition from Manhattan School of Music. Before coming assistant professor of music composition and theory at Indiana University South Bend in 2006, he was a member of the Manhattan School of Music theory faculty for four years. Since 2009, he is the coordinator of music and director of graduate studies at the Ernestine M. Raclin School of the Arts at Indiana University South Bend.
Pianist Jennifer Muñiz, has performed in Spain, Italy, Mexico and the United States. Jennifer Muñiz made her New York solo debut at Carnegie's Weill Recital Hall and has garnered numerous awards and honors since her concerto debut at age 11, including several public radio broadcast performances and a four-year performance grant for chamber music from the Liberace Foundation. As the pianist for the Liberace Trio, Jennifer Muñiz performed in many educational outreach presentations, including a video program for the Library of Congress. She has given solo and collaborative performances in Tuscany, Italy, culminating in a world premiere performance in the Duomo in Siena.
Jennifer Muñiz received her master's and doctorate degrees in music from Manhattan School of Music. She has worked as a vocal coach for Manhattan School of Music and Barnard College, and maintained a private studio in New York City for seven years. She served as a piano instructor and accompanist at the University of Notre Dame for four years.
Jennifer Muñiz taught piano at the Magistralia summer course in Spain, and was featured on a compact disc of contemporary Asturian songs released in 2007. Currently, she is performing as a collaborative pianist with an emphasis in contemporary music and is a visiting assistant professor of music, accompanying and music theory at Indiana University South Bend.
Editors: For more information about this release, to arrange an interview or request a photo, contact Goshen College Acting News Bureau Coordinator Alysha Bergey Landis at (574) 535-7762 or alyshabl@goshen.edu.
###
Goshen College, established in 1894, is a residential Christian liberal arts college rooted in the Anabaptist-Mennonite tradition. The college's Christ-centered core values – passionate learning, global citizenship, compassionate peacemaking and servant-leadership – prepare students as leaders for the church and world. Recognized for its unique Study-Service Term program, Goshen has earned citations of excellence in Barron's Best Buys in Education, "Colleges of Distinction," "Making a Difference College Guide" and U.S.News & World Report's "America's Best Colleges" edition, which named Goshen a "least debt college." Visit www.goshen.edu.