Professors of Music Brubaker and Hochstetler to join students for Goshen College faculty vocal recital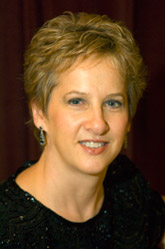 GOSHEN, Ind. – Goshen College music professors Dr. Debra Brubaker, mezzo-soprano, and Dr. Scott Hochstetler, baritone, will perform a vocal recital with Goshen College music students on Friday, Oct. 21 at 7:30 p.m. in Goshen College Music Center's Rieth Recital Hall. Tickets are $7 for adults and $5 for seniors and students, available at the door an hour before the concert.
Brubaker and Hochstetler will perform solo and ensemble works, highlighted by a performance of Johannes Brahms' "Liebeslieder-Walzer," featuring GC students pianist Ben Breckbill, a junior Bible and religion and music double major from Lincoln, Neb.; tenor Luke Slagel, a junior youth ministry major from Goshen; and soprano Adrienne Yoder, a senior music and psychology double major from Lititz, Pa. Pianist Christine Larson Seitz will also perform. The program will also feature J.S. Bach's Cantata No. 56, "Ich will den Kreuzstab gerne tragen," for baritone voice.
Brubaker, professor of music at Goshen College, teaches in the areas of vocal and choral music. She holds a doctorate of musical arts from the University of Kansas, a master's of music from the University of Northern Colorado and an undergraduate degree in music from Goshen College. Brubaker was assistant professor of music at Bluffton (Ohio) College for 10 years, and has also taught choir in public schools in Indiana and Colorado.
Since coming to Goshen in 1999, Brubaker has directed the Goshen College Chorale and Chamber Choir, and has created the Women's World Music Choir, which performed in Grand Rapids (Mich.) at the American Choral Directors Association's (ACDA) North Central Regional Convention in February, 2008. She and her choirs have collaborated and performed with such noted conductors as Alice Parker, Vance George, Donald Neuen, Gregg Smith and Augusta Read Thomas. A focus of BrubakerÕs research and teaching explores how the use of singing can become a catalyst for connection between people of differing cultures, faiths and circumstances, also highlighting the role of women as creators and sustainers of art and culture.
Hochstetler, assistant professor of music at Goshen College, teaches in the vocal, choral and opera theater programs. He holds a doctorate of musical arts in choral conducting from Michigan State University, a double master's of music in conducting and voice from the University of Michigan, and a bachelor of arts degree in music and biology from Goshen College. Under his direction, the Goshen College Men's Chorus has been selected to perform for the ACDA regional convention in March 2012. He is also the newly appointed director of the St. Joseph Valley Camerata, an area professional choir. Previous appointments include Western Mennonite School (Salem, Ore.), the University of Michigan and Corban College (Salem, Ore.).
The Choral Journal has published his scholarly work on Vaughan Williams, and he is the co-author of the "IPA Pronunciation Guide to Translations and Annotations of Choral Repertoire, German Texts." As a baritone, he has performed opera and oratorio roles and given recitals in Indiana, Michigan and Oregon.
Editors: For more information about this release, to arrange an interview or request a photo, contact Goshen College Acting News Bureau Coordinator Alysha Bergey Landis at (574) 535-7762 or alyshabl@goshen.edu.
###

Goshen College, established in 1894, is a residential Christian liberal arts college rooted in the Anabaptist-Mennonite tradition. The college's Christ-centered core values – passionate learning, global citizenship, compassionate peacemaking and servant-leadership – prepare students as leaders for the church and world. Recognized for its unique Study-Service Term program, Goshen has earned citations of excellence in Barron's Best Buys in Education, "Colleges of Distinction," "Making a Difference College Guide" and U.S.News & World Report's "America's Best Colleges" edition, which named Goshen a "least debt college." Visit www.goshen.edu.