Goshen College to host forum for Goshen city mayoral candidates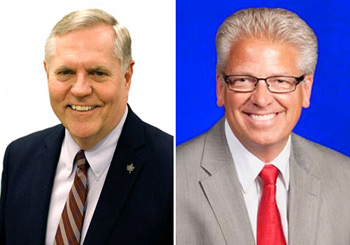 GOSHEN, Ind. – Democrat Allan Kauffman, the incumbent Goshen mayor, and Republican Don Riegsecker, a Goshen city council member, are the two candidates in the Nov. 8 general election for Goshen's next mayor. They will both be on the Goshen College campus twice on Monday, Oct. 3 to discuss their reasons for seeking election as mayor.The candidates will speak during campus convocation at 10 a.m. in Goshen College's Church-Chapel and again during a forum at 7:30 p.m. in the Music Center's Sauder Concert Hall. Both events are free and open to the public.
During the convocation, the candidates will specifically focus on what they hope to accomplish as mayor in the context of servant leadership, one of Goshen College's core values and the convocation theme for this year.
In the evening, the Yoder Public Affairs Lecture Committee will sponsor a mayoral candidates forum. Each candidate will speak on his vision for the city of Goshen as mayor, followed by a question period (involving a time for questions from the audience), moderated by Vince Turner, vice president and regional manager of Mutual Bank in Goshen.
Del Good, chair of the Yoder Public Affairs Lecture Committee, said, "The Frank and Betty Jo Yoder Public Affairs Lecture series was established to give the Goshen community the opportunity to hear persons of interest and expertise on current issues of broad interest. It seemed important to help provide a forum for the community to hear from our mayoral candidates on the issues facing our local community."
The Frank and Betty Jo Yoder Public Affairs Lecture Series is an endowed lectureship, created for Goshen College in 1978 by Frank (1917-1996) and Betty Jo Yoder of Goshen with the goal of enabling faculty, students and community to hear well known speakers address current issues. Each year, experts from a wide variety of fields and vocations visit campus. Speakers have included Frances Moore Lappe, Ralph Nader, Juan Williams and Bill McKibben.
Editors: For more information about this release, to arrange an interview or request a photo, contact Goshen College Acting News Bureau Coordinator Alysha Bergey Landis at (574) 535-7762 or alyshabl@goshen.edu.
### 
Goshen College, established in 1894, is a residential Christian liberal arts college rooted in the Anabaptist-Mennonite tradition. The college's Christ-centered core values – passionate learning, global citizenship, compassionate peacemaking and servant-leadership – prepare students as leaders for the church and world. Recognized for its unique Study-Service Term program, Goshen has earned citations of excellence in Barron's Best Buys in Education, "Colleges of Distinction," "Making a Difference College Guide" and U.S.News & World Report's "America's Best Colleges" edition, which named Goshen a "least debt college." Visit www.goshen.edu.