Parables worship team inspires with songs, stories and drama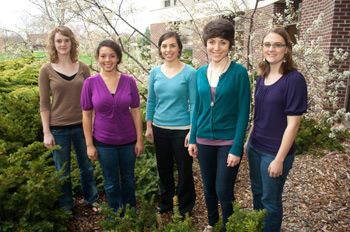 GOSHEN, Ind. – The Goshen College student-led worship team, Parables, will use music, personal stories and original drama to worship in congregations and other venues over the next year. The program for 2011-12 follows the theme of "Whole and Broken." Parables is directed by Professor of Music Debra Brubaker and includes Eliza Graber (Plain City, Ohio), Emily Grimes (Goshen), Stephanie Hollenberg (Elkhart, Ind.), Brook Hostetter (Harrisonburg, Va.) and Lauren Treiber (Grand Rapids, Mich.).
Fall 2011-12 schedule for Parables:
Sunday, Oct. 2 – 10 a.m., Downtown@8:08, Goshen
Sunday, Oct. 9 – 9:15 a.m. and 11 a.m., First Presbyterian Church (The Bridge), Elkhart, Ind.
Oct. 15-19 – Fall break tour to Virginia and Ohio
Sunday, Nov. 13 – 9:30 a.m., College Mennonite Church, Goshen
Performance dates are still being confirmed and more will be added throughout the year. For more information about Parables and scheduling the group, contact Bethany Swope at (574) 535-7119 or e-mail churchrelations@goshen.edu.
Editors: For more information about this release, to arrange an interview or request a photo, contact Goshen College News Bureau Director Jodi H. Beyeler at (574) 535-7572 or jodihb@goshen.edu.
###
Goshen College, established in 1894, is a residential Christian liberal arts college rooted in the Anabaptist-Mennonite tradition. The college's Christ-centered core values – passionate learning, global citizenship, compassionate peacemaking and servant-leadership – prepare students as leaders for the church and world. Recognized for its unique Study-Service Term program, Goshen has earned citations of excellence in Barron's Best Buys in Education, "Colleges of Distinction," "Making a Difference College Guide" and U.S. News & World Report's "America's Best Colleges" edition, which named Goshen a "least debt college." Visit www.goshen.edu.