Getting help finding a job may be easier than college students think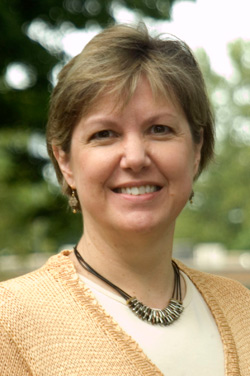 GOSHEN, Ind. – In a time when jobs are difficult to come by, many people are searching for ways to be more marketable to employers. For students at Goshen College, there's one resource that can do that and more – and it's free. The Goshen College Career Services Office helps students prepare for professional employment after graduation, and Director of Career Services Anita Yoder says there are several efficient ways to better equip oneself – whether a Goshen College student or not – for the job market.
Yoder, who was elected this summer as president of the Career Development Professionals of Indiana for the 2011-12 academic year, said that one of the best things students can do is network with people in their field. "Employers are still pretty reluctant to publicize openings because they get overwhelmed with applicants," she said. "It's much more efficient for them to find employees and interns through their network without advertising."
An easy way to get connected with the right people is through social media. Goshen College's Career Services website (www.goshen.edu/careerservices) has links to a LinkedIn.com alumni group and an online alumni network where students can contact previous graduates for information and advice.
Once the initial connection with the employer is made, the next crucial step is the interview. Yoder said that it's important for a job seeker to know his or her strengths and to be able to communicate them well to the potential employer. Practice is the best way to get good at this, she said.
Twice a year, the college's Career Services Office organizes a mock interview event, Super Tuesday, which gives students the opportunity to receive one-on-one practice interviews and résumé reviews with local employers and professionals. "That particular event always creates mixed emotions for students. Some find it pretty daunting but others are eager to test their ability to interview," said Yoder. "Because they receive immediate feedback in a safe environment, nearly every student says it's worthwhile and some even do it more than once."
Another tip Yoder offered is to bring a well organized and easy-to-read résumé, along with samples of your work (if applicable), to the interview. The college's Career Services website offers information on preparing for employment or grad school, like résumé templates and tips for writing a good cover letter.
Preparing for the job search may seem overwhelming, Yoder said. That's why it's helpful to begin the process early and spread it over several years while in college. Starting the process early can also provide the opportunity to explore the various options available in the field. The Career Services website also offers a four-year career planning guide as well as information about the varied job opportunities in each field of study. "Once students realize the help available, they are eager to participate," said Yoder. "It's still a challenge, however, to impress upon students that this is a multi-year process and not a last-minute dash if they want optimal results."
Editors: For more information about this release, to arrange an interview or request a photo, contact Goshen College News Bureau Director Jodi H. Beyeler at (574) 535-7572 or jodihb@goshen.edu.
### 
Goshen College, established in 1894, is a residential Christian liberal arts college rooted in the Anabaptist-Mennonite tradition. The college's Christ-centered core values – passionate learning, global citizenship, compassionate peacemaking and servant-leadership – prepare students as leaders for the church and world. Recognized for its unique Study-Service Term program, Goshen has earned citations of excellence in Barron's Best Buys in Education, "Colleges of Distinction," "Making a Difference College Guide" and U.S. News & World Report's "America's Best Colleges" edition, which named Goshen a "least debt college." Visit www.goshen.edu.