A proud first: Goshen College radio station named Best College Station in the Nation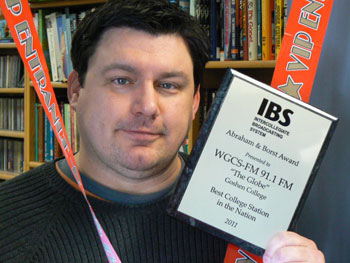 GOSHEN, Ind. – Goshen College's radio station WGCS 91.1FM-The Globe (www.globeradio.org) isn't a huge operation, but the sounds coming out of it are making a big impact.Competing against every college and university in the country of all sizes, the student-operated station was named this year's Best College Station in the Nation on March 12 at the 71st Annual Conference of the Intercollegiate Broadcasting System (IBS) in New York City. The IBS is the oldest college radio association in the country. The station's General Manager Jason Samuel and a group of his students who work at the station were on hand to win the award.
"I am so proud of them," Samuel said. "Emotionally, I am happier about this than I have ever been winning awards for my individual work. For a group of industry professionals to examine our work and determine our station is number one, that says a lot about what our students are doing and the excellence of their work."
Entrants seeking the award each submitted an audition recording featuring different kinds of programming that was then reviewed by judges from across the radio industry. The Globe was selected along with DePaul University of Chicago – a college with 25,000 students, which won the award last year – as the overall finalists, and then The Globe came out on top. This is the first time that the college's radio station has won a national award.
"This competition is for all of IBS's members, of all sizes. I like that we are all in the same pool, because when our students graduate and want to get a broadcasting job, they will be competing with everyone anyway," Samuel said. "Our students are committed to their craft, and being recognized by the IBS shows that they can compete with anyone for jobs at any level when they are done here."
In addition, individual students won national awards. Senior Trisha Handrich, a communication major from Goshen, received a first place award for the Best Promotional Series. Sophomore Jimmy Cassoday, a broadcasting major from Whiting, Ind., received first place for Best Specialty Music Show. And sophomore Benjamin Kelly, a broadcasting major from LaGrange, Ind., won first place for Best Sports Talk Show. The college had eight finalists in seven categories.
The Globe has been on the air since 1958, is managed by members of the Goshen College Communication Department and is staffed by about 40 student workers and community volunteers. It is one of the college's significant co-curricular activities, preparing students to become broadcast professionals while providing a service to the Michiana community.
"Unlike most schools, when you come to Goshen College and join the Communication Department, you can get plugged into working at The Globe or any of our co-curriculars right away in your first year," Samuel said. "This makes our station stronger because our students have ownership, they are engaged, they are excited and they want to do better every time."
Each week The Globe features a fresh and eclectic mix of Americana, alternative acoustic, folk, singer-songwriters and world beat music. The Globe is one of a select number of reporting stations to the Americana Airplay Chart. It provides 24-hour programming, which includes music, news, public affairs and sports.
The Intercollegiate Broadcasting System, Inc., is a not for profit educational association and foundation founded in 1940, by Dr. George Abraham, Ph.D. and David W. Borst. It has over 1,000 college/school, webcasting and podcasting members in the United States.
Editors: For more information about this release, to arrange an interview or request a photo, contact Goshen College News Bureau Director Jodi H. Beyeler at (574) 535-7572 or jodihb@goshen.edu.
### 
Goshen College, established in 1894, is a residential Christian liberal arts college rooted in the Anabaptist-Mennonite tradition. The college's Christ-centered core values – passionate learning, global citizenship, compassionate peacemaking and servant-leadership – prepare students as leaders for the church and world. Recognized for its unique Study-Service Term program, Goshen has earned citations of excellence in Barron's Best Buys in Education, "Colleges of Distinction," "Making a Difference College Guide" and U.S. News & World Report's "America's Best Colleges" edition, which named Goshen a "least debt college." Visit www.goshen.edu.