Roth's new book on Anabaptist-Mennonite education faces challenges head on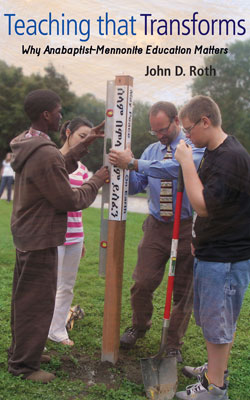 GOSHEN, Ind. – Having been involved in Mennonite education nearly his whole life – as a student, parent and professor – Goshen College Professor of History John D. Roth knows the subject of his new book, Teaching that Transforms: Why Anabaptist-Mennonite Education Matters (Herald Press, February 2011),quite intimately.With keen awareness of the significant challenges Mennonite schools face, Roth said, "We are an aging denomination. Membership is declining, as is denominational loyalty. Sunday school attendance is falling. And enrollment at Mennonite schools, colleges and seminaries is not where it could be."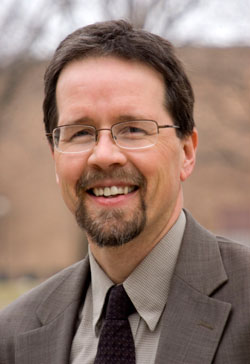 In response, Roth offers an invitation to an open, vigorous and honest conversation about the future of the Anabaptist-Mennonite witness in North America. "At its heart, education is really the means by which cultures, traditions, churches, the faith, is kept alive and is passed along from one generation to the next, and is transformed and renewed in the passing along," Roth said. "And so we should be very attentive to education. It's the responsibility we bear not only to our children, but to all those who are interested in the Christian faith from an Anabaptist-Mennonite perspective."
The book was a joint project of Mennonite Schools Council (MSC), an organization with a current membership of 34 preK-12 schools throughout the United States and Canada, and Mennonite Education Agency (MEA), the education agency of Mennonite Church USA. "It is imperative for the story of Mennonite education to be told," said Carlos Romero, MEA executive director. "I am hoping this book will serve as a catalyst for conversations across our church. MSC and MEA are currently working on a plan to provide each Mennonite Church USA congregation with a copy of the book."
In a readable fashion, Roth presents a compelling rationale for Mennonite education and the distinctive practices that can be expected to be found in all Mennonite classrooms. Along the way, he provides a theological foundation for education from a distinctly Anabaptist-Mennonite perspective, offering a useful framework for ongoing conversations about the appropriate nurture of children and young adults, unique pedagogical practices and goals, and future directions of Mennonite education.
httpv://youtu.be/C5wLoEPZg5c
Elaine Moyer, former MSC Executive Committee member and now MEA associate director, was privileged to be part of the project from the beginning. "John's book is the gift and challenge to our schools and churches that MSC intended and will help people engage this topic," she said. "The book is long overdue; all levels of Mennonite education – prekindergarten through seminary – have been looking for something that would articulate the philosophy of Anabaptist/Mennonite education. John has done a wonderful job in explaining the impact of Anabaptist/Mennonite theology and how that influences the education found in all Mennonite schools."
Roth writes in the book's introduction, "In contrast to those in other Christian groups, educators in the Anabaptist-Mennonite tradition have traditionally not been very explicit or systematic about the educational philosophies that have guided their approach to education. …Like much of Mennonite theology, the Mennonite philosophy of education has tended to be more implicit than explicit. Rather than consciously expressed, it has simply been embodied.
"This book aims to make more explicit what now is implicit behind the practices of Mennonite education – how we teach, what we teach, the overarching goals of our classrooms, the way we think about teaching and learning – all in the hopes that this exploration will stimulate more discussion among board members, administrators, teachers, parents and pastors about the value of Mennonite education. … I believe strongly that the Anabaptist-Mennonite tradition has a distinctive gift to offer the world within God's wider purposes."
In chronicling the historical context of the formation of Mennonite schools, Roth notes that though they were originally created primarily for Mennonites to be separate from the world and to preserve a legacy of faith, "today these schools embrace a broader mission." Today, as schools have become more professionalized and there are increased expectations for services and facilities, Mennonite schools are drawing a significant percent of students who are not from Mennonite churches – 62.3 percent in 2010 – and enroll for other reasons.
"We tend to think in congregations and schools that the particularity of an Anabaptist or a Mennonite identity is going to be at cross purposes with the increasingly missional and diverse nature of our student bodies," Roth said. "And that is a profound challenge that I'm not sure we're handling very well."
Instead, he added, "can we embrace our particularities, coming out of the Anabaptist tradition, in a way that is confident, is articulate and welcoming, and do all of that and say, 'This is who we are.  This is why we think it's important. We would love to have you become part of this and help us to see ourselves in a new way, but you're joining something that already has an identity.'"
Despite the challenges, Roth is hopeful – he believes that Mennonite schools have a future. "We have much to offer, and there are growing numbers of people looking for exactly what we have to offer – a tradition of peace, service, justice, community and deep faith in God," he said, "We can openly, confidently and graciously proclaim our distinct approach to education, a way shaped by a Christ-centered way of reading Scripture, a Christ-centered understanding of relationships with other people, and a Christ-centered view of the church as the visible form of the resurrected Jesus in the world today."
In addition to being a professor of history at Goshen College for 25 years, Roth also serves as editor of the journal Mennonite Quarterly Review and director of the Mennonite Historical Library on the Goshen College campus. He is the author of numerous books and articles on topics related to Anabaptist-Mennonite theology and history, including Practices: Mennonite Worship and Witness (Herald Press, 2009), Stories: How Mennonites Came to Be (Herald Press, 2006), Beliefs: Mennonite Faith and Practice (Herald Press, 2005), Choosing Against War: A Christian View (Good Books, 2002) and Engaging Anabaptism: Conversations with a Radical Tradition (Herald Press, 1999). Roth and his wife, Ruth, are the parents of four daughters and are active members at Berkey Avenue Mennonite Church in Goshen.
Editors: For more information about this release, to arrange an interview or request a photo, contact Goshen College News Bureau Director Jodi H. Beyeler at (574) 535-7572 or jodihb@goshen.edu.
### 
Goshen College, established in 1894, is a residential Christian liberal arts college rooted in the Anabaptist-Mennonite tradition. The college's Christ-centered core values – passionate learning, global citizenship, compassionate peacemaking and servant-leadership – prepare students as leaders for the church and world. Recognized for its unique Study-Service Term program, Goshen has earned citations of excellence in Barron's Best Buys in Education, "Colleges of Distinction," "Making a Difference College Guide" and U.S. News & World Report's "America's Best Colleges" edition, which named Goshen a "least debt college." Visit www.goshen.edu.