Alumnus named one of the World's Most Influential People for seeking cancer cure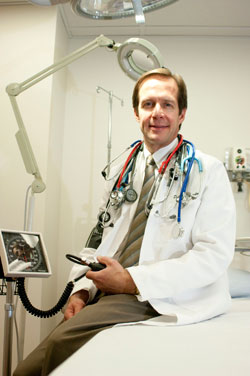 GOSHEN, Ind. – TIME Magazine announced today that Goshen Center for Cancer Care Medical Director Dr. Douglas Schwartzentruber, a 1978 Goshen College alumnus, has been named to the magazine's annual list of the 100 most influential people in the world, the 2010 TIME 100.
Schwartzentruber has been the lead author and principal investigator of a breakthrough study on the use of a vaccine in treating skin cancer. The clinical trial was one of the first studies to prove vaccines might have a medical benefit against cancer. Schwartzentruber brought the clinical trial from the National Cancer Institute to Goshen Center for Cancer Care almost seven years ago, when he accepted the Medical Director position in his hometown of Goshen, Ind.
According to the Goshen Center for Cancer Care's news release, the Center is in the planning stages for the next clinical study. And results of the initial trial have been submitted and are currently being reviewed for publication.
Upon hearing the news, Goshen College President Jim Brenneman said, "Most of us sadly have lost loved ones to cancer. As a friend and president of his alma mater, I am proud of the ways Dr. Schwartzentruber – in his personal, professional and spiritual life – embodies the best of what we strive for in educating all of our students to be servant leaders and passionate learners. I believe those values are part of his significant contributions to cancer research. He is truly an example of bringing about Christ's healing and hope in the world."
In the tribute to Schwartzentruber and fellow cancer researcher Larry Kwak, Olympic swimmer and cancer survivor Eric Shanteau wrote: "Science has long sought a cure – or at least better treatments – for cancer. But Schwartzentruber and Kwak, working in separate labs, are following separate paths to a common goal: a vaccine against the disease. Imagine a world in which doctors no longer have to utter the three words that change so many lives. … The studies now under way could one day make chemotherapy or radiation a thing of the past. I am proud to call myself a cancer survivor, but thanks to the work of Drs. Schwartzentruber and Kwak, there may come a time when such a label is just a distant memory."
Schwartzentruber joins such people as President Obama, Sarah Palin, Supreme Court Justice Sonia Sotomayor, Oprah Winfrey and, Steve Jobs on this year's TIME 100 list. Of being named to it, this is "an honor and also very humbling," Schwartzentruber said in a news release. "I keep thinking there are so many others more deserving – others who have accomplished so much. I certainly did not expect this and I certainly do not deserve all the credit. There were so many individuals involved in the study, from Goshen Center for Cancer Care for supporting the study to the doctors and research colleagues involved, to the patients who made the results possible."
Schwartzentruber's wife Diane White is the director of Goshen College's Wellness & Health Center and their daughter Alicia is a junior at the college.
The full list and related tributes appear in the May 10 issue of TIME, available on newsstands Friday, April 30, and now at time.com. The list, in its seventh year, recognizes the activism, innovation and achievement of the world's most influential individuals.
Rick Stengel, managing editor of the magazine, has said of the list in the past, "The TIME 100 is not a list of the most powerful people in the world, it's not a list of the smartest people in the world, it's a list of the most influential people in the world. They're scientists, they're thinkers, they're philosophers, they're leaders, they're icons, they're artists, they're visionaries. People who are using their ideas, their visions, their actions to transform the world and have an effect on a multitude of people."
Editors: For more information about this release, to arrange an interview or request a photo, contact Goshen College News Bureau Director Jodi H. Beyeler at (574) 535-7572 or jodihb@goshen.edu.
### 
Goshen College, established in 1894, is a residential Christian liberal arts college rooted in the Anabaptist-Mennonite tradition. The college's Christ-centered core values – passionate learning, global citizenship, compassionate peacemaking and servant-leadership – prepare students as leaders for the church and world. Recognized for its unique Study-Service Term program, Goshen has earned citations of excellence in Barron's Best Buys in Education, "Colleges of Distinction," "Making a Difference College Guide" and U.S. News & World Report's "America's Best Colleges" edition, which named Goshen a "least debt college." Visit www.goshen.edu.