Retired Goshen College professor authors book on church colleges retaining distinctiveness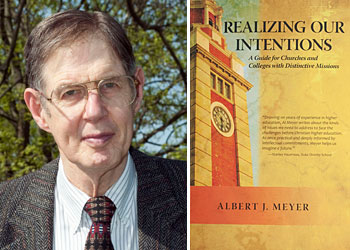 GOSHEN, Ind. – Abilene Christian University Press recently published a new book by retired Goshen College Professor of Physics Al Meyer, who was an executive of Mennonite Board of Education for 28 years. The book is titled "Realizing Our Intentions: A Guide for Churches and Colleges with Distinctive Missions."
"This study seeks to go beyond the available histories and other resources and give very practical proposals for those who would like to develop or maintain healthy church-school relationships in the future," Meyer wrote in the book's introduction.
Professor of Theological Ethics Stanley Hauerwas from Duke Divinity School praised the book, writing: "… Meyer writes about the kinds of issues we need to address to face the challenges before Christian higher education. At once practical and deeply informed by intellectual commitments, Meyer helps us imagine a future."
Meyer said, "I think it's an important subject because a church that wants to be different from society at large, that wants to be a measure countercultural, that has distinctive values, will have to find a way of exploring those values and distinctive beliefs and practices, and will have to find a way of talking about them with the oncoming generation."
"Realizing our Intentions: A Guide for Churches and Colleges with Distinctive Missions" was published in October 2009 and can be purchased at the Goshen College Bookstore.– By Chase Snyder
Editors: For more information about this release, to arrange an interview or request a photo, contact Goshen College News Bureau Director Jodi H. Beyeler at (574) 535-7572 or jodihb@goshen.edu.
### 
Goshen College, established in 1894, is a residential Christian liberal arts college rooted in the Anabaptist-Mennonite tradition. The college's Christ-centered core values – passionate learning, global citizenship, compassionate peacemaking and servant-leadership – prepare students as leaders for the church and world. Recognized for its unique Study-Service Term program, Goshen has earned citations of excellence in Barron's Best Buys in Education, "Colleges of Distinction," "Making a Difference College Guide" and U.S. News & World Report's "America's Best Colleges" edition, which named Goshen a "least debt college." Visit www.goshen.edu.