Department of Transportation judge Ronnie A. Yoder to speak at Goshen College commencement April 25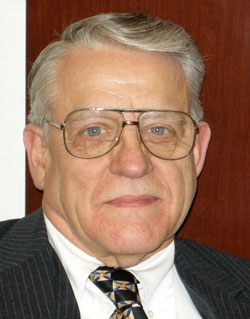 GOSHEN, Ind. — During the 112th Goshen College commencement Ronnie A. Yoder, the chief administrative law judge of the U.S. Department of Transportation, will present a commencement address to graduating seniors, titled "A Niche for You – Immortality," in Goshen College's Roman Gingrich Recreation-Fitness Center at 3 p.m. on Sunday, April 25.
This year's graduating class is larger than last year's, with 261 undergraduates and 19 master's degree candidates set to receive diplomas. This is the first time Goshen College is conferring master of science in nursing degrees.
Judge Yoder, of Alexandria, Va., is a past chair of the National Conference of Administrative Law Judges of the American Bar Association. He is a member of the American Bar Foundation, Federal Bar Foundation and the Prettyman-Leventhal American Inn of Court. He has been active in numerous administrative law judges' associations and in developing, teaching and writing on the administrative judiciary for more than 30 years.
Before becoming a judge, Yoder was in private practice law for 14 years in New York City and Washington, D.C. He received his bachelor of arts and his juris doctor from The University of Virginia, where he served on the editorial board of the Virginia Law Review. He also spent a year at Yale Divinity School as a Rockefeller Fellow. In addition to his legal career, Yoder sang professionally with the Washington Opera and local churches from 1985 to 1996.
Yoder's father, Raymond Yoder, was a class of 1931 alumnus of Goshen College and an artist. After his father's death in 1997, Yoder helped establish the Ray Yoder Scholarship for art and sculpting at Goshen College. In 2007, Yoder also established a scholarship at Virginia Theological Seminary to advance the study of love as a unifying philosophical center for Christianity and other world religions.
Yoder's family has embraced ethnic diversity; among his four children and eight grandchildren are one Chinese, three Chinese Americans, one Japanese American and two English Americans.
Schedule of Commencement Weekend activities:
Saturday, April 24
9:30 a.m.-4 p.m. – Senior Art Exhibit, Hershberger Art Gallery, Music Center
1:30 p.m. – Senior Nurses' Pinning Ceremony, College Mennonite Church
2-5 p.m. – Informal departmental receptions, various locations and off campus
7:30 p.m. – Senior Class Program, Music Center
8:45-10:30 p.m. – President's Reception for graduates and their families, Music Center lobby
Sunday, April 25
11 a.m. – Baccalaureate Service, College Mennonite Church
3 p.m. – 112th Annual Commencement, Roman Gingerich Recreation-Fitness Center

– By Chase Snyder 
Editors: For more information about this release, to arrange an interview or request a photo, contact Goshen College News Bureau Director Jodi H. Beyeler at (574) 535-7572 or jodihb@goshen.edu.
### 
Goshen College, established in 1894, is a residential Christian liberal arts college rooted in the Anabaptist-Mennonite tradition. The college's Christ-centered core values – passionate learning, global citizenship, compassionate peacemaking and servant-leadership – prepare students as leaders for the church and world. Recognized for its unique Study-Service Term program, Goshen has earned citations of excellence in Barron's Best Buys in Education, "Colleges of Distinction," "Making a Difference College Guide" and U.S. News & World Report's "America's Best Colleges" edition, which named Goshen a "least debt college." Visit www.goshen.edu.