Goshen's enrollment of first-year students best in 27 years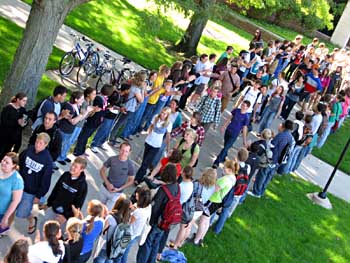 Profile of the Class of 2013:
131 high schools represented
3.59 is the average high school grade point average (4.0 scale). Average SAT score of 1110 and an average ACT composite score of 24.
48 percent are from Indiana. Other top recruitment states are Pennsylvania, Ohio, Illinois, Michigan and Iowa.
62 percent female, 38 percent male
34 different denominations are represented, 50 percent are Mennonite
Nursing, biology, education, music and communication are the top declared majors
31 percent are from families in which one or both parents or legal guardians attended Goshen College
GOSHEN, Ind. — Community colleges and public universities are expecting significant increases in enrollment this fall, but they are not the only educational institutions bucking the economic downturn.
On Sept. 8, Goshen College Registrar Stan Miller reported a first-time freshmen class of 238 students, the largest for the college in 27 years (there were 239 students in 1982). It is a 39 percent increase over last year's incoming class and the college has averaged 210 students in its first-year class over the past 20 years.
"We have much to be thankful for as this school year begins, especially as we have exceeded our own recruitment goals," said Goshen College President James E. Brenneman. "I am thrilled by this large group of wonderful and varied students who have joined us, and look forward to the ways they will bring their energy, passions and ideas to enhance this Christ-centered community of passionate learners, compassionate peacemakers, servant leaders and global citizens. Welcome to them all!"
The Goshen College enrollment team attributes the positive numbers to many factors, in addition to noticing that in this economy students are looking to stay closer to home to save money on travel costs and to increase convenience.
"The entire Goshen College community has worked hard together this year to recruit these new students and retain our returning students. I thank all of the dedicated faculty and staff who made this happen," Vice President for Enrollment Management Lynn Jackson said. "I am particularly pleased with this quality group of students – academically and personally – who have recognized the benefit of a Goshen College education."
Jackson noted several measures the college – the only residential liberal arts college in Elkhart County, Ind. – had taken over the past year to ensure desired recruitment in the midst of unprecedented economic times. They pushed students to apply sooner to get a better understanding of what their financial aid package might be compared with other colleges. Additional need-based grants were given this year because of the economy. Coaches contributed to the enrollment increase with larger rosters. And the college marketed itself more aggressively in Northern Indiana than ever before, including regional TV spots during this year's Super Bowl.
The registrar also reported a head count of 974 students in the undergraduate program and a total headcount of 1,017 students, including graduate programs. This is the largest total headcount since 2000, when there were 1,041 students.
This year's graduate total includes an all-time high of 43 full- and part-time students enrolled in the college's two programs – a Master of Science degree in Nursing and a Master of Education degree in Environmental Education. Last year, 28 graduate students were enrolled. In addition, 54 students are enrolled in the two Division of Adult and External Studies degree-completion programs – the Bachelor of Science in Organizational Leadership and the Bachelor of Science in Nursing for registered nurses.
Retention — a key measure of student satisfaction — also continues to be high at Goshen College. The latest figures show that 85 percent of the 2008-2009 first-year students are enrolled this fall. This marks the seventh year in a row of retention rates at or above 80 percent.
Nationally, the average first-to-second-year retention rate at all U.S. colleges and universities is 68 percent, according to ACT Inc., the nonprofit organization that administers the ACT college preparation test. For private colleges the first-to-second-year retention rate is 69.6 percent; for public colleges, 68 percent.
Editors: For more information about this release, to arrange an interview or request a photo, contact Goshen College News Bureau Director Jodi H. Beyeler at (574) 535-7572 or jodihb@goshen.edu.
### 
Goshen College, established in 1894, is a residential Christian liberal arts college rooted in the Anabaptist-Mennonite tradition. The college's Christ-centered core values – passionate learning, global citizenship, compassionate peacemaking and servant-leadership – prepare students as leaders for the church and world. Recognized for its unique Study-Service Term program, Goshen has earned citations of excellence in Barron's Best Buys in Education, "Colleges of Distinction," "Making a Difference College Guide" and U.S. News & World Report's "America's Best Colleges" edition, which named Goshen a "least debt college." Visit www.goshen.edu.