History professor completes Mennonite book trilogy with 'Practices'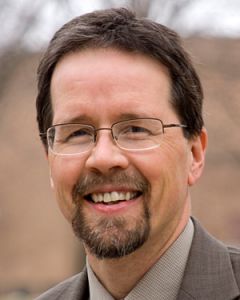 GOSHEN, Ind. – How do the practices, habits and routines of worship form Christian – and specifically Mennonite – identity? Goshen College Professor of History John D. Roth explores these questions in his new book "Practices: Mennonite Worship and Witness," (Herald Press, 2009). "Practices" is the final book in his three volume series on Mennonite identity in the 21stcentury.According to Roth, over the past several decades the Mennonite church has been going through a significant period of change with overall numbers declining and a growing uncertainty about denominational identity. At the same time, the church has also been attracting a significant number of people from outside the Mennonite tradition who are drawn to Anabaptist theology yet unclear about what it means to be a Mennonite.
"It seemed important to have a new statement of what it might mean to be a Mennonite in the 21st century," said Roth. "I was invited to try and help the church think through its identity, and to do so in a writing style that was understandable to a broad readership."
In "Practices," Roth examines the traditions of Anabaptist-Mennonite worship, focusing especially on how worship is related to ethics and to the church's mission. Among other expressions of worship, Roth reflects on how distinctive Mennonite practices such as baptism, communion, foot washing and common meals extend beyond the church as a witness to the world.
The book tries to answer head-on the question of "Why bother going to church? Why can't I just be a good person?" Roth explains how the practices, habits and routines of worship form us in ways that people are not aware of. "How we live is always an expression of what we worship," Roth said. "Ethics is an extension of worship. The authenticity of a consistent Christian life – a life made possible by the presence of the Holy Spirit and embodied in the person of Christ – is a form of witness that has long been central to the identity of the Mennonite church."
"Practices" has already received praise from other scholars. J.E. McDermond of Messiah College said, "In this engaging and thought provoking text, John D. Roth moves to a core issue for worship: what is the purpose and desired result of our worship practices? He rightly argues that our acts of worship and our witness are inseparable."
The first two books in Roth's series were "Beliefs: Mennonite Faith and Practice" (Herald Press, 2005), and "Stories: How Mennonites Came to Be" (Herald Press, 2007).
The first book, "Beliefs," focused on basic theological questions, identifying the theological overlap between Mennonites and other Christian groups, while also highlighting some key distinctions of the Anabaptist-Mennonite tradition. According to Roth, the book consciously recognized a number of on-going questions that the Mennonite church hasn't resolved, "It is not a tidy summary of beliefs, but instead tries to provide a context for a broader conversation," he said.
The "Stories" book provides a historical overview of how Mennonites came to be. Like "Beliefs" it acknowledges the "debt we owe to other Christian groups," Roth said, "while also tracing the unique ways that Anabaptist-Mennonites have lived out the gospel through the centuries." In this book Roth highlights a number of basic conflicts that keep reoccurring within the Mennonite church. "These conflicts or tensions," he said, "are an important part of the church's identity in its struggle to be faithful it the midst of changing contexts." The book has met with a very positive reception. "People are relieved to know that our conflicts today are part of a bigger picture," Roth said.
In comparison to the other two books in the trilogy, "Practices," was "more difficult to write," Roth said, because the first two were more summaries. "My approach to the topic of worship and ethics was a little more critical of the church," Roth said. "There is a lot of confusion and energy around worship among Mennonites today, and this book wades into more controversial questions, particularly on the topics of baptism and the Lord's Supper."
The series has been read and used throughout the Mennonite Church USA in Sunday school classes, baptism classes, Mennonite college classrooms and as a resource for new Mennonites who are finding their way into the church. "I hope this series contributes in some small way to the renewal of the Mennonite church," Roth said. "I hope it helps Mennonites to become more comfortable with what it means to be Christians in this distinctive tradition."
Roth has always thought of his work at Goshen College "as a scholarship for the church." He said, "I'm a historian by training. But I also want to think of my profession as being in service for the church."
In addition to being a professor at Goshen College, Roth also serves as director of the Mennonite Historical Library and as editor of "Mennonite Quarterly Review." He has edited and authored several books, including "Choosing Against War: A Christian View" (Good Books, 2002) and "Engaging Anabaptism: Conversations with a Radical Tradition" (Herald Press, 1999).
The books are available for purchase at the Goshen College Bookstore or on the Herald Press Web site: www.heraldpress.com.
-By Julie Weirich 
Editors: For more information about this release, to arrange an interview or request a photo, contact Goshen College News Bureau Director Jodi H. Beyeler at (574) 535-7572 or jodihb@goshen.edu.
### 
Goshen College, established in 1894, is a residential Christian liberal arts college rooted in the Anabaptist-Mennonite tradition. The college's Christ-centered core values – passionate learning, global citizenship, compassionate peacemaking and servant-leadership – prepare students as leaders for the church and world. Recognized for its unique Study-Service Term program, Goshen has earned citations of excellence in Barron's Best Buys in Education, "Colleges of Distinction," "Making a Difference College Guide" and U.S. News & World Report's "America's Best Colleges" edition, which named Goshen a "least debt college." Visit www.goshen.edu.