Lasting Ties: 'Every Stitch a Link of Strength'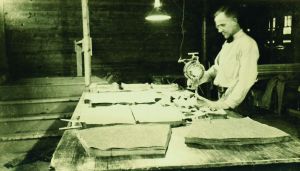 On Sept. 15, 1934, the north end of Coffman Hall's basement was filled with the whirr and clacking of a new enterprise: The Maple City Shirt Company.
Because of the economic challenges of the Great Depression, students struggled to afford college and Goshen College had suffered a 15 percent drop in enrollment. Although themselves strapped for cash, faculty extended credit to students; students from west of the Mississippi River received discounts to help pay their transportation and the college unified its attendance fees to a straightforward $187.50 per semester.
In addition, the college enlisted former business manager Joseph E. Brunk '20 to create a new opportunity for student aid. After investigating several enterprises, Brunk arranged for the purchase and transport of shirt factory equipment to Goshen from Maryland. Brunk had estimated the shirts cost $6.36 to produce, and that they might be sold for $7.84.
With Brunk as supervisor and his cousin, Martha Martin '15, as tutor, about 20 students worked in two shifts during the first year. Students like Minnie Sutter '42, who had only been able to scratch together $88 for college, were able to cover the rest of their costs with grants earned in the factory. Over 1,014 dozen blue chambray and grey covret workshirts were fully made during that year.
Producing the shirts seems to have been more successful than marketing them though. College representatives on student recruitment trips offered shirts to merchants. And then student Paul W. Miller '39 came up with the slogan – "Every stitch a link of strength" – to advertise the shirts on telephone poles. But merchants complained that customers were reluctant to switch to Maple City shirts.
In its three years of operation, the factory appears not to have produced a business profit, but did successfully provide several dozen students the means to pursue their college education at Goshen.
– Joe Springer
Curator, Mennonite Historical Library