Local medical and health pioneer, Dr. Willard Krabill, dies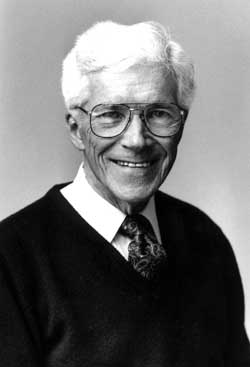 GOSHEN, Ind. – Goshen College Physician Emeritus and Associate Professor Emeritus of Health Education Willard S. Krabill, who gave 24 years of service to the college, died this morning after a courageous six-month battle with cancer at the age of 82. He was a pioneer in the areas of medical ethics, public health, family-centered childbirth and sex education.
"Dr. Krabill's death is a loss not only for his family and the Goshen College community, but also for Elkhart County and the many patients, physicians and nurses whose lives were enriched by his leadership and many contributions," said Goshen College President James E. Brenneman. "When I attended Goshen College, Dr. Krabill was the compassionate campus physician and a creative professor; he excelled in both roles. I grieve his passing and the Goshen College family extends our condolences to and prayers for the Krabill famly."
During his tenure at the college, Dr. Krabill expanded the College Health Services, was instrumental in creating a health plan for college employees, worked faithfully to promote health and sexuality education and disease prevention, and brought his healing touch to the ailing students who visited the Health Center each year.
In 1974, Dr. Krabill started the human sexuality class at the college to emphasize the holistic nature of sexuality, encouraging students to see sexuality in the context of their whole lives and enabling them to discuss it comfortably. When he retired in 1991, it was the most popular class on campus.
Henry D. Weaver, provost emeritus and professor emeritus of chemistry at Goshen College, remembered Dr. Krabill as a creative leader in many fields. "Dr. Krabill was always a step ahead of the crowd, whether it was helping to design an employee's health plan for Goshen College before such plans or HMOs were common or his innovative teaching. In attending alumni meetings at different places around the country, the mention of his name always elicited comments of appreciation and affection. Dr. Krabill also provided visionary leadership to get people to think about health, instead of only medical issues, through his speaking and writing."
Dr. Krabill also made a significant impact in the Goshen community as a health practitioner. He assisted in the delivery of 2,730 babies and led the movement in Goshen to make birthing a family experience. Long before it was a common practice nationwide, he urged Goshen General Hospital to bring fathers into the delivery rooms and allow babies to remain in the same rooms with their mothers, which they began in 1969. He was also the first physician in Goshen to employ a nurse practitioner on his staff and the first doctor to offer expectant parent education.
Dr. Krabill saw himself as an advocate. In a 1991 South Bend Tribune article he said, "I was an advocate for women who needed a different kind of birthing experience. I was an advocate for men who wanted to be a part of it. I was an advocate for students who wanted to know about their sexuality."
Dr. Krabill was born and raised in Louisville, Ohio. As a conscientious objector during World War II, he served in Civilian Public Service as a smokejumper in the Pacific Northwest and then at the Ypsilanti State Mental Hospital in Michigan, where his interest in human anatomy was nurtured. Dr. Krabill graduated from Goshen College in 1949 and from Jefferson Medical College in Philadelphia in 1953. He also received a master's degree in public health from University of California in Berkley, which caused him to look at the body in a more holistic way rather than just being a "disease treater."
After medical school, Dr. Krabill took over a family practice of Dr. H. Clair Amstutz in Goshen. As his practice grew, a group of physicians developed called the High Park Physicians Inc. One feature of the group was to allow partners to take sabbaticals supported by those who remained at home in practice. One of Dr. Krabill's sabbatical was spent in residence in obstetrics in Oak Park, Ill., followed by three months as a relief physician at Mennonite Christian Hospital in Hualian, Taiwan.
Dr. Krabill and his wife Grace had also done three years of service work in Vietnam with Mennonite Central Committee. He delivered his own first child there since they were doing relief work in a jungle leprosarium and he was the only doctor within hundreds of miles.
Later in his career, Dr. Krabill worked as a consultant for Mennonite Mutual Aid and helped the church community confront issues like sexuality, abortion and medical ethics. He was a key figure in the production of the congregational study book, Medical Ethics, Human Choices, and wrote a regular column for Mennonite Weekly Review for 10 years. He felt particularly passionate about the need for universal health care for everyone in the country, and gave a number of public speeches about the issue.
In 1988, he earned the Allen H. Erb award from the Mennonite Health Association for his guidance in promoting congregational health ministries. In 1990, Mennonite Medical Association named him Doctor of the Year. Dr. Krabill also served as the organization's executive secretary from 1992 to 1996. He also served on the boards of Goshen General Hospital and the Anabaptist Center for Healthcare Ethics; on ethics committees of Goshen General Hospital, Greencroft Retirement Center and College Mennonite Church; and on the American Medical Association's committee on religion and medicine.
"He was a wonderful role model and we had very similar interests," said Anne Hershberger, his sister and associate professor emerita of nursing at Goshen College. "Our father told him, 'Do not follow where the path may lead. Go, instead, where there is no path and leave a trail.' He definitely was that kind of person; he tried to always think of a better way of doing things. He always thought outside the box and was very creative. He'll be remembered as a compassionate, gentle, caring and competent man."
Death was something Dr. Krabill had thought a lot about, and had taught others about years before he faced his own. During a lecture in 1997 about planning for the end of life, Dr. Krabill said, "The choices we make toward the end of life, consciously or unconsciously, are made with a good death in view," and society needs a "reorientation toward death that is natural, inevitable." And in January 2008, he wrote, "I believe God will be present with me in my dying as God has been present in my living. Whatever lies ahead will be okay."
Dr. Krabill married Grace Hershberger on July 31, 1955, and they had four children: Merrill Krabill, Goshen College Professor of Art; Jeannie (Phil) Miller of Goshen; Karen (Scot Yoder) Krabill of Mason, Mich.; and Ron (Nancy Chupp) Krabill of Seattle, Wash.; and nine grandchildren. Dr. Krabill's two sisters, Anne (Abner) Hershberger and Ina Ruth (Willis) Breckbill, both of Goshen, are also still living. He was a member at College Mennonite Church until his death.
Editors: For more information about this release, to arrange an interview or request a photo, contact Goshen College News Bureau Director Jodi H. Beyeler at (574) 535-7572 or jodihb@goshen.edu.
###
Goshen College, established in 1894, is a residential Christian liberal arts college rooted in the Anabaptist-Mennonite tradition. The college's Christ-centered core values – passionate learning, global citizenship, compassionate peacemaking and servant-leadership – prepare students as leaders for the church and world. Recognized for its unique Study-Service Term program, Goshen has earned citations of excellence in Barron's Best Buys in Education, "Colleges of Distinction," "Making a Difference College Guide" and U.S. News & World Report's "America's Best Colleges" edition, which named Goshen a "least debt college." Visit www.goshen.edu.