More than Olympics and earthquakes: With host families, students gain in-depth look at China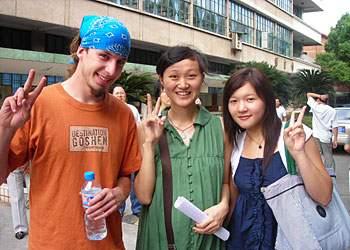 GOSHEN, Ind. – The world got a close-up look at the Sichuan province of China in May after a massive earthquake left 90,000 people dead or missing and destroyed much of its infrastructure. The news media returned last month for the spectacular Beijing Olympics.
Now, 21 students from Goshen College are living and studying in China through the college's Study-Service Term (SST) program. Since arriving Sept. 4, they've already toured a research base for Giant Pandas, visited a 300-year-old market, spent time at a major university, worshipped together and lived with Chinese families — gaining a deep appreciation for their new host country.
"My family is so very gracious and have made me feel as much at home as I can imagine anyone can feel the first days in a completely new place," wrote Beth Glick, a junior interdisciplinary major from Goshen. "My host mother has been very good with repeating the words for certain things (chair, table, chopsticks, hot and cold water) to help me try and learn and I really appreciate this even though I haven't been able to retain anything besides goodnight (wan an). … The food here is good. I don't know the names of anything, but there is usually a variety at every meal. For breakfast we just had duck, rice porridge, cooked peanuts and milk."
Since 1980, when Goshen College became the first U.S. college to arrange an undergraduate exchange to China, 351 students have gone to the communist country for SST. "We were unique in 1980 and we still are," said Tom Meyers, director of international education at Goshen College.
In the prior 28 years of the SST program in China, students lived in a dormitory for foreign students at Sichuan Normal University in the province's largest city of Chengdu for the entire semester and taught English to university students. This was in contrast to the way SST units in other countries operated: with host families, a study component and a service component.
With the group that just departed, new arrangements have been made so that students are studying the Chinese language, culture and history at China West Normal University for the first six weeks in the city of Nanchong while living with host families. Nanchong is located in the central province of Sichuan. It is a city with a population of 300,000.
During the second half of the semester, students will spread out to smaller towns in eastern Sichuan province to volunteer teaching English in middle and high schools while also living with host families. As in prior years, the students will also have opportunities for field trips to some of China's most famous sites, including the Great Wall, the Forbidden City and Beijing's Tiananmen Square.
Though there are other U.S. colleges and universities who have students living with Chinese host families during their study abroad experience, Goshen College is one of the first to offer this unique full semester program of study and service for college students in China.
"The depth of experience and direct involvement with Chinese culture that our students will have is what is so unique about our program," said Meyers.
The group leaders for the SST unit in China this fall are Steve and Rachel Nolt, along with their daughters, 5-year-old Esther and 7-year-old Lydia. Steve is professor of history at Goshen College, and has been on the faculty since 1999.
"People here are so amazed to learn that our students are staying with families. They've never heard of it being done. They think it's great, but unprecedented," said Steve Nolt, from China. "They are sure that Americans would want to stay in a nice hotel or foreign student dorm."
Since the first SST units went to Costa Rica, Jamaica and Guadeloupe in 1968 and began one of the country's unique international education programs, more than 7,000 students and 230 faculty leaders have traveled to 22 countries; the college currently organizes SST units to study and serve in China, Nicaragua, Tanzania, Germany, Senegal, Perú, Jamaica and Cambodia. The program's uncommon combination of cultural education and service-learning remains a core part of the general education program, and has earned citations for excellence from U.S. News & World Report, Peterson's Study Abroad and Smart Parents Guide to College,the John Templeton Foundation and American Council on Education.
– By Jodi H. Beyeler

Editors: For more information about this release or to arrange an interview with Director of International Education Tom Meyers, contact Goshen College News Bureau Director Jodi H. Beyeler at (574) 535-7572 or jodihb@goshen.edu.
###
Goshen College, established in 1894, is a residential Christian liberal arts college rooted in the Anabaptist-Mennonite tradition. The college's Christ-centered core values – passionate learning, global citizenship, compassionate peacemaking and servant-leadership – prepare students as leaders for the church and world. Recognized for its unique Study-Service Term program, Goshen has earned citations of excellence in Barron's Best Buys in Education, "Colleges of Distinction," "Making a Difference College Guide" and U.S. News & World Report's "America's Best Colleges" edition, which named Goshen a "least debt college." Visit www.goshen.edu.