Historical Library purchases rare piece of Anabaptist history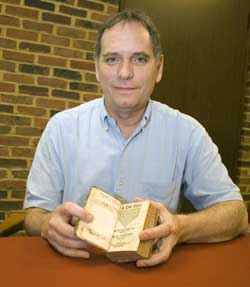 GOSHEN, Ind. – To add to its already extensive list of original Anabaptist writings, the Mennonite Historical Library (MHL) and Goshen College have recently purchased a rare book of Anabaptist martyr accounts and hymns that pre-dates Martyrs Mirror (first edition, 1660) – the famous 1,290 page book that documents Anabaptist martyrs.
The 1567 fourth edition copy of Het Offer des Heeren (A sacrifice unto the Lord) is only the second known copy in the world – the other can be found in the Amsterdam Mennonite Library. Its anonymous editor gathered together descriptions of the suffering of Dutch Anabaptist martyrs, along with letters they wrote to future generations, eyewitness accounts and hymns written by imprisoned Anabaptists and others describing their deaths.
"Given the central, almost iconic, role that the Martyrs Mirror has held in the Anabaptist-Mennonite tradition, it makes sense that we would go after the books that helped to shape that text," said Professor of History John D. Roth, the director of the MHL. "Unlike Martyrs Mirror, the 1567 version of Het Offer des Heeren appeared at a time when Anabaptists were still being martyred. So this is a book that was intended to encourage Christians in the midst of suffering; this is a book that literally survived the era of martyrdom."
The book, which is small enough to fit in a pocket, describes itself and its contents as including "many lovely examples of men and women who sought Christ Jesus and eternal, everlasting life with faithful and pure hearts, and who have feared God with their innermost souls."
Along with the 1567 edition, the MHL also owns the 1570, 1578, 1580 and 1595 editions of Het Offer des Heeren.
"Having multiple editions of the same title makes it possible for researchers to trace the evolution of a book – to see what new material or new martyr names have been added or to track shifts in emphasis," said Roth.
It is especially helpful to scholars because it includes a martyrology – a catalogue of martyrs – in the same book as a collection of about 25 hymns. Outside the Netherlands, the MHL on the Goshen College campus is a primary collection where scholars come to do in-depth research on topics relating to Dutch Anabaptists, said Joe Springer, curator of the MHL.
"The MHL at Goshen College has the largest collection of writings about Mennonites in the world," said Springer. "[The book] is one more piece researchers can use here."
Not only can researchers look through multiple editions of the martyrology, but they can also read it alongside books like the Ausbund – the oldest Anabaptist hymnal, which is still used by the Amish in North America today. The earliest (1564) copy of the book can also be found in the MHL.
The MHL, located on the third floor of Goshen College's Good Library has more than 65,000 volumes including bibliographies, texts and images related to the Radical Reformation, Anabaptists, Hutterites, Mennonites, Amish and other related groups.
The purchase was made possible through special funding from Goshen College and individual donors.
"As you can imagine, books this rare are not cheap. So I'm deeply grateful for the generosity of several friends of the MHL that made it possible for us to add this jewel to our collection," said Roth.
–By Tyler Falk
Editors: For more information about this release, to arrange an interview or request a photo, contact Goshen College News Bureau Director Jodi H. Beyeler at (574) 535-7572 or jodihb@goshen.edu.
###
Goshen College, established in 1894, is a residential Christian liberal arts college rooted in the Anabaptist-Mennonite tradition. The college's Christ-centered core values – passionate learning, global citizenship, compassionate peacemaking and servant-leadership – prepare students as leaders for the church and world. Recognized for its unique Study-Service Term program, Goshen has earned citations of excellence in Barron's Best Buys in Education, "Colleges of Distinction," "Making a Difference College Guide" and U.S. News & World Report's "America's Best Colleges" edition, which named Goshen a "least debt college." Visit www.goshen.edu.