Goshen College president announces retirement of provost, appointment of new vice president for enrollment management and an administrative restructuring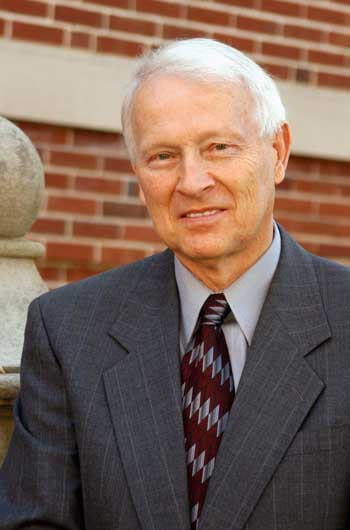 GOSHEN, Ind. – Goshen College President James E. Brenneman announced Friday that John D. Yordy, the college's provost and former interim president, will retire June 30. Brenneman also announced that Executive Director of Enrollment Lynn Jackson has been promoted to the new position of vice president for enrollment management and that the president will supervise campus vice presidents starting next month under a new leadership structure."These important decisions were affirmed by the Goshen College Board of Directors at its meeting last week and are the result of much study, deliberation and prayer," Brenneman said. "While we will miss John's day-to-day leadership, I believe our leadership team will rise to the opportunity. That said, I ask for the prayers, grace and support of Goshen College students, faculty, staff, alumni, donors and other supporters."
At separate meetings with faculty and staff, Brenneman said that in September 2007, just after turning 65, Yordy submitted a letter of intent to retire at the end of the current academic year. Since then, Brenneman, Yordy and other members of the President's Council — four vice presidents responsible for key areas of the campus — have developed a transition plan and a new college leadership structure.
Brenneman praised Yordy, who has served the college for 31 years, and said a campus-wide celebration will be held to honor the provost before commencement.
"All of you know that John has made immeasurable contributions to Goshen College. He has seen Goshen College through good and difficult times with his steady leadership," Brenneman said. "He has been a wonderful help and adviser to me since I was named president. As a mentor and friend, I plan to rely on John's wise counsel over the coming months and years."
Indeed, Brenneman said Yordy's work is "far from over." Yordy will transition out of day-to-day responsibilities March 10 and then serve until June 30 as an adviser to the president and a consultant in such areas as institutional effectiveness, hiring, assessment of vice presidents and meeting leadership and facilitation.
"The timing of these changes allows us to have a new team in place and ensures a good transition to a new structure," Brenneman said. "It also allows for transition time for John … and time to prepare for life beyond Goshen College."
"I anticipate doing what retired people do," Yordy said. "That means catching up on sleep, enhancing hobbies that have not been fully developed, visiting children and grandchildren, doing some neglected projects around the house, writing mystery novels and other work."
Yordy said he is grateful for the "privilege of working with wonderful colleagues committed to the mission of the college and our common work together. Goshen College and the Goshen community have also enriched the life of our family."
"It also has been my privilege to work with President Brenneman. He brings great energy, vision and commitment to his work as he leads efforts to enhance and advance the mission of Goshen College. I wish him, my colleagues across campus and the college every success and God's blessing now and in the years ahead."
A 1967 Goshen College graduate, Yordy worked as an industry research chemist and received his doctorate in organic chemistry from Michigan State University in 1974. He taught chemistry, physics and mathematics at a high school in Nigeria while serving with Mennonite Central Committee from 1967 to 1970 and worked for Heifer Project International for two years in Mexico.
With his wife, Winnie, he has led Goshen College Study-Service Term units in Honduras (1979-80) and the Dominican Republic (1985). During a teaching sabbatical in 1987-88, he was a visiting professor of chemistry at the University of Nairobi, Kenya.
Yordy was appointed as Goshen College's provost and executive vice president in 1997, almost 20 years after joining the faculty as a professor of chemistry.
As provost, Yordy served as chief executive officer in the absence of the president, and his duties included overseeing and coordinating the offices of the academic dean and dean of students as well as supervising the college budget offices and managing strategic planning processes. Still, Yordy said that for five years the college has considered restructuring the President's Council and perhaps eliminating the provost's position.
While serving as interim president, from 2004 to 2006, Yordy sent a letter to the board chairman, to be reviewed by the presidential search committee, in which he recommended that the new president have the freedom to restructure the college's leadership team and establish a new leadership style. He also indicated he did not intend to stay at the college after a new president was appointed unless asked to remain as provost by the new president — a request Brenneman made in September 2005.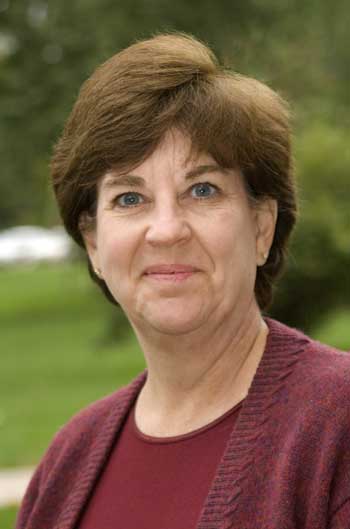 After Yordy submitted his intent to retire, Brenneman said he proposed structural changes to the President's Council based on the size of Goshen College, his leadership style, the need for more direct communication and equal lines of authority between vice presidents and the president, and the need to confirm the college's commitment to increased enrollment.
Under the new leadership structure, all vice presidents will directly report to the president, and the provost position has been eliminated. Brenneman plans to hire a special assistant to the president for institutional planning, strategy and research, who will take on many of the duties and functions of the provost.
Brenneman said the college also has established the new President Council-level position of vice president for enrollment management. The job will be filled starting March 17 by Lynn Jackson, who also will retain the duties as the college's executive director of enrollment, which she has held since July 1, 2006.
Jackson earned her undergraduate degree from Kansas State University in 1980, a master's of education and counseling/school psychology from Wichita State University in 1986 and is a doctoral candidate in student affairs in higher education at Kansas State University. She has held admission leadership positions at Maryville University of Saint Louis, Hesston (Kan.) College, University of Charleston (W.Va.), Tabor College in Hillsboro, Kan., and Friends University in Wichita, Kan.
"Lynn has provided effective leadership and strategic direction for the offices of admission and financial aid," Brenneman said. "It's rare to find someone with Lynn's credentials available to serve in this emerging field. It's rarer still to have someone within the Mennonite Church with this professional experience.
"Lynn's appointment will give enrollment management a more direct voice at the President's Council and a stronger role in developing a comprehensive enrollment strategy for Goshen College."
– By Richard R. Aguirre
Editors: For more information about this release, to arrange an interview with President Brenneman, Provost Yordy or Vice President for Enrollment Management Lynn Jackson or to request photos, contact Jodi Beyeler, director of the campus news bureau, at (574) 535-7572 or jodihb@goshen.edu, or Richard R. Aguirre, director of public relations, at (574) 535-7571 or rraguirre@goshen.edu.
###
Goshen College, established in 1894, is a residential Christian liberal arts college rooted in the Anabaptist-Mennonite tradition. The college's Christ-centered core values – passionate learning, global citizenship, compassionate peacemaking and servant-leadership – prepare students as leaders for the church and world. Recognized for its unique Study-Service Term program, Goshen has earned citations of excellence in Barron's Best Buys in Education, "Colleges of Distinction," "Making a Difference College Guide" and U.S. News & World Report's "America's Best Colleges" edition, which named Goshen a "least debt college." Visit www.goshen.edu.