Local athletic rivals turn academic co-researchers; Goshen professors, Keim and Liechty, to talk about vengeance and forgiveness on Feb. 13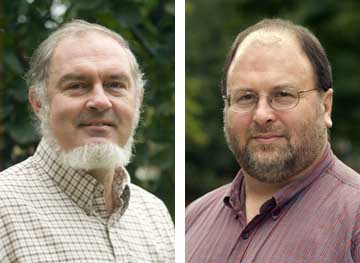 Lecture: C. Henry Smith Peace Lecture by Goshen College Professor of Bible, Religion and Philosophy Paul Keim and Associate Professor of Peace, Justice and Conflict Studies Joe Liechty – "How taking vengeance seriously can strengthen Mennonite peace theology and ethics"
Date, time, location: Wednesday, Feb. 13 at 7 p.m. in Umble Center
Cost: Free and open to the public
GOSHEN, Ind. – They both grew up in Elkhart County just miles apart, were star athletes on competing junior high and high school teams, and graduated from Goshen College the same year. Since then, one spent 23 years in Ireland as a peace scholar and practitioner and the other earned a doctorate at Harvard University and knows 15 languages.With youthful rivalries mostly put aside, both Paul Keim and Joe Liechty are now back teaching at Goshen College and have found a common passion in doing joint research on vengeance and forgiveness for the past several years.
Professor of Bible, Religion and Philosophy Paul Keim and Associate Professor of Peace, Justice and Conflict Studies Joe Liechty will present some of their findings in the annual C. Henry Smith Peace Lecture at Goshen College on Wednesday, Feb. 13 at 7 p.m. in the Umble Center, in a lecture titled, "How taking vengeance seriously can strengthen Mennonite peace theology and ethics." The lecture is free and open to the public.
In their presentation, Keim and Liechty will explore the phrase in the "Confession of Faith in a Mennonite Perspective" that says: "The same Spirit that empowered Jesus also empowers us to love enemies, to forgive rather than to seek revenge…" The two of them have been researching for several years what can be gained "by approaching forgiveness not directly, but in light of vengeance," said Liechty. "We have learned so much, and now we're very pleased that we have an opportunity to present some of our findings through this year's C. Henry Smith Peace Lecture."
Liechty came to Goshen in 2003 after 23 years in Ireland as a peace scholar and practitioner in Ireland. He was a graduate program coordinator and lecturer in Reconciliation Studies at Trinity College Dublin on the Belfast campus. He was also a mission associate with Mennonite Mission Network. He previously co-directed the Moving Beyond Sectarianism project for the Irish School of Ecumenics. And he has written extensively on sectarianism, reconciliation and Irish history. Liechty received his bachelor's degree in history from Goshen College in 1978 and his doctorate degree in Irish History from St. Patrick's College in Ireland in 1987.
Keim, who graduated from Goshen in 1978, has taught at the college since 2001 and was academic dean the four years before. Previously, he was academic dean at Hesston (Kan.) College. He has knowledge of 15 modern and ancient languages. Keim earned a master's of divinity degree from Associated Mennonite Biblical Seminary in 1985 and a doctorate in Near Eastern languages and civilizations from Harvard University in 1992. He has studied and worked in Jordan, Poland, Switzerland and England; served with Mennonite Central Committee from 1980 to 1982; and taught courses in religious studies and Near Eastern languages and cultures at Harvard University, Hesston College, Indiana University and the College of Charleston, S.C. Keim is on sabbatical this year in Germany, but is returning for this lecture.
As for their younger days as local Elkhart County stand-out athletes, Liechty said, "Paul was Elkhart County basketball scoring champion our senior year and I won three events in the Elkhart track and field sectional. Whenever we run out of things to talk about, we can be counted on to run right back to seventh grade games."
The C. Henry Smith Lecture, named for a former history professor at both Bluffton University and Goshen College, includes a research grant for the lecturer. The grant is awarded each year to a professor at a Mennonite college, who then presents the lecture at the participating schools.
Editors: For more information about this release, to arrange an interview or request a photo, contact Goshen College News Bureau Director Jodi H. Beyeler at (574) 535-7572 or jodihb@goshen.edu.
###
Goshen College, established in 1894, is a residential Christian liberal arts college rooted in the Anabaptist-Mennonite tradition. The college's Christ-centered core values – passionate learning, global citizenship, compassionate peacemaking and servant-leadership – prepare students as leaders for the church and world. Recognized for its unique Study-Service Term program, Goshen has earned citations of excellence in Barron's Best Buys in Education, "Colleges of Distinction," "Making a Difference College Guide" and U.S.News & World Report's "America's Best Colleges" edition, which named Goshen a "least debt college." Visit www.goshen.edu.