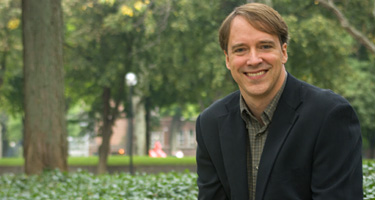 Culture for Service awardee.
In his relatively young career, David Bartel has changed the way researchers think about genetics and how life began, through his findings on ribonucleic acid (RNA) molecules.
Bartel's research at the Whitehead Institute for Biomedical Research, which is part of the Massachusetts Institute of Technology (MIT), where he teaches biology, has surrounded RNAs. RNA, as Bartel has helped to discover, regulates the expression of more than a third of human genes. Bartel and his research team were also essential to discovering RNA's importance to gene regulation in plants and animals and the potential manipulating them holds in significant research such as cancer.
"His research will improve the lives of many through alleviation of diseases and improving the productivity of plants," said Phil Sharp, institute professor at MIT, where he also researches at the Center for Cancer Research. "He is an outstanding scientist whose research will enhance the humanity of all people."
Bartel has been recognized in various ways over the past few years for his work. In 2005, he was named a biomedical investigator at the Howard Hughes Medical Institute. He was also awarded the Newcomb Cleveland Prize, the National Academy of Sciences Award in Molecular Biology and the Louis D. Institut de France Award from the French Academy of Sciences.
Bartel's respect for humanity is exemplified in the way he lives his life, as well. "He lives a modest lifestyle and is strongly supportive of his family," Sharp said. The director of Whitehead Institute, David Page said, "Dave is simply known as a peacemaker and supporter of all. He sees the good in everyone."
Between his graduation from GC and his enrollment in Harvard's doctoral program, Bartel and his wife, Jan Preheim '84, served with Mennonite Central Committee in Zambia, Africa.
Page recognized Bartel's time abroad as influential to the way he does work now. He said, "Dave's service in Africa, following graduation from Goshen, set the stage for an ongoing global perspective that manifests today in Dave's collaboration with scientists of diverse origin, near and far."
Bartel grew up around Goshen College, where his father, Goshen potter Marvin Bartel, taught art for many years. He found the atmosphere essential to shaping his values, "The fun of making something new without quite knowing how it is going to turn out – research is very similar to when you're doing ceramics," he once said.
Bartel and Jan live in Boston with their three teen-age children, Steven, Aaron and Laura, and attend the Mennonite Congregation of Boston.