Goshen College president opens school year with a call to embrace core values
GOSHEN, Ind. — Goshen College President James E. Brenneman called on students, faculty and staff Wednesday to embrace the college's core values and to work for the common good.Brenneman, speaking at the first campus convocation of the 2007-2008 academic year, proclaimed that the college's values have stood the test of time and been refined during its 113-year history in his speech "This we believe …"
"We believe we are Christ-centered, passionate learners, servant leaders, compassionate peacemakers and global citizens," he told more than 800 people in the Music Center's Sauder Concert Hall. "May we have the courage to integrate these values with our actions for the common good and so bring honor to God and to our alma mater."
Brenneman's message resonated with the students, who loudly cheered his introduction, laughed at the president's jokes and quips and loudly applauded the conclusion of his 10-minute presentation.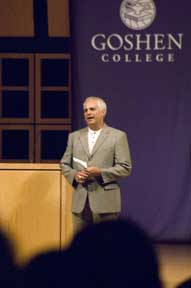 "I just really appreciate Jim's focus on the core values and that the school year always begins with the focus on what our school stands for and that that's the first impression that we give to the first-year students," said Lucy Roth, a senior from Bloomington, Ill. "And it's a good reminder for the returning students."
Michael Omondi, a senior from Nairobi, Kenya, said he appreciated the president's endorsement of international education, diversity and intercultural understanding.
"I appreciate Jim's emphasis on global citizenship and his passion for multiculturalism and anti-racism at Goshen College. His energy for that is something I really appreciate," Omondi said. "We're in this period of transformation and I'm looking forward to seeing that happening."
Brenneman, a 1977 graduate of Goshen College who is starting his second year as president, offered a warm welcome and led the audience in cheering for faculty members, staff and new and returning students before issuing his call to action.
During the convocation, he compared and contrasted the whimsical beliefs of children — in Santa Claus and the tooth fairy, for example — with those developed with maturity and through the ages.
"Core values help us make difficult decisions, select majors, choose where to live or work, raise a child — and the possibilities are endless. Core values can even help us find common ground with someone with whom we disagree," he said.
"At Goshen College, we have some 'mighty precious values' that have stood the test of time. … We believe that these precious values can help us make our world a better world. We believe that it would be a noble achievement, indeed, for every Goshen College student, faculty, and staff person to rediscover these mighty precious values for ourselves each school year and every year for the rest of our lives."
Brenneman then outlined each of the college's core values — Christ-centeredness, passionate learning, servant leadership, compassionate peacemaking and global citizenship. And though he gave equal time for all, his first emphasis was on Goshen College as a Christ-centered institution.
"Christ is the center that gives meaning to all our values. Christ offers a supreme example of how God desires us to live," he said. "We celebrate all those who claim Christ to be divine Lord and Savior of their lives. We celebrate also those who choose to live out the values that Christ taught and lived, wherever your spiritual home resides."
Before Brenneman's remarks, Professor of Music Debra Brubaker led the audience in the singing of the college's alma mater as well as "Teach me thy truth," a hymn written more than 70 years ago by two Goshen College faculty members. The audience also enjoyed a slide and audio presentation in which members of the Class of 2007 shared their beliefs and described how they were influenced by Goshen College.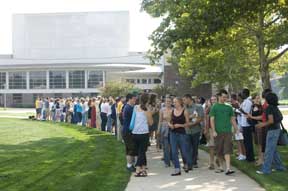 Afterward, and in what has become an annual tradition since 2000, the Goshen College "Tunnel of Welcome" or "Applause Avenue" formed outside the opening convocation. Faculty, staff and students paraded past their peers to sustained applause, and then joined and extended the lines for seniors, juniors, sophomores and first-year students to pass by. The applause of welcome continued until Sauder Concert Hall was empty and the line stretched west nearly to the railroad tracks and toward the heart of campus.
In a sermon Sunday to the Class of 2011 during New Student Days, also in Sauder Concert Hall, President Brenneman encouraged the students to consider the message of Psalm 46: "Be still and know that I am God."
Brenneman noted that it was a paradox and a conundrum for busy people to consider being still, but he encouraged the new college students to consider a deeper message.
"The goal of the journey, you see, isn't stillness per se as some religious traditions might suggest and some spiritual practices seem to promote. Rather, the goal of the journey is knowing God," he said. "Let go, let yourself fall into the hands of the living God. Holy is the Firm. Firm is God's infinite Christ-like love."
Related links:
Photo albums:
Videos:
Editors: For more information about this release, to arrange an interview or request a photo, contact Richard R. Aguirre, Goshen College director of public relations, at (574) 535-7571 or rraguirre@goshen.edu.
###
Goshen College, established in 1894, is a residential Christian liberal arts college rooted in the Anabaptist-Mennonite tradition. The college's Christ-centered core values – passionate learning, global citizenship, compassionate peacemaking and servant-leadership – prepare students as leaders for the church and world. Recognized for its unique Study-Service Term program, Goshen has earned citations of excellence in Barron's Best Buys in Education, "Colleges of Distinction," "Making a Difference College Guide" and U.S. News & World Report's "America's Best Colleges" edition, which named Goshen a "least debt college." Visit www.goshen.edu.