Student film team discovers church plays vital role in South Africa
GOSHEN, Ind. (Goshen College/Mennonite Mission Network) – South Africans continue to pick their way through the debris of apartheid that devastated the country for half a century. During Goshen College's May term, three students and three advisers sorted through the material they filmed during their South Africa spring break trip from Feb. 23 to March 6 choosing clips to show how churches help shape post-apartheid society.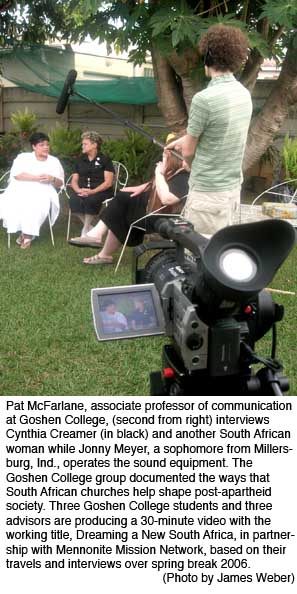 The students, part of the college's Peace and Justice Journalism Program, produced a 30-minute video with the working title, "Dreaming a New South Africa." Mennonite Mission Network will mail this video to Mennonite Church USA congregations later this year.
Pat McFarlane, associate professor of communication at Goshen College who led the trip, said, "The changes happening since the end of apartheid make this a great social experiment unlike that of any other country. I wanted to document those changes, especially in relation to the churches with which Mennonite Mission Network partners."
Mennonite Mission Network, the mission agency of Mennonite Church USA, assisted with the production of the documentary through a grant and with the collaboration of mission workers in North America and South Africa.
Tom Price, Mission Network's marketing director, served as a consultant for the film team. "We hope the video will provide the church with some specific examples of how U.S. congregations are currently working with those in South Africa and how they can potentially become involved in international missions," Price said. "The South African church is a vital part of transforming society at every level."
Way of Life Church, that began meeting in a school classroom in the township of Khayelitsha 11 years ago, impressed James Weber, a sophomore communication major from Reading, Pa., and video team participant. Today, the congregation has grown to become a significant, positive presence in the community.
"The church's members were mostly between the ages of 15 and 25, with hardly anyone being over 40. This allows for a vibrant service and lots of church ministries," Weber said.
These ministries include leadership training, cell groups, HIV/AIDS education, lifestyle instruction, tutoring, dance and drama classes and sports.
Way of Life's pastor, Xola Skosana, believes effective youth ministry begins in understanding what attracts young people.
"Go into the kinds of places young people go to. Dissect what of those experiences are good, and what are not good. The more we do that, the more young people come. So, we've developed a program that is rife with song and dance and drama," Skosana said.
The filming crew also visited Grace Community Church in Philipstown and Breakthru Church International in Pietermaritzburg. These churches reach out into their communities with ministries similar to those of Way of Life.
Christine and Phil Lindell Detweiler's family moved to Pietermaritzburg last December with Mennonite Mission Network, Africa Inter-Mennonite Missionand Mennonite Church Canada Witness to help develop social ministries in the three churches visited by the film team. Christine and Phil graduated from Goshen College in 1986 and 1987, respectively. The couple spoke about mission on the college campus last fall.
Anna and Joe Sawatzky and their two sons began ministry in Mthatha earlier this year. In 2001, Anna Liechty Sawatzky graduated from Goshen College and Joe Sawatzky graduated from Bethel College in North Newton, Kan.
An annual national survey reports that South Africa has the fifth-highest prevalence of HIV in the world, with more than five million people infected (20 percent of the country's population). Nearly half a million South Africans die from AIDS every year.
"If Breakthru Church does not become a place where people living with AIDS can be themselves, can admit that they are HIV-positive and feel acceptance, then, all of our worship and evangelism will have been useless," said Patric Dlamini, Breakthru's assistant pastor.
The optimism of the South African churches impressed Erini Shields, a film team participant and a junior interdisciplinary studies major from Yorktown, Ind. Despite all of the problems created by segregation, economic disparity and HIV/AIDS, Breakthru Church is continually forming new study groups and increasing membership, though they already have three Sunday services, Shields said.
"[The Breakthru congregation] wants to increase membership, but they also want to help their members realize that they can do something better with their lives, and that God is there to help them," Shields said.
The third film team member, Jonny Meyer – a sophomore Bible/religion and history double-major from Millersburg, Ind. – cautions against presenting a one-sided view of the South African reality.
"Just because apartheid is no longer a policy, doesn't mean all the problems have gone away. There is mass disappointment with the new government [Nelson Mandela's party, the African National Congress]. New individual freedoms are tearing apart communities," Meyer said.
Meyer quoted Skosana's wife, Nondumiso, who is a medical doctor. She gave voice to the frustration that so little has changed with the demise of political apartheid.
"There is no new South Africa," she said. "Real freedom is economic freedom and we don't have that. Economic freedom is what must happen, but 80 percent of the wealth is in white hands."
As a scriptwriter for the video, Meyer found the task of balance a delicate one.
"Our experience of the churches' work in South Africa was very positive, and that's the emphasis of our video. However, we have to recognize that the general South African reality is not always as positive and full of hope. We need to remain true to that aspect as well," Meyer said.
Though the multilayered complexity of South Africans' lives could become overwhelming, McFarlane finds a prevailing spirit of hope for what lies ahead.
"Most South Africans are able to dream a new world of freedom from oppression with the help they receive from Christ. I truly believe South Africa is dreaming again," she said.
Ryan Geist, president of Penta Vision, Inc., of South Bend, and former Goshen College communication instructor Ed Cundiff, also accompanied the team and provided technical expertise. Cundiff drew from his 25 years of broadcast journalism, including producing Today's Life Choices for University of Notre Dame's Golden Dome Media.
– by Sheldon Good of Goshen College and Lynda Hollinger-Janzen of Mennonite Mission Network
Editors: For more information about this release, contact Goshen College News Bureau Director Jodi H. Beyeler at (574) 535-7572 or jodihb@goshen.edu.
###
Goshen College, established in 1894, is a four-year residential Christian liberal arts college rooted in the Anabaptist-Mennonite tradition. The college's Christ-centered core values – passionate learning, global citizenship, compassionate peacemaking and servant-leadership – prepare students as leaders for the church and world. Recognized for its unique Study-Service Term program, Goshen has earned citations of excellence in Barron's Best Buys in Education, "Colleges of Distinction," "Making a Difference College Guide" and U.S.News & World Report's "America's Best Colleges" edition, which named Goshen a "least debt college." Visit www.goshen.edu.