Religious scholar Marlin Jeschke calls for a rethinking of holy land in new book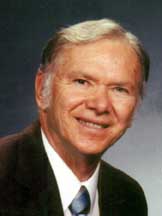 GOSHEN, Ind. – Christian tradition has held that the lands that make up modern Israel and Palestine are "holy." It was there, according to Scripture, that Abraham received God's promise of land, and where Jesus walked. Paul, the apostle, studied and started out from there on his missionary journeys during the first century of the Christian church.
Marlin Jeschke, Goshen College professor emeritus of philosophy and religion, having served on the faculty from 1961 to 1994, believes this "holy land" is the location of important events in salvation history, but is otherwise no holier than the ground he walks on every day in Northern Indiana. In his recently published book, "Rethinking Holy Land: A Study in Salvation Geography" (Herald Press, 2005), Jeschke challenges readers – particularly North American Christians – to reconsider issues related to land acquisition and possession.
"God is trying to coach humanity toward a new way of possessing territory other than seizing it by conquest and then defending it by violence and force," Jeschke writes in "Rethinking Holy Land."
Jeschke proposes that salvation involves not only our hearts, minds and souls, but also how believers think about the possession of land. Land is a central theme in the Old Testament, the Hebrew Bible. As Jeschke points out, the word "land" appears 2,504 times in the Hebrew Scriptures. Although the Middle East is traditionally referred to as the "holy land," Jeschke suggests that Christians be stewards and make holy any part of the earth on which they live. This "biblical vision of salvation geography," he says, "is for the whole world to be sanctified as holy land."
"Salvation geography" is a term Jeschke coined to refer to "a community living out the distinctive style of possession of territory that salvation history teaches, receiving land as a gift from God and stewarding it with respect for neighbors and descendants, extending the reach of holy land."
A native of Saskatchewan, Canada, who has lived in Goshen since 1961, Jeschke discusses the longstanding "Middle East problem" as a point of departure for formulating his view of the possibility for peaceful, nonresistant land ownership. The battle over territory between Israelis and Palestinians has become everyday news since the Arab-Israeli War of 1947. In commenting on "Rethinking Holy Land," Gary Burge, a professor of the New Testament at Wheaton College, says Jeschke "offers an important, compelling personal reflection on the Israeli-Palestinian struggle."
Jeschke and his wife Elizabeth visited Jerusalem in 1996, spending four months at Tantur, the Ecumenical Institute for Theological Studies, located between Jerusalem and Bethlehem, which is where he began to research and write this book. He also has written "Discipling in the Church" (1988) and "Believers Baptism for Children of the Church" (1983).
In his book, Jeschke reminds readers that next year will bring the 70th anniversary of the establishment of the State of Israel, yet division and violence continue to plague it. Israelis and Jews mark 1947 as the re-establishment of their own nation, while the Palestinians mark it as the beginning of invasion and occupation. Jeschke describes in "Rethinking Holy Land" that as outsiders looking in, apocalyptic Christians see the establishment of the State of Israel as an essential step towards the second coming of Jesus Christ.
In "Rethinking Holy Land," Jeschke claims that the theme of "salvation geography" runs through both Old and New Testaments. God provided the garden of Eden as a home for Adam and Eve, promised Abraham a land as far as he could see, and then gave the Israelites this promised land after their exodus from Egypt. Jeschke reminds his readers that Jesus and the apostolic church cherished yet redefined this promise to embrace the whole earth, as Jesus says in Matthew 5:5 in the Sermon on the Mount and the Apostle Paul says in Romans 4:13 – that God gave Abraham the cosmos.
Jeschke calls readers to commit their lives to a new vision, a vision of stewarding land as a gift instead of resorting to conquest – or supporting one side or the other in the ongoing conflict between Israel and the Palestinians. This vision is "available to any Christian willing to listen, to not fight over territory," Jeschke said.
Christians are called to be stewards of the land in which they live, to reject society's "I'll fight you for it" mentality, as described by Fuller Theological Seminary professor David Augsburger in the book's foreword. Further, God's intention in the call to Abraham for people to possess land in peace and nonviolence should encompass the whole world, not just the Middle East.
Jeschke is interested in engaging thoughtful readers in considering making this vision their own, no matter where they live. "It would be easy," he writes, "to make moral judgments about both biblical and modern Israel/Palestine and allow that to deflect attention from equally serious problems at other times and places in the past and present, many of them closer to home."
Jeschke earned a bachelor's degree from Tabor College, a divinity degree from Garrett Theological Seminary (now Garrett-Evangelical) and a doctorate from Northwestern University. He is currently president of the Mennonite Historical Society and resides in Goshen, Ind., with his wife Betty, where they are members of College Mennonite Church.
– by Sheldon Good
Editors: For more information about this release, to arrange an interview or request a photo, contact Goshen College News Bureau Director Jodi H. Beyeler at (574) 535-7572 or jodihb@goshen.edu.
###
Goshen College, established in 1894, is a four-year residential Christian liberal arts college rooted in the Anabaptist-Mennonite tradition. The college's Christ-centered core values – passionate learning, global citizenship, compassionate peacemaking and servant-leadership – prepare students as leaders for the church and world. Recognized for its unique Study-Service Term program, Goshen has earned citations of excellence in Barron's Best Buys in Education, "Colleges of Distinction," "Making a Difference College Guide" and U.S.News & World Report's "America's Best Colleges" edition, which named Goshen a "least debt college." Visit www.goshen.edu.