Goshen College announces 2005 Culture for Service Award honorees and launches Decade of Servant Leadership Award, to be given during Homecoming Weekend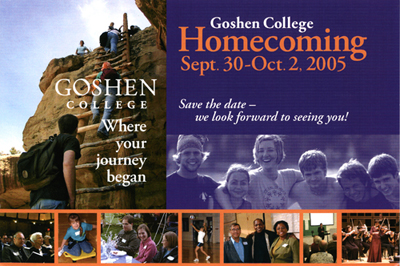 GOSHEN, Ind. – Since it was coined in 1904, "Culture for Service" has been the motto of Goshen College and an ideal for students, faculty and staff. During Homecoming Weekend 2005, the college will honor three exceptional alumni whose lives and work have exemplified this motto, with the Culture for Service Award. The college will also honor one recent alumnus with its inaugural Decade of Servant Leadership Award, which recognizes young alumni who are making significant contributions to their communities, church and world.
Awarded by the Goshen College Alumni Board, the 2005 Culture for Service Award will be presented to 1955 graduate Hans J. Hillerbrand, published scholar and religion professor at Duke University in Durham, N.C., and 1968 graduate Ramzi Farran and 1969 graduate Carol Farran, a high school chemistry teacher and nurse researcher, respectively, from Oak Park, Ill. Justin Rothshank, a Goshen native and 2000 graduate who now lives and works in Pittsburgh, Pa., will be the first recipient of the Decade of Servant Leadership Award.
The award recipients will be honored at a special chapel on Friday, Sept. 30 at 10 a.m. in the Church-Chapel. A reception for recipients will follow in the Gathering Rooms at 10:30 a.m.
The Culture for Service Awards, given annually, honor Goshen College graduates who have made lifelong commitments to service, which can take many forms. Recipients distinguish themselves through exemplary records of service and achievements at home or in their churches, colleges and communities and the larger world.
According to Carla Weldy, Goshen College director of alumni, church and parents relations, the Decade of Servant Leadership Award was developed to recognize an alumnus or alumna whose contributions and achievements in career, public or church service and volunteer activities early in post-graduate life are valuable and inspiring. The award is given to alumni during or prior to their tenth class reunion year. "We created the new Decade of Servant Leadership Award as a means to provide additional role models for students and to honor young alumni who orient their lives around all of the core values," said Weldy.
According to Weldy, the 2005 recipients of the Culture for Service and Decade of Servant Leadership awards are an exceptional group of individuals. "Every year, it is difficult to select a few award winners from among many deserving alumni nominations," said Weldy. "This year's winners deserve recognition for their personal achievements and for the way they embody the values of a liberal arts education in general and of Goshen College's Christ-centered in particular."
Hans Hillerbrand
Recognized as one of the country's preeminent Christian Reformation and church historians, Hans Hillerbrand's work has consistently reflected his concern for demonstrating the broad cultural significance of historical development. He currently serves as president of the American Academy of Religion and is a member of the American Society of Church History.
"Dr. Hillerbrand has a world-wide reputation as a historian of the Reformation," said John D. Roth, professor of history at Goshen College. "He brings a balanced, thoughtful approach to church history that integrates religious convictions with the broader social and political context."
After graduating from Goshen College in 1955, Hillerbrand went on to earn a doctorate in intellectual history and the history of religion at the University of Erlangen in his home country of Germany; he obtained an honorary doctor of laws degree from Montclair State University in 1978.
Hillerbrand served as a professor at Goshen College from 1957 to 1959 before taking a professorial position at Duke University that he held until 1970. He taught at City University of New York as well as Southern Methodist University before returning to Duke University in 1988. Known among scholarly peers for his integrity, Hillerbrand has also taken on administrative positions at these universities.
Hillerbrand has published a large number of books, articles and reviews, and served as co-editor of the "Oxford Encyclopedia of the Reformation." He has also held visiting professorships at three universities in Germany and one in Canada. He has held numerous voluntary positions on boards, committees and councils for a variety of religious and secular organizations, and has served as a driver for the Interfaith Network.
"He is a church man, deeply committed to the health and vitality of the Evangelical Lutheran Church in America (ELCA) and broader Christian church," said Roth. "He has a strong, ongoing interest in the Mennonite church and in Anabaptist studies. He is deeply interested in connecting scholarship with active, living faith."
Hillerbrand is an active member of St. Paul's Evangelical Lutheran Church in Durham, N.C., teaching Sunday school and serving on various church committees. He and his wife, Bonnie, have three grown children.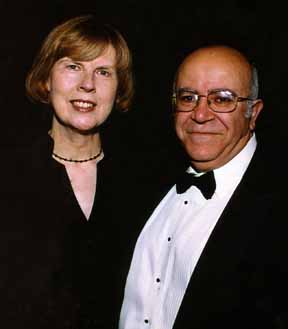 Ramzi and Carol Farran
Ramzi and Carol Farran have chosen to serve others through their vocations and beyond.
Carol (Koop) Farran came to Goshen College from Henderson, Neb., and graduated with a bachelor of science in nursing in 1969. She went on to earn master's degrees from Illinois State, Northern Illinois and Rush Universities. She earned a doctorate in nursing science from Rush in 1985 and did post-graduate research at Northwestern University. A professor in health and the aging process at the Rush University College of Nursing and the Rush Alzheimer's Disease Center, she has engaged in extensive research into testing interventions aimed toward decreasing the emotional distress and improving the physical health of those who are family caregivers for sufferers of Alzheimer's disease. Her research has been funded by the Alzheimer's Association, the National Institute of Aging and the National Institute of Nursing Research.
Carol was honored with the Illinois Nurses Association Distinguished Researcher Award in 2001. She is a member of six professional organizations, serves on numerous committees, has published a long list of articles and in health care journals and church publications and has given countless presentations on her research.
Born in Palestine, Ramzi Farran graduated from Goshen College in 1968 with a chemistry degree, and earned a master's degree in chemistry in 1971 from Illinois State University. He engaged in graduate studies at Northwestern University in 1998.
Ramzi, who lost his right arm in a factory accident as a young man, has been a dedicated teacher and mentor to a diverse population of high school students for 34 years. A high school chemistry teacher and coach of award-winning engineering and academic teams for 24 years at Fenwick High School, he has received numerous honors, including the Golden Apple Award and recognition from the Illinois State Board of Education; he was included in CBS News' "Thanks to Teachers."
The Farrans are the parents of two grown children and are active members in a Taize community in Oak Park, Ill.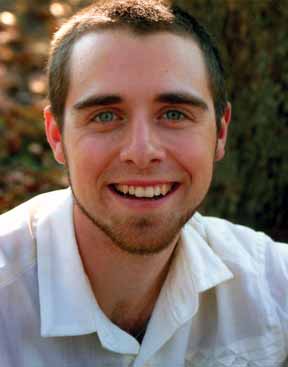 Justin Rothshank
Goshen native Justin Rothshank has spent a year in voluntary service, helped develop a non-profit organization to establish a community center and developed a reputation as a respected artist. And he only graduated from Goshen College five years ago.
Rothshank is a founder, board member and associate director of the Union Project in Pittsburgh, Pa., a nonprofit organization with goal of bringing together faith and art in a diverse community of people. The project was originally launched in August 2001 by a group of Pittsburgh area Mennonites. According to Rothshank, 13 Goshen College graduates have had long-term involvement in this innovative nonprofit organization with dozens of other students having contributed at some point.
"[Justin] has taken many of the values of Goshen College and applied them in his every day life," said Jessica King, executive director of the Union Project. "He has brought his global experience as a GC graduate to the multi-cultural mix of Pittsburgh and is a sensitive person who is well-liked by all who interact with him."
At Goshen College, Rothshank was an art major with a focus in ceramics and took a minor in multimedia communication. Before becoming involved in initiating the Union Project, Rothshank spent a year with the Pittsburgh Urban Leadership Service Experience program (PULSE) as part of Menno Corps; he served as an apprentice at a woodworking studio.
An emerging visual artist, Rothshank has continued to develop a body of artwork, exhibiting ceramic and sculptural pieces around the country and giving demonstrations and workshops. A member of the National Council on Education in Ceramic Arts, Rothshank and his wife, Brooke, a 2000 graduate, have also restored an abandoned historic row house, which includes studios to create artwork.
"As a student, Justin was certainly experimental with materials and seemed to enjoy challenging conventional assumptions with his work," said Marvin Bartel, retired Goshen College professor of art. "This disposition appears to have lead him into innovative and bold assumptions about what can be accomplished with limited resources."
Rothshank shares a heart for service into the greater Pittsburgh area as well. He is involved in arts-based community development, works with a job-training program for high school students, helps at the annual fundraiser for the Greater Pittsburgh Community Food and volunteers at the Pittsburgh Glass Center. Rothshank is also an active member of Stone Soup, a newly organized Anabaptist worship group, for which he and Brooke have been part of a visioning process.
– Jennifer Rupp
Editors: For more information about this release, to arrange an interview or request a photo, contact Goshen College News Bureau Director Jodi H. Beyeler at (574) 535-7572 or jodihb@goshen.edu.
###
Goshen College, established in 1894, is a four-year residential Christian liberal arts college rooted in the Anabaptist-Mennonite tradition. The college's Christ-centered core values – passionate learning, global citizenship, compassionate peacemaking and servant-leadership – prepare students as leaders for the church and world. Recognized for its unique Study-Service Term program, Goshen has earned citations of excellence in Barron's Best Buys in Education, "Colleges of Distinction," "Making a Difference College Guide" and U.S.News & World Report's "America's Best Colleges" edition, which named Goshen a "least debt college." Visit www.goshen.edu.