Organ installation in Goshen College Music Center begins Dec. 6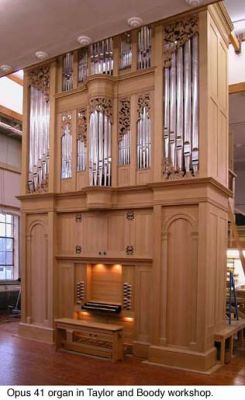 ---
See photos from the installation
---
Since the public dedication in October 2002, the award-winning $24-million Goshen College Music Center has been humming with activity with regular concerts by world-class musicians, performances by Goshen College instrumental and vocal groups, as well as recitals from students enrolled in Community School of the Arts programs. But one piece of the ensemble, if you will, has been missing –– until now.
Beginning Dec. 6, a custom-built, 1,634-pipe, 24-feet tall Taylor and Boody organ, called the "Opus 41," will be installed in the 300-seat Rieth Recital Hall, filling most of the east balcony. Taylor and Boody workers will coordinate the moving of all organ pipes and parts into Rieth Recital Hall, beginning at 7 a.m., with the help of volunteers. Work will continue in Rieth until assembly is complete.
A spectator gallery in the Rieth balcony will be open every day for those interested in viewing the intricate assembly of this fine instrument. It is anticipated that construction on the organ will be complete by Dec. 17. Tuning and voicing of the organ will take place in January, under the direction of organ designers and builders George Taylor and John Boody.
Early in the process of discerning what features should be included in a new music building for Goshen College, planners decided to include a custom-built organ – reflecting the use of this historical instrument by Mennonite congregations and other denominations in church music, a significant interest of the Goshen College Music Department. After testing 30 organs from 20 different builders, a Goshen College committee selected Taylor and Boody Organbuilders of Staunton, Va., a small firm noted for a high-quality sound and excellent workmanship.
The Rieth Recital Hall organ is based on 18th century North German models, and features a hand-carved solid white oak case. Its two manual keyboards utilize mechanical key and stop action, and it is tuned to Kellner-Bach temperament, the unequal temperament used by Bach in his Well-Tempered Clavier. More than 1,600 hammered, lead-tin alloy pipes are needed to create the sounds desired from this organ.
Taylor and Boody is a small firm of 17 skilled workers designing and building tracker action organs in the classical North German and Dutch styles. All the parts for the organs are handmade in their Virginia workshop, including the fabrication of all the metal flue pipes and reeds. Only the finest materials are used including lumber cut and dried especially for use in organ building. Taylor and Boody organs are built to the highest standards of craftsmanship in the old European tradition. The free-standing solid wood casework is handmade and decorated with wood carvings and decoration in the classical style. Careful attention to design and manufacture produces an instrument of responsive playing characteristics and superior tonal qualities.
Find more information about the builder at http://www.taylorandboody.com/. Visit the Music Center website at www.gcmusiccenter.org.
Inaugural concerts on the new organ:
Sunday, May 1, 2005 –– Organ Dedication Concert – Dr. Craig Cramer, professor of organ, University of Notre Dame. 7:30 p.m., Rieth Recital Hall.
Tuesday, May 3, 2005 –– Christine Thögersen (assistant professor of music, Goshen College) and Dr. Rosi Penner-Kaufman (instructor of organ, Bethel College, Newton, Kan.). 7:30 p.m., Rieth Recital Hall.
Friday, May 6, 2005 –– GC alumnus Mark Herris, organ. 7:30 p.m., Rieth Recital Hall.
Sunday, May 8, 2005 –– Christine Thögersen, organ and the St. Joseph Valley Camerata. 3 p.m. and 7:30 p.m., Rieth Recital Hall.