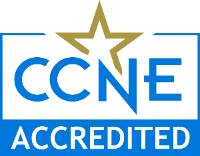 The Doctor of Nursing Practice program at Goshen College is accredited by the Commission on Collegiate Nursing Education (ccneaccreditation.org). Note: it is accredited as "Goshen College-Eastern Mennonite University DNP Consortium."
---
Accreditation Announcement
The Goshen College-Eastern Mennonite University DNP Consortium is preparing to host an accreditation visit from the Commission on Collegiate Nursing Education (CCNE). The visit is scheduled for February 7-9, 2024. In accordance with CCNE accreditation procedures, we extend the opportunity to our communities of interest to submit comments regarding our academic programs. Written and signed third party comments will be accepted by CCNE until 21 days before the scheduled on‐site evaluation; a deadline of January 17, 2024.
CCNE shares third-party comments with members of the evaluation team prior to the visit, but at no time during the review process are these comments shared with the program. During its review of the program, the evaluation team considers third-party comments that relate to the accreditation standards.
All third-party comments submitted to CCNE must be written in English, consistent with CCNE's policy on Conduct of Business in English. If you would like to submit a third-party comment, please submit to: thirdpartycomments@ccneaccreditation.org.
Or, if you prefer, mail comments to:
Commission on Collegiate Nursing Education
Attn: Third-Party Comments
655 K Street, NW, Suite 750
Washington, DC 20001
If you have any questions about this process, please contact CCNE staff at 202-887-6791 x268.  Thank you for participating in this process.