Carrie Meyers '01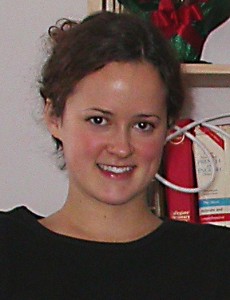 Major: Interdisciplinary in biology, sociology and religion
Now: Student at Harvard Law School and the Fletcher School at Tufts University. She will graduate in 2008 with a J.D. from Harvard and a master's degree in law and diplomacy from Tufts
What are the most challenging and enjoyable aspects of your postgraduate study?
I have been pushed to think in very different ways than I have before, which I really enjoy. I feel privileged to be able to shape my Mennonite perspective by my experiences here. I also very much enjoy discussing ethics and contemporary issues in law with persons of very different backgrounds than my own-politically, culturally and economically.
How has your Goshen College experience shaped and prepared you for what you are doing now?
I developed a lot of my values at Goshen College. I became more centered in who I was, which gave me confidence in areas where my beliefs seem immutable, as well as freedom to question my beliefs and thoughts in other areas. The relationships I formed with several professors at Goshen helped me to feel more comfortable approaching and relating to my professors in graduate school.
What are your vocation and life goals?
I hope to work with law and public policy, hopefully in an international context.
How has Goshen's motto, "Culture for Service," impacted the way you choose to live and pursue your vocational calling?
Study-Service Term (SST) shaped my life a great deal. International experiences, including my own experience on SST in China, gave me a broader perspective to view world issues, as well as issues pertinent to the Mennonite community. This perspective spurred my desire to serve and assist others through law. In my domestic endeavors, I hope to use the law to assist battered women and other people made virtually powerless by the U.S. legal and political system. In work at the international level, I hope to use the law as a tool to facilitate international cooperation, while seeking to learn from and support differing cultural perspectives.