Hans Peter-Goertz '96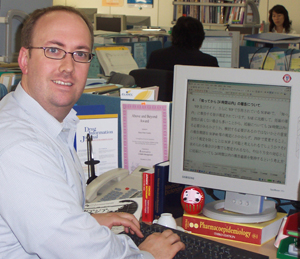 Major: Biology and German

Now: Working in pharmaceutical drug development in Tokyo.
What are the most challenging and enjoyable aspects of your job?
Bridging cultures is both the most challenging and enjoyable aspects of my job.
How has your Goshen College experience shaped and prepared you for what you are doing now?
Goshen College played a key part in awakening my interest to discover the world. My year abroad in Germany, the friendships with the international students at Goshen, as well as the globally-focused curriculum are what helped prepare me for the world abroad.
What are your vocation and life goals?
One of my goals is to obtain and keep a focus on the "big picture" issues and to make sure my role contributes to advancing the major issues in healthcare today that I consider important. In many ways we are entering a golden age of medicine with advances coming faster and faster and the challenge is to maintain an overview of what's happening and be involved in it.
How has Goshen's motto, "Culture for Service," impacted the way you choose to live and pursue your vocational calling?
From time to time I step back and reflect on whether or not I have maintained the ideals of peace and justice that Goshen offered, and evaluate how to best implement those ideals. One way is to seek employment in a company with ideals that one respects, and then working within its power structures to support ethically sound business practices.