Schrock Science Labs

Renovated in 1992, this facility provides modern laboratory and research facilities. Its comfortable and safe research labs are well-ventilated and well-equipped for basic research in the genetic, cellular, molecular, vertebrate, aquatic and marine areas.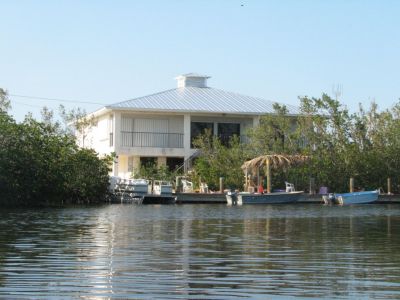 The Jonathan N. Roth Marine Biology Station, owned by Goshen College, is located in Layton, Florida about 1 1/2 hours from Miami in the Florida Keys. The station includes the C. Franklin Bishop laboratory, which facilitates research and study in marine science.
The marine station enables students to explore a world-class marine ecosystem, with coral reefs, mudflats, and seagrass beds adjacent to the station. The marine biology program at Goshen is growing and includes the annual May term marine biology course, May term and summer research opportunities for students, and ongoing research and teaching collaborations with other institutions. Learn more.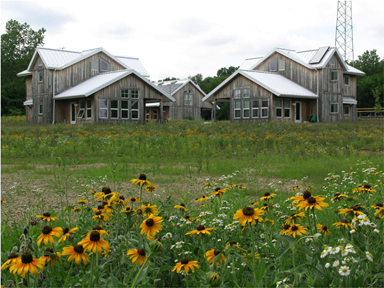 Merry Lea is a nature sanctuary located near Wolf Lake, Indiana.  Most of the habitats found in northeastern Indiana are present in the 1,189 acres of Merry Lea. Unique geological features such as peat bogs, a marl pit, and glacial gravel formations are present. Observable management practices include wetland, prairie, and savanna restorations, as well as sustainable agriculture.
On location is Rieth Village, a cluster of the LEED Platinum-certified buildings, which are equipped with technology and accommodations for semester-long residential research experiences. A vigorous educational program interprets the significant biological and geological features. Management of the center is guided by a Christian theology of earth-keeping. Learn more.
Witmer Woods
Witmer Woods is an 18-acre arboretum of native shrubs and trees within walking distance of campus. Witmer Woods was acquired by Goshen College in 1941 to be used as a natural recreation area. Dr. Witmer and his students transplanted trees and shrubs to create an arboretum. This valuable resource and learning tool is a fitting tribute to one who contributed so much to identifying and preserving plant life.
Find out more about Dr. S.W. Witmer and the Witmer Endowment Fund.
Goshen College is part of a network of Christian colleges that send students to the Au Sable Institute. Students can take classes in environmental studies and gain field experience that will transfer as credits to GC. Learn more.