Students will find many opportunities to gain valuable experience (paid or volunteer) in and around the Goshen College community. All students are required to complete an internship as part of their program of study.
Goshen students participate in a diverse range of internships that help them test their career interests. Check out these recent examples:
Photobioreactor Research Project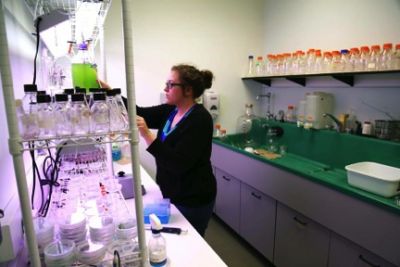 "This summer I worked on the Goshen College AlgaeTown project with the goal of developing microalgal biomass as an alternative source of biofuel, animal feed, human food and more. On a daily basis, I worked to develop starter cultures, evaluate algal growth dynamics, and maintain the photobioreactors." – Anna van der Zwaag
Merry Lea Bird Banding Program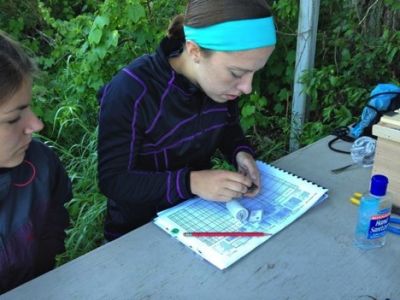 "This summer I worked with Lisa Zinn on bird banding at Merry Lea Environmental Learning Center. I learned how to handle birds properly and how to collect data on them for a nationwide program called MAPS. I also collected data and monitored bluebird boxes that are placed all over Merry Lea to see how successful Eastern Bluebirds were with reproduction this summer." – Abby Flickner
Center for Healing and Hope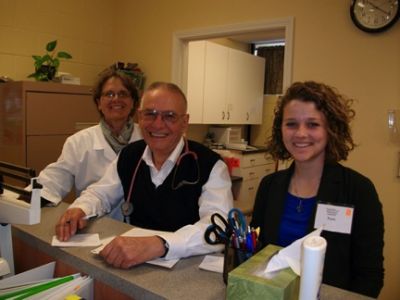 "I spent a semester volunteering three days a week at the Center for Healing and Hope in Goshen. CHH is a non-profit organization that provides medical care and advocacy for people without a medical home, and I had the privilege of observing several different doctors in the clinic, helping with fundraising and community health events, and translating for Spanish speaking patients. This was a great opportunity to learn about the medical needs in our community, and to get some experience working with medical professionals." – Sam Weaver
Woody Perennial Polyculture (WPP) at Merry Lea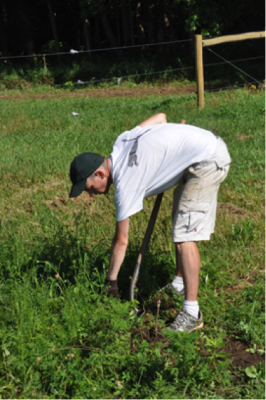 "The Woody Perennial Polyculture (WPP) at Merry Lea is part of a case study that aims to become a more sustainable way of farming. My first month of my internship I assisted in planning how to take care of the WPP. I researched the benefits and disadvantages of organic and commercial farming. I assisted in weeding and mulching. At the end of the day, I was exhausted but it felt great to do an honest day of hard work." – Jack Shomberg
Neurosurgeon Intern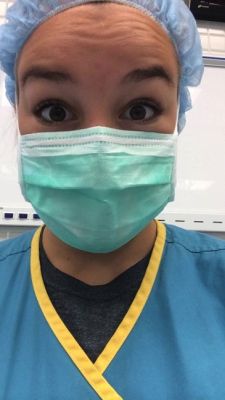 "During the summer of 2014 I was able to shadow Dr. Saphier, an endovascular neurosurgeon in Phoenix, Arizona. I got the opportunity to observe many different types of surgeries, everything from a shunt revision to craniotomies to angiograms and embolizations – an exhilarating experience that prepared me for both the business and medical side of being a surgeon." – Hayley Mann 
Bird Banding – Merry Lea Environmental Learning Center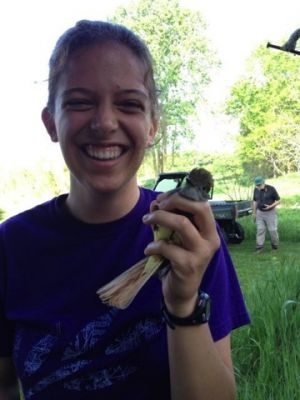 "I spent the summer at Merry Lea Environmental Learning center and served as a field assistant for the MAPS bird banding program. I helped capture, band, and record data on the birds as well as completed a separate research project on the bluebird boxes we monitored throughout the summer." – Ellie Schertz

Goshen Center for Cancer Care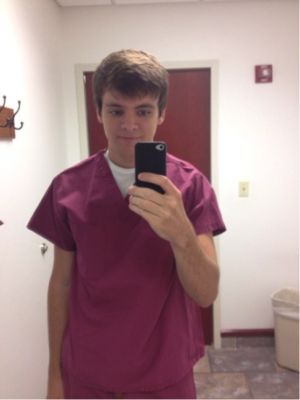 "This summer I had the opportunity to shadow medical, surgical, and radiation oncologists at the Goshen Center for Cancer Care.  I observed many different aspects of the cancer treatment process, from doctor-patient meetings, to infusion, to radiation planning and administration, to surgery and much more.  This experience provided me with insight into the everyday joys and challenges of working in medicine." – Stephen Graber
Patuxent River Park in Maryland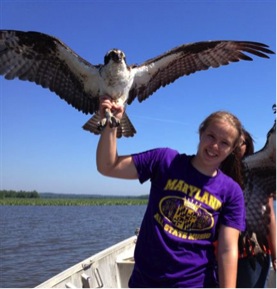 "This summer I was an intern at Patuxent River Park in Maryland. I worked on a wild rice restoration project in Jug Bay wetlands area, and also gained experience in osprey banding as well as wood duck and barn owl monitoring." – Cecilia Lapp Stoltzfus
Maple City Health Care Center & Goshen Family Physicians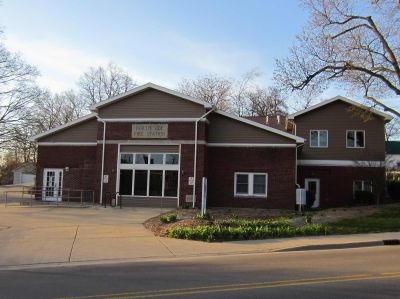 "I had the unique opportunity to intern at Maple City Health Care Centeras well as Goshen Family Physicians for my biology internship. During my internship, I experienced the importance of bilingual healthcare and the vital role and dynamics of patient-doctor interactions and relations." – Rebekah Steiner
Conservation and Natural Resource Management: Student Conservation Association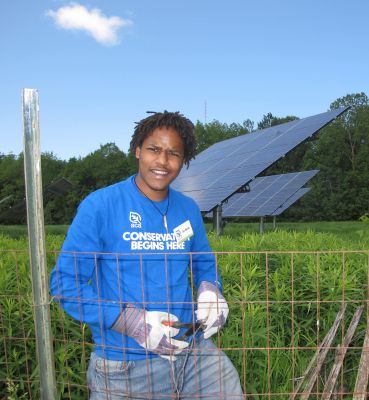 "This past summer I was one of 10 consultants working with the Student Conservation Association (SCA). This organization focuses on giving students experience on conservation issues and providing them with an opportunity to utilize in class knowledge in their daily work.  Over the summer we worked on a total of 5 projects that were capped off with a small team project (STP). We were responsible for delivering reports and high quality maps for the various projects. I gained immense experience in the field through orienteering, map reading, report writing and GPS skills.  I highly recommend students to tap into this opportunity."  – Raymond Waweru
Land Conservation and Restoration: Blue Heron Ministries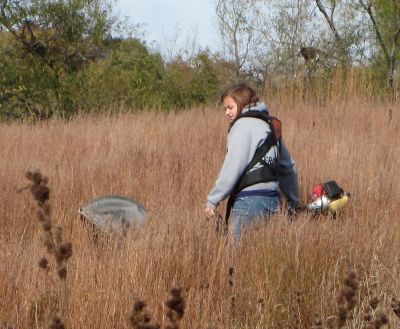 "Blue Heron Ministries is a Christian organization that focuses on native land restoration in Stueben and surrounding counties in Northern Indiana. I learned the proper techniques for applying herbicide which was then used to eliminate invasive species present on the properties that Blue Heron was in charge of maintaining. I also did seed collecting, planting and other restoration jobs. I also used this opportunity to work on plant identification and to learn more about prairies, fens and sedge meadows and how they function." – Chelsea Frederick
Environmental Education: Elkhart Environmental Center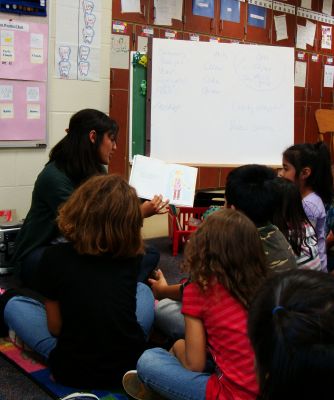 "The Elkhart Environmental Center's mission is to preserve, protect and restore the surrounding environment. The majority of my responsibilities include helping in all school-based programs, whether to assist in an educational activity or brainstorm new curriculum to adhere to the changing state science standards. My weekly duties are constantly changing but my most notable responsibility has been to head up the Center's annual America Recycles Day Fall Fest and Pumpkin Smash, which is a program that focuses on encouraging the importance of recycling through fun and interactive activities such as hiking, crafts using recycled materials, wagon rides, and of course the pumpkin smash. The experience has opened my eyes to how much I enjoy working in the community and understanding what is involved behind the scenes in making these programs successful."  – Menan Assefa
Urban Gardening: New Community Project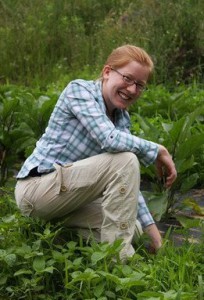 "This summer I interned for the Harrisonburg, VA chapter of New Community Project, a non-profit Christian organization that promotes "peace through justice, care for creation, and experiential learning." Although I was mainly involved with the urban gardens, NCP Harrisonburg also works with alternative transportation and sustainable building. This internship allowed me not only to learn about garden designs and techniques but to also build relationships with people from various walks of life who I never would have otherwise encountered." – Serena Townsend
Community Supported Agriculture: Living Hope Farm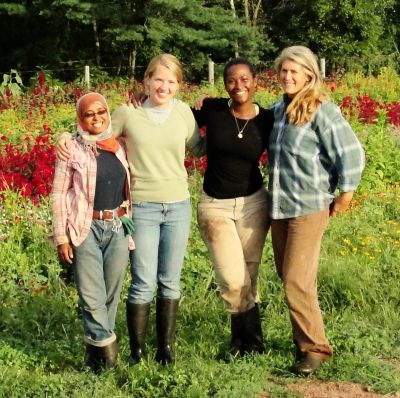 "I interned at Living Hope Farm, a non-profit, Community Supported Agriculture (CSA) farm in Harleysville, PA. I worked with 3 other women: a director and two interns. Our work day went from sunup to sundown, and our duties included activities such as greenhouse operations, field work, planting, mulching, caring for livestock, tractor work, and managing CSA members. This was a great opportunity to learn about the challenges of producing food organically and sustainably."
– Lydia Yoder
Organic Farming: Foghino Farm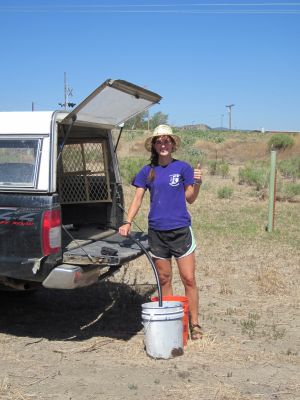 "I spent a month of my summer working on Foghino Farm in Trinidad, CO. The arid climate and hot days provided me with plenty of Vitamin D, not to mention experience in a field I did not have much in previously. Many hours were spent weeding, as the farm was organic and completely pesticide-free, but we also built fences, watered tree saplings, dug ditches, and herded goats in the hills outside of Trinidad. The relationships made on the farm helped emphasize the importance of a local community, and getting my hands dirty made me realize the importance of listening to the earth." – Ali Fretz
Soil Microbe Research: GC Biology Department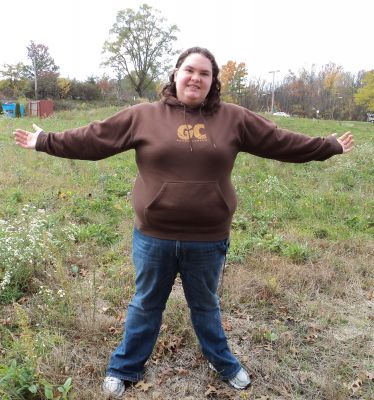 "I did research on soil microbes by collecting soil samples from one of the campus prairies. My goal was to figure out the diversity of the soil microbes and use that data to correlate the diversity of the plants aboveground." – Amanda Leinbach
Physical Therapy: Princeton Physical Therapy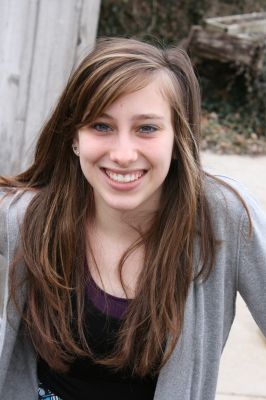 "I had a rewarding experience observing physical therapy. I enjoyed learning more about it and interacting with the patients who came in. I know I have a lot more to learn, but this was a good start. One of my favorite parts was when I helped hold a patient's arm or foot in a position so the therapist could measure how far it had improved. This made it seem more real, but just being in this environment for a whole day showed me how my life could be working as a therapist. It got me excited for what my future could look like." – Melissa Zehr
Check out Princeton Physical Therapy
Indiana Physical Therapy
"This summer I did my internship with physical therapist Andy Vogal at Indiana Physical Therapy in Bluffton, Indiana. While there, I was able to watch and observe a physical therapist at work. I watched them come and go each week and got to see their recovery over two months. Each patient was unique, and each interaction was a learning experience. I learned a great deal about the profession and its logistics, but I learned much more about patient interaction and the job skills that are necessary, but that I had thought little about. This experience shed light on the life of a physical therapist and how I might fit into that life in the future." – Jana Beitler
Plastic Surgery: The Centre, P.C.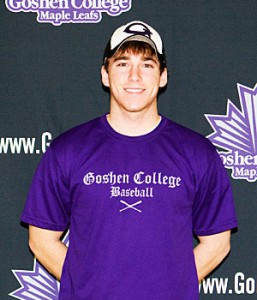 "This past summer I had a great opportunity to shadow two renowned plastic surgeons: Dr. Ronald K. Downs and Dr. Patrick J. Viscardi. My typical day consisted of watching many interesting surgeries, with the doctors explaining what they did.  I also helped the nurses clean up the OR after each surgery and with other minor tasks such as moving a patient to another bed or getting any supplies they needed. This internship gave me more motivation and excitement to become a physician's assistant.  It allowed me to jump into the daily work lives of these doctors and nurses, showing me the truly amazing work that they do." – Spencer Oversen
Check out The Centre, P.C.
Medical Research at ImClone Systems
"This summer I worked for ImClone Systems, Inc., a pharmaceutical company based in New York City. My main focus was to research extracellular receptors on cancer cells for a new form of cancer therapy." – Matthew Glick
Institute for Latino Studies at the University of Notre Dame
"I spent the semester as a research intern at the University of Notre Dame Institute for Latino Studies. I worked with biological anthropologist Waldo Mikels-Carrasco on various public health projects addressing infant mortality, prenatal care, and cancer screening education in minority populations. My daily tasks included assisting with grant writing, research projects, and media campaigns. I discovered that I really enjoy this type of research because I get to collaborate with people from different areas of work." – Clara Sears