We are looking for scholars to help us in original research.
The Biological Sciences Department has a long record of providing opportunities for students to get involved in faculty-led research projects. Whether you want to become a medical doctor, a field ecologist with the National Park Service, a development worker in the non-profit sector, or a manager of a medical technology business – research skills will help you achieve these goals.  You are encouraged to contact faculty directly to learn more about research in their labs.
Physiology and genomics of ethanol-induced stress in honey bees (Apis mellifera)
Dr. Andy Ammons (Professor of Biology)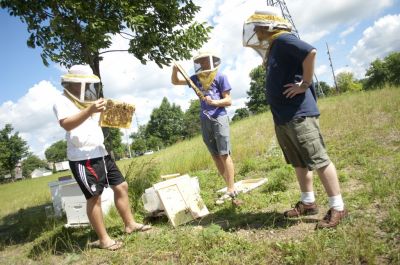 Through design and construction of a flow-through "inebriometer," I am studying the behavioral and physiological effects of ethanol vapor exposure in the honey bee.  The honey bee is an excellent bio-medical model due to genomic similarities between bees and humans, the ease of culture, the ability to sample clonal individuals, and the ecological relevance of this species. My students and I have confirmed the existence of ethanol tolerance (physiological tolerance to the effects of ethanol ingestion after repeated exposure) in honey bees and polymorphic genes influencing this tolerance were isolated and amplified using current molecular genetic techniques (primer design, polymerase chain reaction, agarose gel visualization). We hope to use our research to provide insight into similar processes of ethanol sensitivity that occur in related species (including humans).
The photobioreactor project
Dr. Stan Grove (Professor Emeritus of Biology)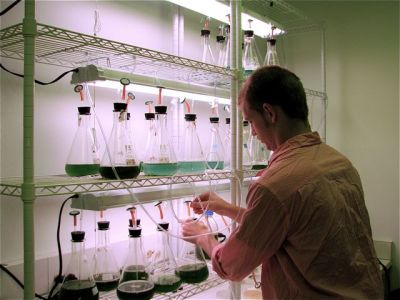 A collaborative effort to produce and test a photobioreactor with increased efficiency to produce algae biomass for biofuels and livestock feed is proposed by engineers at Formco Inc. of Elkhart, Indiana and scientists at Goshen College. The photobioreactor, conceived and produced at Formco, is designed to require reduced energy in puts by using the energy supplied with introduced gasses to operate the mixing of the culture and the extracting of the biomass for further processing.  Students are working with Dr. Grove to test the biological efficiency of the photobioreactor.
Physiology Research
Dr. Neil Detweiler (Assistant Professor of Biology)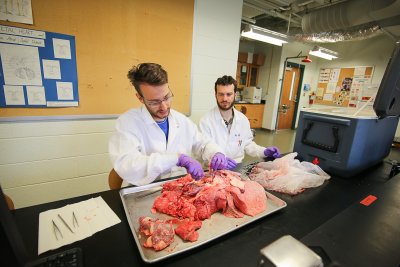 My interest is in the contributions of ion channels to blood vessels in the lungs of yaks and common domesticated cattle. Both species are members of the Bovidae family, but yaks have evolved unique adaptations for living at high altitude where there is low oxygen. For example, the arteries of yak lungs lack a phenomenon known as hypoxic pulmonary vasoconstriction (HPV). This is a beneficial mechanism in most species, but at high altitude can result in pulmonary hypertension. Several ion channels are known to mediate HPV in other species but have not been closely examined in yaks. The goal of this research is to determine the identity and electrophysiological properties of ion channels in yak pulmonary artery smooth muscle cells. This research aims to improve our understanding of the regulation of pulmonary artery constriction, which plays a role in pulmonary hypertension, a disease with limited treatment options that afflicts both humans and domesticated cattle.
Gleason Moss Collection & bird banding
Dr. Dave Miller (Professor Emeritus of Biology)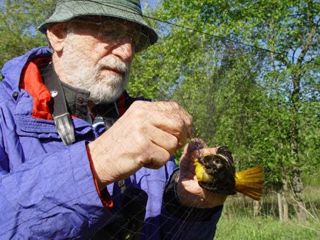 The objectives of the Gleason Moss Project is two-fold. The primary objective is to make the information in the Gleason Collection available to the general public and other scientists by putting in onto the World Wide Web. The indirect objective is to understand the complexity, taxonomy and techniques regarding moss preservation and study. Goshen College does not have a moss expert on staff. Therefore, two students, under the supervision of a Goshen College biology professor, have endeavored to learn the glossary, taxonomy and histology of those moss families found in the Gleason Collection.
Since 2002, Merry Lea I have also participated in the Monitoring Avian Productivity and Survivorship Program (MAPS). This nationwide program, created by The Institute for Bird Populations, assesses bird population dynamics in order to provide vital conservation and management information on land birds. Each summer, a team of staff and student bird banders sets up and monitors mist nets in two areas of Merry Lea.
Reintroduction of the American Chestnut
Bill Minter (Assistant Professor of Environmental Science)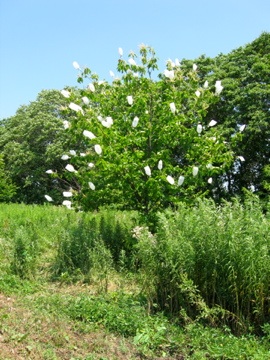 Bill Minter is a professional forester and restoration ecologist who teaches classes in the Department of Biological Sciences and serves as Merry Lea's Director of Land Management.  Professor Minter is continuing to cooperate with the American Chestnut Foundation in the breeding of a northern Indiana ecotype blight resistant American chestnut.  In the fall of 2011, he will collect seeds from a selectively-bred, highly-resistant individual in Merry Lea's plantation that will be contributed to a seed production orchard in a near-by state park.  (Learn more)
Breast Milk Microbiome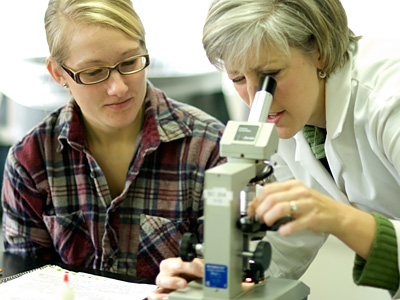 Jody Saylor (Associate Professor of Biology)

It was discovered that human breast milk contains beneficial bacteria only recently and much is unknown about the types of bacteria present and the functions they provide. Evidence suggests that probiotic bacteria are enhancing infant health and growth. Students are using DNA isolation and sequencing techniques to identify bacteria and are also investigating factors that may influence species diversity such as maternal age, ethnicity, and diet. In addition, anaerobic bacteria seem to appear in breast milk later than other bacteria. Students are working to determine a time post-partum when these helpful bacteria first appear.
Grazing & Fire Ecology
Dr. Ryan Sensenig (Professor of Biology)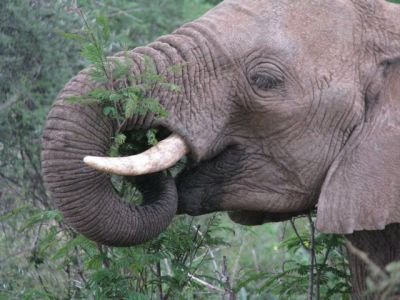 I have two ongoing research projects related to grazing ecology, one in reconstructed tallgrass prairies in Indiana and a second project in Kenya studying wildlife grazing.  In the summer and fall of 2008, students helped initiate The Tallgrass Prairie Grazing project which examines the effect of white tail deer browsing on Tallgrass prairie forb dynamics in a restored prairie at Merry Lea Environmental Learning Center. We are using multiple 20 m X 20 m eight ft tall deer exclosures to quantify which forbs deer preferentially select as forage.  In 2010, we completed a pilot project to examine how domestic grazers (steers and goats) forage in native tallgrass prairie environments. (Read more about campus prairie initiatives.)
Since 2011, Goshen College students have been working with Dr. Sensenig on a research project in Kenya.  A continuation of the S.A.F.E. Project (Scale and Fire Ecology) begun in 2003, students helped collect data to address how prescribed burning of grasslands affects habitat for wildlife such as zebra, elephant, gazelle and a host of other large herbivores. In 2016, four students participated in 3 weeks of research examining how fire affects ant densities in whistling thorn trees.
In 2013 and 2014, Goshen students studied with Kenyan students in a course offered by Goshen College.  Check out the Kenya blogs.