Raymond A. Yoder Scholarship
Who was Raymond A. Yoder?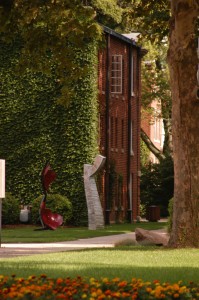 Raymond A. Yoder '32
 taught art and painted primarily in watercolors, for nearly 65 years after graduating from Goshen College. He worked with the Southern Study as art consultant in 33 schools in 11 southern states from 1939-1944; taught art, crafts, and photography in the Waynesboro, Virginia, public schools from 1944 until retirement in 1974; and conducted his own –Painting Vacation" art study programs until 1985. He was a founding member of the Shenadoah Valley Art Center in Waynesboro, Virginia, in 1971. He wrote for various publications and authored a book on sculpture in the elementary school.
His belief that all children have inherent artistic talent lead him to establish this scholarship to assist and encourage outstanding student artists at Goshen College. This scholarship award is designed to recognize quality work and commitment by Goshen College art majors. According to the stipulations of the scholarship –the first priority shall be given to students interested in studying art, especially painting or sculpting. Students may receive the scholarship for the following year if they continue to demonstrate interest in studying art (painting or sculpting) at the college."
How is it funded?
This art scholarship is made possible by the generosity of Ray Yoder and his sons Eddie, Ronnie, and Lanny. The fund has been augmented by gifts from a number of the art faculty at Goshen College and other friends and colleagues. Additional gifts are welcomed and encouraged at any time, building the fund to assist future students. To add to this fund or learn more, visit the Goshen College Give site.
Who may apply?
Any full time sophomore or junior declared art or graphic design major in good academic standing with the college who will be either a junior or senior the following fall term. A student may receive this scholarship for a maximum of two years but must go through a renewal application process for the second year. Initially, seniors may be given some priority.
How much is it?
It is expected that the fund will provide about $1,000 in art scholarship funds per year.
What are the Selection Criteria?
Based on a review of the application materials and the following considerations, the art faculty will select one or two students to receive this scholarship.
Full-time current student with a declared art or graphic design major
Applicant must be able to achieve junior or senior standing by the following fall term when the award begins
Quality art work that shows strength and potential
Communication skills in writing and speaking
Service to and involvement with art department and campus community
Good academic standing
Creative and possessing artistic energy
Positive work attitude
Supportive and helpful to fellow art students
What is the application deadline?
This scholarship has a rolling deadline. Contact finaid@goshen.edu if you are interested in applying for this or any other art scholarship.
How do I apply for this scholarship?
Fill out and submit our online application (use the button at the top of the page).