Inauguration: Dr. Rebecca J. Stoltzfus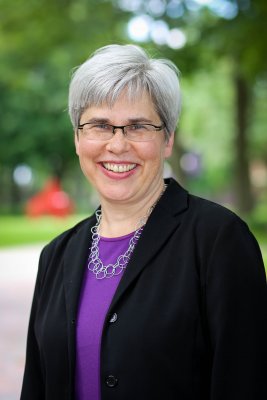 Dr. Rebecca Stoltzfus is the college's 18th president. Read more about her.
Video & Photos:
» Watch the inauguration ceremony video
» See inauguration ceremony photos
» See inauguration week photos
» See Stoltzfest celebration photos
Stories:
» Read the story about the inauguration ceremony
» Full-text of inauguration speech: "Distinctively Goshen"
» View print program for inauguration ceremony
» Poet Shari Wagner '80 unveils 'Song of the Maples' at inauguration
» Letters to the corner office: Two generations at the helm
» 11 things to know about President Stoltzfus

» President Stoltzfus' recommended book picks
About the inaugural Scripture and theme: "Distinctively Goshen"
Ephesians 3:16-17 (NRSV): "I pray that, according to the riches of his glory, he may grant that you may be strengthened in your inner being with power through his Spirit, and that Christ may dwell in your hearts through faith, as you are being rooted and grounded in love."
Goshen College brings to the liberal arts a particular quality and commitment, being rooted and established in love. This taproot of love shapes and defines our excellence as we seek truth, beauty and goodness. At our best, our establishment in love manifests itself in the ways that we honor the intrinsic and inalienable worth and identity of every student and every member of our campus community; hold honest dialogue in our classrooms, offices and public spaces; and our civic engagement in local and global communities. Because we do not consistently live out these commitments, our taproot of love manifests itself in our habits of patience, humility and forgiveness, and our capacities to heal and be healed. These are ultimately what make us truthful, beautiful and good people, capable of creating a trustworthy community of scholars and actors in the world."
 President Rebecca J. Stoltzfus
---
---
What makes Goshen College distinctive?