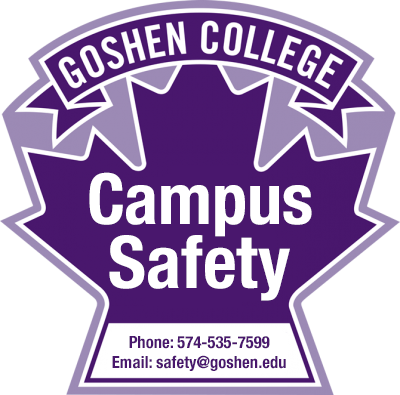 When you don't know who to call, contact us for assistance.
Phone: 574-535-7599
Email: safety@goshen.edu
Who should I call if I become aware of an emergency or potential crisis?
Your primary concern is to save lives and prevent injury, so call 911 immediately.
When you become aware of an obvious emergency on campus (e.g., fire, gas leak, injured person), you should:
Call 911, stating your name, location, and nature of incident, and then
Immediately call Campus Safety at extension 7599 (answered by the Student Life office during regular business hours). The role of Campus Safety is to monitor and report, not function as "first responders." They will immediately ask if 911 has been notified.
When you becomes aware of a situation on campus that is an uncertain emergency (e.g., unfamiliar sounds coming from a mechanical area, activity in a building that would typically be locked), you should:
Immediately call Campus Safety at extension 7599. The role of Campus Safety is to monitor and report, not function as "first responders." They will immediately investigate and contact 911 if needed.
In either situation, Campus Safety will then notify the designated campus contact according to the situation. Should the emergency have the potential of becoming a crisis, the Crisis Management Coordinator (CMC) will be contacted. The CMC, in consultation with either a Crisis Management Team (CMT) member and/or the President (when appropriate and possible), will determine whether the situation is an emergency or a crisis.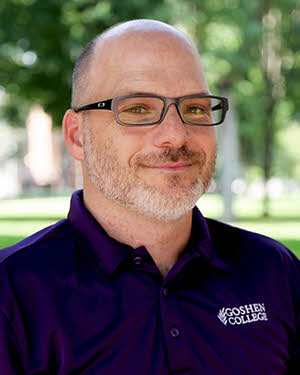 Meet our Campus Safety Officers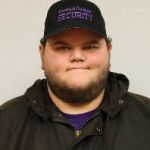 Zeke Kingsbury
Shifts:  Tuesday – Friday 5pm-12am
and Saturdays 12pm-12am
Zeke has served as a campus safety officer since the fall of 2012. He is a Goshen native and a 2009 Goshen High School graduate. Prior to becoming a campus safety officer, Zeke attended college at Indiana University – South Bend. Zeke is an asset to Goshen College due to his experience and familiarity with campus. He is passionate about the safety of our campus and its students and contributes greatly to our department's strategy for securing buildings each night.
Bruce Miller
Shifts:  Monday – Friday 12am-8am
Bruce Miller has served campus safety and security at Goshen College for over 25 years. Prior to becoming a full time employee at Goshen College in 2011, Bruce spent many years on our campus as part of the GC contracted company Securitas Security. Bruce is an amazing contributor to Safety on our campus. Bruce cares deeply about making connections with students and faculty and has long been the most recognizable officer on our staff. Bruce contributes greatly to making sure our facilities are cared for and that proper repairs are done to assure campus safety for our students and faculty.
Thomas Crum
Shifts:  Mondays 4pm-12am
and Saturdays & Sundays 12am-12pm
Thomas Crum joined Campus Safety in the summer of 2016. As a Safety officer at Goshen College, Thomas describes himself as "immersed in a culture for service". Thomas, a native from Goshen, worked in a variety of fields prior to joining our staff. His experiences include time as a police officer, emergency medical services, church pastor, and a mental health care provider.  Thomas, known for his thorough reporting, is detail oriented and does an amazing job of assessing risk on our campus. He thoroughly enjoys interacting with students during his weekend shifts and is always willing to offer a helping hand.
Vinnie Granato
Shifts: Sundays 12pm-12am
Reserve Officer
Vinnie Granato has served as a part Campus Safety officer since 2015. Vinnie is also an assistant basketball coach for our women's basketball team. Vinnie is a valuable contributor to Campus Safety in providing flexible backup coverage during the week for our full time officers. His connection to athletics help him relate well with our students, faculty, staff and campus culture.