The Director of Student Life Operations and Campus Safety provides the primary leadership and staffing for Campus Safety. A staff, consisting of three full-time safety officers and additional part-time persons are employed to patrol the campus and provide a variety of services.
The Director of Student Life Operations and Campus Safety is available Monday – Friday 8:30 AM- 4:30 PM, while Campus Safety Officers are on duty from 4:30 PM  to 8:30 AM daily and 24 hours on Saturdays, Sundays and holidays. Campus Safety patrols the campus to serve as a deterrent to crime, monitor traffic and enforce traffic regulations, assist visitors, serve as a source of information, confront suspicious persons and activities, monitor outdoor lighting, assist persons who may need into locked buildings, and provide escort services upon request after dark.
In addition, Officers also lock buildings at night and unlock them in the morning. Campus Safety monitors entrances to ensure that they remain locked on evenings and weekends. While on shift, officers will note malfunctioning locks, monitor fire extinguishers, and assist residence hall staff with emergencies, disturbances, and enforcement of college policies.
Campus Safety Officers are always in uniform and carry a mobile smartphone with them. They are not armed and do not have law enforcement authority or the power to arrest. An excellent relationship exists between the college and the Goshen Police Department, and the police are called as needed to assist with problems.
Please call Campus Safety (574-535-7599) if you observe a security-related problem or if you need assistance.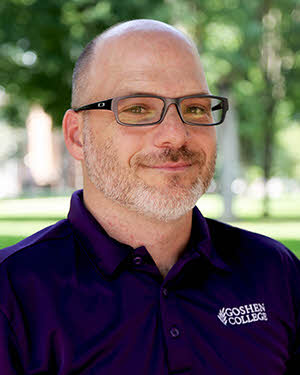 ---
Meet our Campus Safety Officers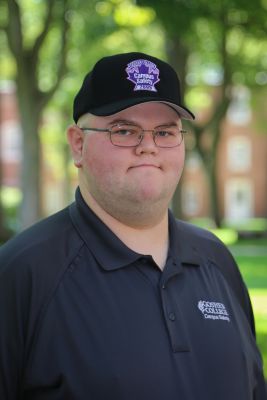 Zeke Kingsbury
Zeke has served as a campus safety officer since the fall of 2012. He is a Goshen native and a 2009 Goshen High School graduate. Prior to becoming a campus safety officer, Zeke attended college at Indiana University – South Bend. Zeke is an asset to Goshen College due to his experience and familiarity with the campus. He is passionate about the safety of our campus and its students and contributes greatly to our department's strategy for securing buildings each night.
---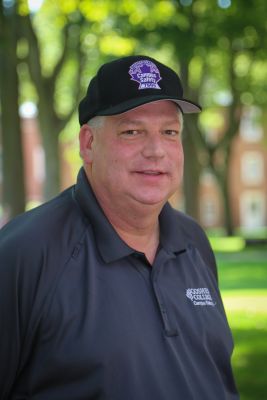 Doug Crum
Doug joined Campus Safety in November of 2017, serving a valuable role on Saturday afternoons, and covering CSO vacations and holidays on campus. Doug has a background in emergency medical services and firefighting. Doug brings to Goshen College a wealth of knowledge in risk management and fire safety. He's passionate about campus safety and valuable member of the CSO staff.
---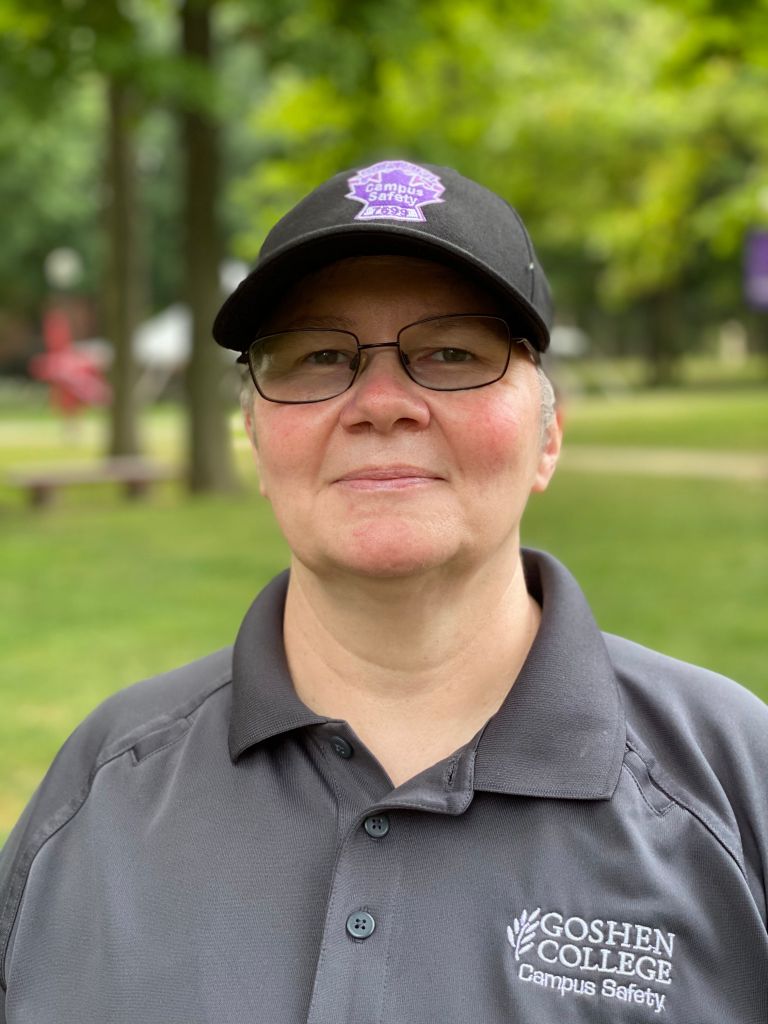 Kris Polega
Kris was born and raised in Goshen and graduated as a non-traditional student from GC in 2006 with an interdisciplinary degree in Religion, Spanish, and Writing. In 2017 she graduated from AMBS with a Master of Divinity in Pastoral Studies. She also holds a black belt in Tae Kwon Do and served as an instructor for "Peacemakers Academy", a local non-profit that teaches kids non-violent communication skills. She hopes to utilize those skills now to help the GC community in Campus Safety.
---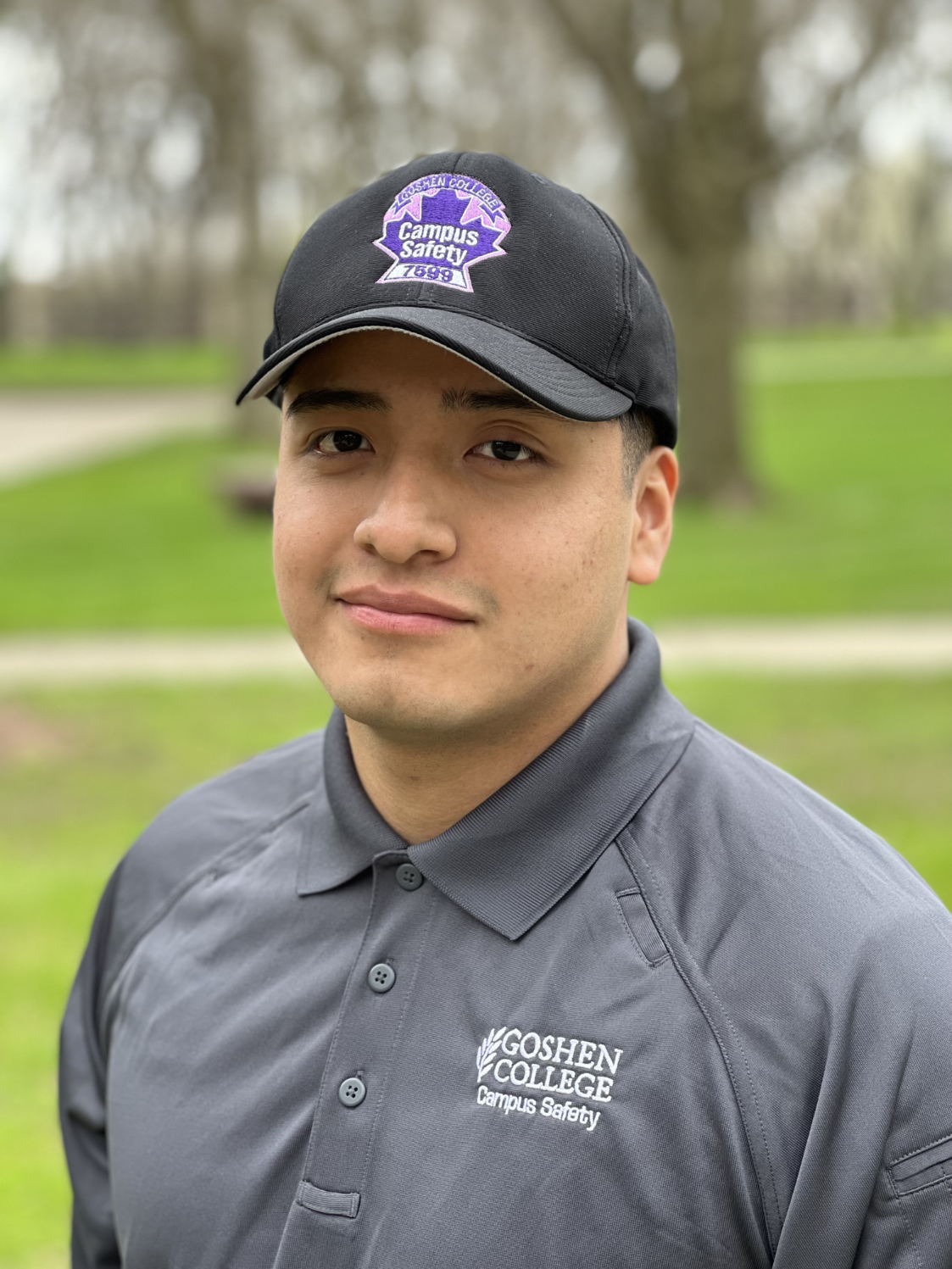 Carlos Escalante 
Carlos, our newest officer on staff, is from the Goshen area and graduated from nearby Northridge High School. Carlos joined our staff in the spring of 2022 and has a passion for public safety and contributing to the mission of our department.
---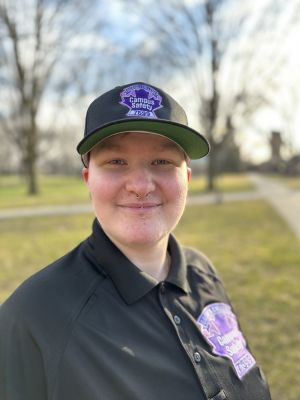 Dakota Blaise (Reserve CSO)
Dakota was born and raised in Goshen and spent most his life here. He graduated from Goshen High School in 2017.  Dakota is our newest reserve officer and joined our team because of Goshen College's support for the LGBTQ+ community on campus. As part of our Campus Safety team–he would like to make sure that the students feel safe and know that we are there to support them.