About Campus Safety
The Director of Campus Safety and Student Life provide the primary leadership and staffing for Campus Safety. A staff, consisting of three full-time security persons and additional part-time persons are employed to patrol the campus and provide a variety of services.
The Director of Campus Safety is available M-F 8AM-5PM while Campus Safety Officers are on duty from 4 p.m. to 8 a.m. daily and 24 hours on Saturdays, Sundays and holidays. Campus Safety patrols the campus to serve as a deterrent to crime, monitor traffic and enforce traffic regulations, assist visitors, serve as a source of information, confront suspicious persons and activities, note light bulbs that have burned out, assist persons who may need into locked buildings and provide escort services upon request after dark.
In addition, Officers also lock buildings at night and unlock them in the morning, monitor doors to ensure that they remain locked, note malfunctioning locks, check authorization for anyone in non-residence buildings after lockup, check fire extinguishers on a monthly basis, and assist residence hall staff with emergencies, disturbances and enforcement of college policies.
Campus Safety Officers are always in uniform and carry a mobile smartphone with them. They are not armed and do not have law enforcement authority or the power to arrest. An excellent relationship exists between the college and the Goshen Police Department, and the police are called as needed to assist with problems.
Please call Campus Safety (574-535-7599) if you observe a security-related problem or if you need assistance.
Meet our Campus Safety Officers
Zeke Kingsbury
Shifts:  Tuesday – Saturday 4:30pm-12:30am
Zeke has served as a campus safety officer since the fall of 2012. He is a Goshen native and a 2009 Goshen High School graduate. Prior to becoming a campus safety officer, Zeke attended college at Indiana University – South Bend. Zeke is an asset to Goshen College due to his experience and familiarity with the campus. He is passionate about the safety of our campus and its students and contributes greatly to our department's strategy for securing buildings each night.
Bruce Miller
Shifts:  Monday – Friday 12:30am-8:30am
Bruce Miller has served campus safety and security at Goshen College for over 25 years. Prior to becoming a full-time employee at Goshen College in 2011, Bruce spent many years on our campus as part of the GC contracted company Securitas Security. Bruce is an amazing contributor to Safety on our campus. Bruce cares deeply about making connections with students and faculty and has long been the most recognizable officer on our staff. Bruce contributes greatly to making sure our facilities are cared for and that proper repairs are done to assure campus safety for our students and faculty.
Thomas Crum
Shifts:  Mondays 4:30pm-12:30am
and Saturdays & Sundays 12am-12pm
Thomas Crum joined Campus Safety in the summer of 2016. As a Safety officer at Goshen College, Thomas describes himself as "immersed in a culture for service". Thomas, a native of Goshen, worked in a variety of fields prior to joining our staff. His experiences include time as a police officer, emergency medical services, church pastor, and a mental health care provider.  Thomas, known for his thorough reporting, is detail oriented and does an amazing job of assessing risk on our campus. He thoroughly enjoys interacting with students during his weekend shifts and is always willing to offer a helping hand.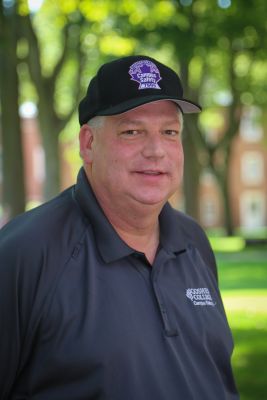 Doug Crum
Shifts:  Saturday 12PM-4PM
and Reserve Officer
Doug joined Campus Safety in November of 2017, serving a valuable role on Saturday afternoons, and covering CSO vacations and holidays on campus. Doug has a background in emergency medical services and firefighting. Doug brings to Goshen College a wealth of knowledge in risk management and fire safety. He's passionate about campus safety and valuable member of the CSO staff.
Vinnie Granato
Shifts: Sundays 12pm-12am
Reserve Officer
Vinnie Granato has served as a part Campus Safety officer since 2015. Vinnie is also an assistant basketball coach for our women's basketball team. Vinnie is a valuable contributor to Campus Safety in providing flexible backup coverage during the week for our full-time officers. His connection to athletics helps him relate well with our students, faculty, staff and campus culture.