What to do in Goshen: A guide to the Maple City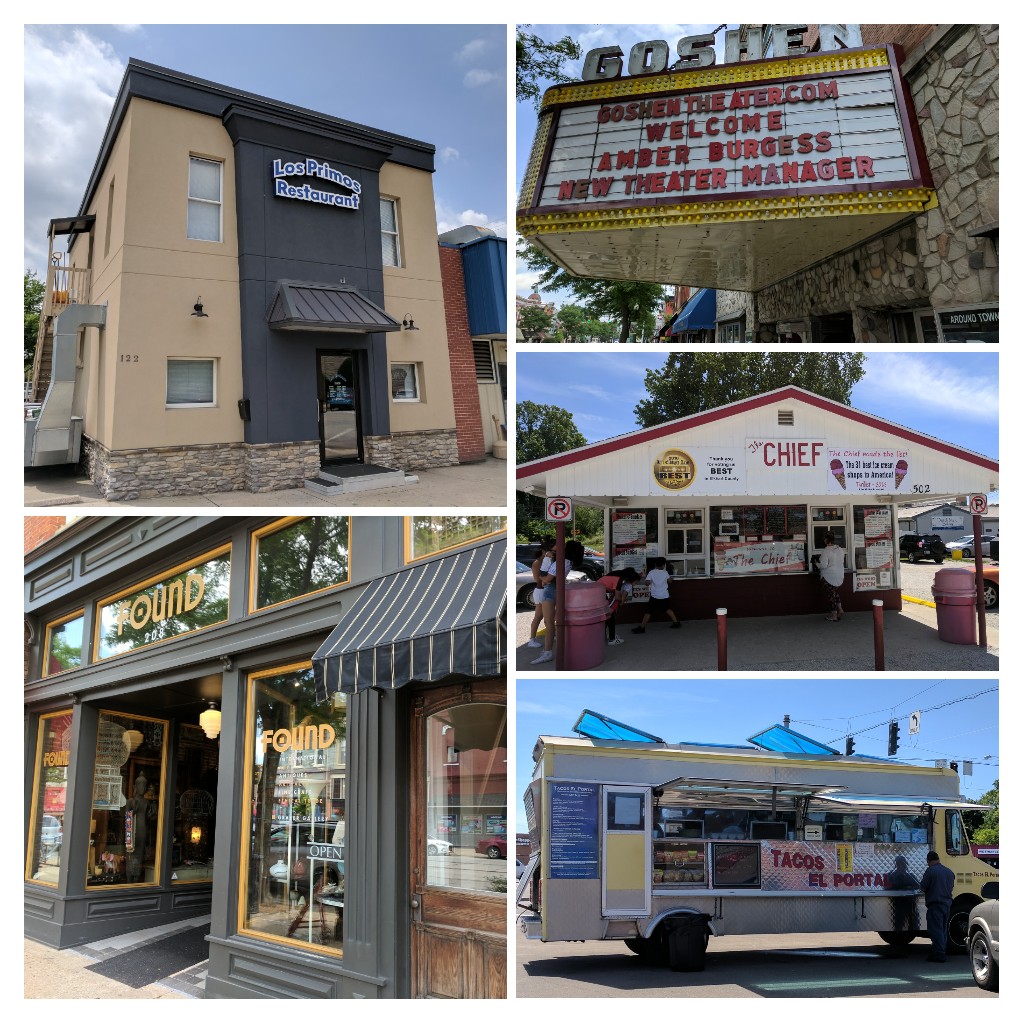 Have you ever gotten bored in Goshen? 
We don't mean to be rude, but you're doing something wrong. From big name concerts, to laser tag to some of the best ice cream in the United States, Goshen has it all. Really scraping at the bottom of the barrel after a week-long Java Junction binge? Don't worry, because Goshen's got something to do for every budget. In 2017, Goshen was named Indiana's community of the year by the Indiana Chamber — just one more excellent reason to go out and explore everything Goshen has to offer.
Key:
Free!
$ – $10 or less
$$ – $20 or less
Guide Sections:
---
Food
Despite what its name might suggest, these great tamales can only be found in Goshen. In addition to tamales, Universal Tamal serves a variety of Mexican dishes, including tacos and tortas, that will be sure to hit the spot.
Ever tried a sour cream and onion pretzel with pizza sauce or cream cheese? What are you still doing here reading this?
They've got a great atmosphere, live music events and some of the most incredible food in Goshen. Grab a falafel wrap or an "adult grilled cheese" and enjoy some live music and a night out with family and friends. Make sure to check out their pad thai night that happens every Tuesday.
Los Primos Mexican Grill serves Chipotle-style create-your-own burritos and more.
If you're lucky enough to catch this taco truck — one of Goshen's only permanent food trucks —just north of downtown on Pike Street,  you'll be treated to yet another phenomenal place to grab your Mexican fix in Goshen.
Located right next to the farmer's market, Anna's Bread sells house-made breads (imagine that), a wide assortment of pastries and even serves up incredible breakfasts, lunches and dinners consisting of fresh soups, sandwiches and pizzas.
Named by Esquire's readers as being among the 15 most life changing pizzas in the nation, Venturi's authentic Neapolitan pizzas are a must-try in Goshen. Among pizzas you'll find here are the classic pepperoni pizza, prosciutto and mushroom pizza and creamy garlic and basil pizza.
An easy walk or bike ride from campus, Guy Fieri himself visited Goshen to taste the deliciousness that is a pie at South Side. And whether you're a classic apple pie kind of guy or a peanut butter pie connoisseur, South Side has you covered. Oh, and they also serve some pretty good sandwiches and salads.
Maple Indian – $ – lunch, $$ – dinner
Located in the middle of downtown, Maple Indian is a one-stop-shop for all your samosa and naan related cravings. Maple Indian has been a local favorite for years, and even offers an affordable buffet option.
They've got everything from regular old buttered popcorn to their famous caramel and cheddar Windy City popcorn. If you've never tasted gourmet popcorn before, you're in for a treat.
Great Japanese food and atmosphere. If you're a big sushi fan and even if you're not, Miso Japan will be sure to satisfy. Make sure to plan ahead if you're planning on a Friday or Saturday meal because there might be a wait — but trust us, it's worth it.
Sure to satisfy even the sweetest of sweet tooths, Olympia Candy Kitchen is an awesome old-fashioned candy store where you can find caramelized apples, chocolates of all kinds and also "one of the last truly authentic diner experiences in the midwest." Their breakfast is seriously worth a try.
Noodlelicious (adj.) – A word to describe the ridiculously delicious pho noodles found only minutes away from Goshen College. They've got sandwiches and a ton of fruity drink options too if pho just isn't your thing.
---
Guide Sections
---
Drinks & Desserts
You can't get much more Goshen than The Brew. Located at 118 E Washington Street, The Brew is a favorite hangout and study location for everyone from Goshen High School students to Greencroft residents. With an open environment and constant chatter, The Brew is the place to go if you seek a workspace that feels alive.
A recent addition to the Goshen coffee scene, Embassy Coffee offers a variety of drinks including amazing coffee from various countries around the globe, freshly squeezed juices and smoothies.
Ranked by Thrillest as one of the best ice creameries in the country, The Chief serves as a go-to for ice cream during the nicest portions (weather wise) of the school year. Grab some friends, a blanket and a bike and head down to The Chief for everything from freshly made ice cream flavors to shakes and sundaes. Be sure to check out the bizarre yet delicious local favorite, blue moon ice cream.
Eaten all the ice cream you can stomach? Don't worry, there's also plenty of frozen yogurt for you to sample. Honey's is constantly switching out its yogurt flavors, so you'll always have something new to try. The best part is that if you don't go too crazy with toppings, you can snag yourself some sub five dollar yogurt.
---
Guide Sections
---
Entertainment & Shops
If you go any day except Tuesday or Saturday, you'll be out of luck. But on those two days, Goshen Farmer's Market is booming with fresh strawberries, artisan goods, cake donuts and everything in between.
A locally owned co-op that offers high quality produce and other local and / or organic foods. This location is a definitely one to consider when buying groceries. As one staff member put it: "millenials love this place."
The Depot (and other thrift stores) – $ and up
Tired of paying 50 dollars for T-Shirts? Goshen has you covered with a variety of different thrift stores. The Depot, a thrift shop run by Mennonite Central Committee and a favorite among Goshen College students, gives 50 percent off to students with IDs on the first Saturday of every month.
New to Goshen, grab a group of friends and test your skills in a round (or five) of laser tag at Mega Blaster Arcade. There are also plenty of arcade games if you want to enjoy feeling like a kid again.
One of the coolest bookstores you'll ever visit, Fables has used books and a cozy atmosphere for reading. The Soapy Gnome – $ and up
The first thing that'll catch your eye nose is the amazing combined scent of the artisanal soaps. On top of that, there are plenty of other incredible looking and smelling things to find here.
If the one thing you're wishing for in a college town is a high end consignment shop, Twice as Nice has you covered. Located on main street, Twice as Nice has stylish clothing options for everyone and regularly has stuff on sale.
A fashion boutique that offers a variety of clothing, shoes, jewelry, purses, gifts and home décor.
Found – $ and up
At Found you can purchase artisanal, hand-crafted items from all over the world. Everything in Found is high quality and is ethically purchased at fair prices from the country of origin. Note: If you're looking for lost and found, that's in the Welcome Center.
Ten Thousand Villages – $ and up
Ten Thousand Villages is another shop in downtown Goshen to find handcrafted items from communities around the world. Each purchase goes towards supporting the makers of the products with fair and stable incomes.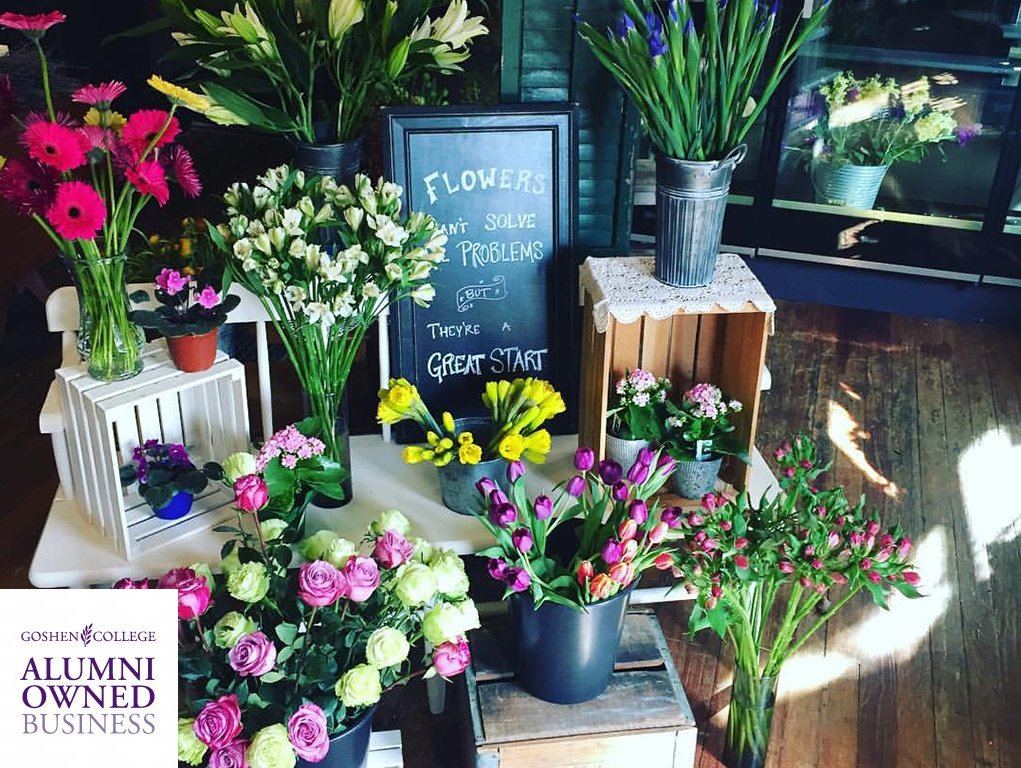 Grab an individual flower or air plant for your room, or invest in a large bouquet for a loved one! At Flowers by Phoebe's, you can customize your floral designs to honor the sensory richness of every  season, using specialty blooms grown locally using sustainable methods on their small urban farm.
---
Page Navigation
---
Nature & Fitness
Spacious Heart is a great place to reconnect with yourself and get a great workout that'll leave you feeling refreshed and rejuvenated. Spacious Heart offers a month-long trial pass that gets you unlimited yoga for only $35. There are also additional discounts available to college students once you've exhausted your unlimited pass. And if you just want to give it a try, check out their $6 student drop-in rate.
This trail's incredible history goes back several hundred years. Nonetheless, it has been continually maintained and improved and remains an incredibly popular route. The trail passes through some of the most beautiful terrain in the region, and through connecting trails, the Pumpkinvine can take bikers and pedestrians between Goshen, Elkhart and Shipshewana.
Home to a large number of hiking and running trails and even a full frisbee golf course, Ox Bow has enough to do to keep you busy for a long time. The park is beautiful and free to visit, although parking will cost you two dollars.
Perfect for going on runs or taking a break from it all, the Millrace is a great escape into nature only minutes away from the college. Be sure to visit come the fall and spring when the Millrace is bursting with color.
Fidler Pond is only minutes away from the college and is a beautiful spot to relax and eat a picnic lunch. For ten dollars, rent either a pedal boat, kayak or canoe for an hour. Life jackets are two dollars to rent, but you can circumvent this cost if you can bring your own.
Whether you're looking to get that routine down by the time Kick-Off rolls around or just looking to dance your stress away, GoDance offers dancing for only five dollars for West Coast Swing, Latin and ballroom dancing. For only two dollars more, you'll receive a lesson before you dance.
---
Guide Sections
---