National quilt authority and Goshen native to give gallery talk on Sept. 16
Event: Amish & Mennonite Quilts Gallery Talk by Janneken Smucker '98
Date: Saturday, Sept. 16 at 2 p.m.
Location: Good Library Gallery
Cost: Free and open to the public
---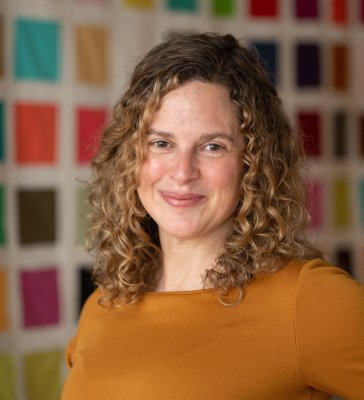 Janneken Smucker, a Goshen College graduate and a foremost authority on Amish and other American quilts, will give a gallery talk on Saturday, September 16, at 2 p.m. in the Goshen College Library Gallery. She will discuss the Amish and Mennonite quilts in the exhibit, "A Cabinet of Curiosities: Quilts, Clocks, Ceramics, Fraktur." The public is invited to this free program.
Smucker, is professor of history at West Chester University near Philadelphia. She graduated from Goshen High School in 1994 and from Goshen College in 1998.
Smucker is best known for her definitive book, "Amish Quilts: Crafting an American Icon," published by Johns Hopkins University. Her new book, "A New Deal for Quilts," explores the federal government's use of quilts and quilt-making in the New Deal during the Great Depression. It will be released in October at the International Quilt Museum of the University of Nebraska. Smucker will be the guest curator for an exhibit of the same title.
Currently Smucker is working for the Smithsonian American Art Museum with its recent acquisition Faith and Stephen Brown's large collection of Amish quilts. For the Smithsonian's exhibit of these quilts, opening in March 2024, "Patterns and Paradox: The Quilts of Amish Women," Smucker has composed the labels and written the catalog.