New semi-pro soccer team, Goshen City FC, closes out season at Goshen College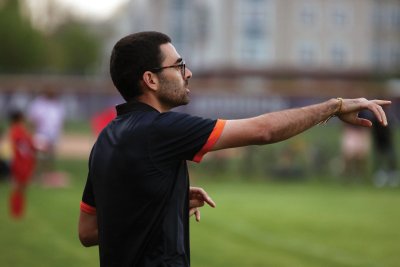 The Goshen community's first semi-professional soccer club, Goshen City FC, will close out it's opening season on Saturday, June 18 at the Goshen College Soccer Complex.
At the end of the regular season Goshen City FC was ranked high enough to move on to the playoffs. After a forfeit in the quarter-finals and an exciting win in the semi-finals, the team will move on to the finals, which will be played on Saturday, July 1.
This team was founded and led by 2022 Goshen College graduate, Henrique Eichenberger '22 and is coached by alumnus Tyler Born '19. They continue to exemplify and spread the Goshen College motto "Culture for Service" by incorporating community service into the players' responsibilities.
Hosting all home games at the Goshen College Soccer Complex isn't the college's only connection to the team, a number of current or former Goshen College soccer players are also on the team, including Lucas Bontreger '22, Matias de Fonseca '22, Kyle Ramirez Ingold '19, Wendo Kisila '23, Samuel Marchi '23 and Eli Simones '26. Learn more about and follow the team at goshencityfc.com.