Goshen College announces Performing Arts Series 2023-24 season line-up
Goshen College's Performing Arts Series returns for its 26th year during the 2023-24 season with 10 performances featuring new artists and returning favorites to Goshen. While sharing the common characteristic of virtuosity in their respective fields, these performers comprise an eclectic series representing a variety of genres and cultures.
Season ticket package reservations are now available online (goshen.edu/tickets) and will go on sale in-person on June 5 at 9 a.m. at the college's Box Office (574.535.7566, boxoffice@goshen.edu). Season ticket packages save 10% off of the full price tickets. Individual concert tickets, if available, will go on sale August 1, 2023.
The 2023-24 line-up: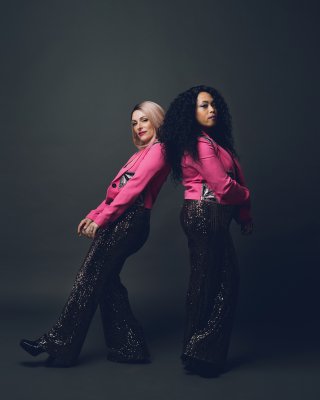 Flor de Toloache
Friday, September 1, 2023, 7:30 p.m.
Non-package ticket pricing: $35, $30, $20
The Latin GRAMMY®-winning, all-female mariachi group Flor de Toloache mixes tradition and innovation, breaking boundaries with its edgy, versatile and fresh take on traditional Latin American music. Like the legendary love potion that the Toloache flower is used for in Mexico, the talented New York ensemble casts a spell over its audiences with soaring vocals and physical elegance. The members' diverse ethnicities and musical backgrounds transcend culture and gender by forging new paths. The group has graced international stages from Mexico to Japan and has extensively toured to cities in the United States, Europe and Latin America. With a total of five studio albums to date, "Las Flores," as their fans call them, recently released Motherflower, described by the artists as a fiercely feminist mosaic of genres inspired by mariachi.
---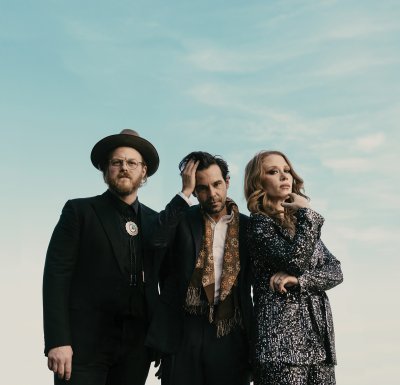 The Lone Bellow
Saturday, September 23, 2023, 7:30 p.m.
Non-package ticket pricing: $40, $35, $25
Throughout their lifespan as a band, The Lone Bellow have cast an indelible spell with their finespun songs of hard truth and unexpected beauty, frequently delivered in hypnotic three-part harmony. The Nashville-based trio struck out on their own for their new album Love Songs for Losers, dreaming up a singular sound encompassing everything from arena-ready rock anthems to the gorgeously sprawling Americana tunes. Recorded at the possibly haunted former home of the legendary Roy Orbison, the result is an intimate meditation on the pain, joy and ineffable wonder of being human, at turns heartbreaking, irreverent and sublimely transcendent.
---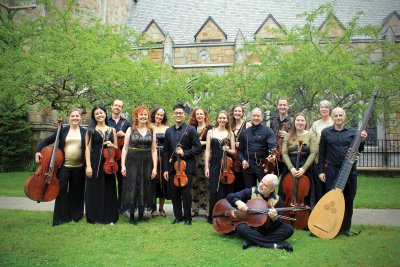 Apollo's Fire — Handel's Israel in Egypt
Friday, October 20, 2023, 7:30 p.m.
Non-package ticket pricing: $45, $40, $35
The GRAMMY®-winning ensemble Apollo's Fire is a period-instrument orchestra founded by harpsichordist and conductor Jeannette Sorrell. Dedicated to the Baroque ideal that music should evoke passion in the listeners, Apollo's Fire brings to life the music of the past for audiences of today. The Apollo's Fire musicians are creative artists who share Sorrell's passion for drama and rhetoric. For this special performance, the orchestra will be joined by a chorus for a performance of Sorrell's new adaptation of Handel's Israel in Egypt.
---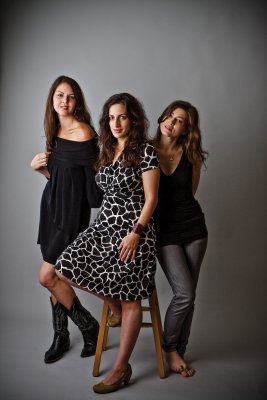 The Wailin' Jennys
Friday, October 27, 2023, 7:30 p.m.
Non-package ticket pricing: $55, $50, $45
Back in Goshen by popular demand with new songs from their upcoming album, Nicky Mehta, Ruth Moody and Heather Masse bring three distinct voices that together make the achingly perfect vocal sound of the Juno award-winning Wailin' Jennys.
With beautiful, heart-stopping harmonies, uplifting repertoire and engaging stage presence, the Wailin' Jennys have delighted and charmed audiences for more than a decade. Their acoustic blend of bluegrass, folk and roots music has been featured alongside Bonnie Raitt and Rosanne Cash. Together they forge a unified folk-pop sound — all delivered with the irresistible vocal power of three.
---
A Chanticleer Christmas
Thursday, December 7, 2023, 7:30 p.m.
Non-package ticket pricing: $45, $40, $35
Called "the world's reigning male chorus" by The New Yorker magazine, the San Francisco-based, GRAMMY®-winning ensemble Chanticleer will present "A Chanticleer Christmas," the group's most beloved program. The concert presents the power and mystery, warmth and intimacy of the season through Gregorian chant, Renaissance and contemporary gems, and traditional carols. Celebrating their 40th anniversary in 2018, Chanticleer is known around the world as "an orchestra of voices" for the seamless blend of 12 male voices ranging from soprano to bass and its original interpretations of vocal literature, from Renaissance to jazz and popular genres, as well as contemporary composition.
---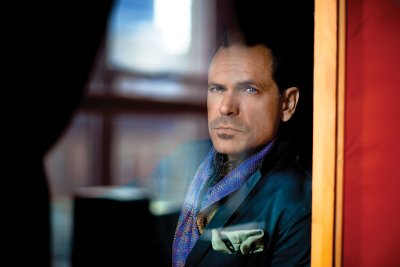 Kurt Elling
Friday, January 26, 2024, 7:30 p.m.
Non-package ticket pricing: $45, $40, $30
Renowned for his singular combination of robust swing and poetic insight, two-time GRAMMY® winner Kurt Elling has secured his place among the world's foremost jazz vocalists. The New York Times proclaimed Elling, "the standout male vocalist of our time." Over a 25-year career of touring and recording, Elling has won three French Prix du Jazz Vocal awards, two German Echo Awards, two Dutch Edison Awards and has been nominated for a GRAMMY® award 15 times. He has had a 14-year run atop the DownBeat critics and readers polls, and has won 12 Jazz Journalists Awards for "Male Vocalist of the Year."
Elling's voice is instantly recognizable, embracing listeners with his warm, rich baritone and navigating the full span of his four-octave range as a virtuoso improviser and a compelling storyteller. The Guardian (UK) has named Elling, "a kind of Sinatra with superpowers," and, "one of jazz's all-time great vocalists."
---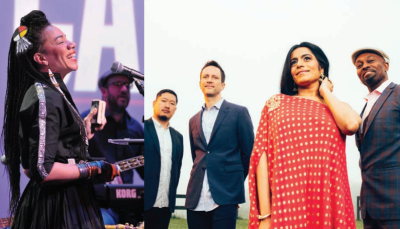 American Patchwork Quartet and Martha Redbone Roots Project
Friday, February 16, 2024, 7:30 p.m.
Non-package ticket pricing: $40, $35, $25
Join the mesmerizing Martha Redbone and American Patchwork Quartet for a night of soulful and captivating music that celebrates the rich cultural tapestry of America. Martha Redbone's soul-stirring voice and music are "a brilliant collision of cultures," says the New Yorker.
American Patchwork Quartet, conceived by multi-GRAMMY® award-winner Clay Ross, is on a mission to reclaim the immigrant soul of American Roots Music. This group of eclectic artists expertly weaves together jazz refinement, country twang, West African hypnotics and East Asian ornaments to create a musical patchwork that celebrates both our differences and commonalities as a nation.
---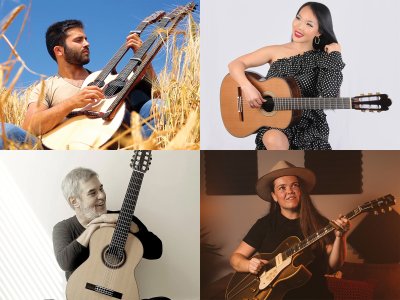 International Guitar Night
Saturday, March 9, 2024, 7:30 p.m.
Non-package ticket pricing: $35, $30, $20
International Guitar Night is the world's premier touring guitar festival, each show bringing together the most interesting and innovative acoustic guitar luminaries in the world for a special evening of solos, duets and quartets that highlight the dexterity and diversity within the world of acoustic guitar. The 24th-anniversary lineup includes Luca Stricagnoli from Italy. The amazing acoustic rock interpreter will perform on his custom 3-neck guitar. Vietnamese Thu Le's nylon string artistry stretches from classical to contemporary. Brazilian Marco Pereira, the master composer and performer, first toured with International Guitar Night in its early days and returns for his final go-round in 2024. And Australian Minnie Marks, the irrepressible blues slide guitarist and singer, is not only new to International Guitar Night but will be making her North American debut.
---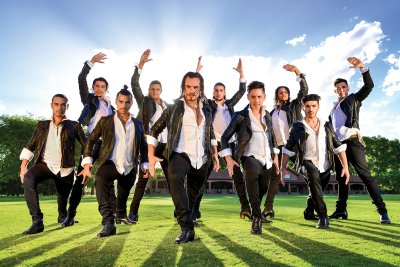 MALEVO
Saturday, March 23, 2024, 7:30 p.m.
Non-package ticket pricing: $40, $35, $25
MALEVO, created by director, choreographer and dancer Matías Jaime, is a thrilling all-male group specializing in Malambo, a traditional Argentine folk dance of great virility and dexterity. The group seeks to take Malambo beyond its limits with a modern, avant-garde and transgressive approach, merging it with other dance styles like flamenco and urban percussion.
After being named an official "Cultural Ambassador to the National Identity of Argentina," special performances with Latin pop-star Ricky Martin, Cirque du Soleil, a year-long residency at Universal Studios Japan and making it to the semi-finals on the hit TV show America's Got Talent, MALEVO is excited to present a new touring performance.
---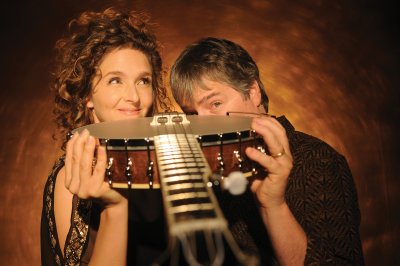 Béla Fleck & Abigail Washburn
Saturday, April 13, 2024, 7:30 p.m.
Non-package ticket pricing: $50, $45, $40
Béla Fleck and Abigail Washburn, "the king and queen of the banjo" (Paste Magazine), have a musical partnership like no other. Béla Fleck is a 15-time GRAMMY® winner who has taken the instrument across multiple genres, and Abigail Washburn a singer-songwriter and clawhammer banjo player who re-radicalized it by combining it with Far East culture and sounds. Together, Fleck and Washburn take audiences on a captivating musical journey using seven different banjos, blending Appalachian folk, bluegrass and jazz elements, influenced by Washburn's work in folk music diplomacy in China.
Whether at home, on stage or on record, their deep bond, combined with the way their distinct musical personalities and banjo styles interact, makes theirs a picking partnership unlike any other on the planet.
---
This year's regular season ticket package again includes six concerts:
Four core performances are set for each season ticket (Apollo's Fire — Handel's Israel in Egypt, The Wailin' Jennys, A Chanticleer Christmas and Béla Fleck & Abigail Washburn).
Choose two or more additional performances from the remaining choices.
Past season ticket holders will receive priority seating if they return their order form before June 23, 2023.
Save 10% on each performance by purchasing a season ticket package.
Individual concert tickets, if available, will go on sale August 1, 2023.
To place your order:
Order online by visiting goshen.edu/tickets
Order by phone – Goshen College Box Office – (574) 535-7566
Order in person at the Goshen College Box Office located in the Music Center (Hours: Monday-Friday 9 a.m.-1 p.m.)