Chamber Choir tours the Midwest during spring break
Concert: Goshen College's Chamber Choir Home Concert
Date/Time: Saturday, March 4, 2023, 7:30 p.m.
Location: Sauder Concert Hall, Goshen College Music Center
Tickets: $8 adults | $6 seniors/students | GC students and employees free, available online at goshen.edu/tickets or at the Box Office, 574.535.7566
---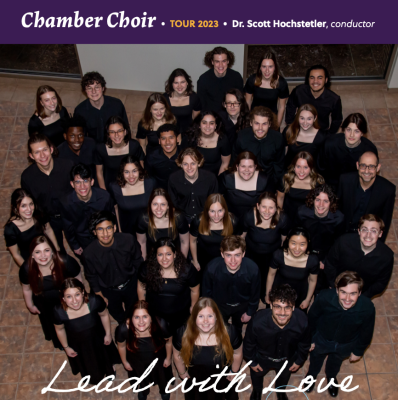 The Goshen College Chamber Choir will spend their spring break touring and performing in churches and schools in Illinois, Iowa, and Kansas from Feb. 24 through March 3, with a home concert on Saturday, March 4 at 7:30 p.m. in the Goshen College Music Center's Sauder Concert Hall.
The tour will focus on the theme "Lead with Love", and will be directed by Dr. Scott Hochstetler, professor of music.
The Chamber Choir is the premier mixed-voice ensemble at Goshen College. The auditioned group of 24-40 students perform secular and sacred music from the Medieval through Modern periods and is open to singers from all disciplines across campus. The Chamber Choir has sung on National Public Radio, and has appeared in concert with Bobby McFerrin, Njål Sparbo and basso profundo Glenn Miller.
---
Tour Itinerary
Friday, Feb. 24 
7:30 p.m., Concert, Mennonite Church of Normal, Normal, Illinois
Saturday, Feb. 25
Travel day to Kansas City, Kansas
Sunday, Feb. 26 
9:30 a.m., Concert, Rainbow Mennonite Fellowship, Kansas City, Kansas
7 p.m., Concert, First Mennonite Church, Hillsboro, Kansas
Monday, Feb. 27
11 a.m., Chapel at Hesston College
7 p.m., Concert, Hesston Mennonite Church, Hesston, Kansas
Tuesday, Feb. 28
7 p.m., Concert, First Mennonite Church of Iowa City, Iowa City, Iowa
Wednesday, March 1
9:35 a.m., Chapel at Hillcrest Academy, Kalona, Iowa
7 p.m., Concert, Lombard Mennonite Church, Lombard, Illinois
Thursday, March 2
1 p.m., Concert, Niles West High School, Skokie, Illinois
7 p.m., Concert, Reba Place Fellowship, Evanston, Illinois
Friday, March 3
Return to Goshen College
Saturday, March 4
7:30 p.m., Tour Home Concert, Goshen College Music Center's Sauder Concert Hall (watch the livestream here)
---
Singers
Sopranos:
Aysia Adkins – Goshen, Indiana
Madeline Bollinger – Lenexa, Kansas
Alexa Kennel – Souderton, Pennsylvania
Maggie Lapp – Philadelphia, Pennsylvania
Hannah Lehman – Huntington, Indiana
Augusta Nafziger – Weyers Cave, Virginia
Ana Neufeld Weaver – Bluffton, Ohio
Erin Peters – Hesston, Kansas
April Pollock – Goshen, Indiana
Fatima Zahara – Orlando, Florida
Altos:
Willa Smucker Beidler – Lancaster, Pennsylvania
Irish Cortez – Goshen, Indiana
Sasha Dyck – Goshen, Indiana
Caroline Brunk Greaser – Goshen, Indiana
Julia (Hyeyin) Jun – Malaysia and South Korea
Lauren Kauffman – Goshen, Indiana
Naomi Lapp Klassen – Goshen, Indiana
Cadence Lee – Elkhart, Indiana
Sarah Miller – Kalona, Iowa
Camila Perez-Diener – Goshen, Indiana
Amelia Witmer-Rich – Chagrin Falls, Ohio
Tenors:
Jocsan Barahona Rosales –  Goshen, Indiana
Leif Billings – Indianapolis, Indiana
Matt Dyck – Goshen, Indiana
Jonah King – Normal, Illinois
Diego Torres – Goshen Indiana
Víctor Vegas – Ciudad Ojeda, Zulia, Venezuela
Jonathan Weaver – Portland, Oregon
Phillip Witmer-Rich – Chagrin Falls, Ohio
Quinn Wyse – Archbold Ohio
Basses:
Dontaye Albert – Brooklyn, New York
Evan King – Normal, Illinois
Conrad Liechty – Goshen, Indiana
Henry Meyer – Huntertown, Indiana
Joseph Mounsithiraj – Goshen, Indiana
Sam Scheele – Fort Wayne, Indiana
Asa Schiller – Pasadena, California
Francisco Behan Morillo –  Goshen, Indiana