Millsaps named new executive director of the college's Center for Community Engagement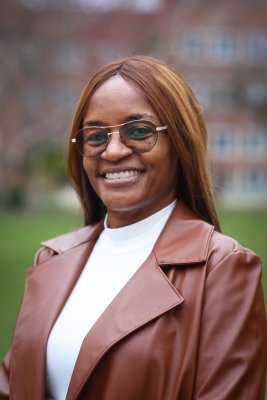 Goshen College President Rebecca Stoltzfus announced Cyneatha Millsaps will be the new executive director for the college's Center for Community Engagement. Her new role began January 1, 2023.
"I am very pleased to have Cyneatha Millsaps in this leadership role for the Center for Community Engagement. Our Center combines expertise and programs in community engagement near and far; however, we have a particular commitment to building partnerships here in Elkhart County, especially in communities that have traditionally been underserved by our educational system," said President Stoltzfus. "Cyneatha brings to this role her own multigenerational heritage in the City of Elkhart and experience as a Black leader and advocate for the rights and culture of people of color in Elkhart and in the Mennonite Church. Her bold imagination and strong voice in our community combines with her warm heart and commitment to kindness toward all."
Millsaps started working at Goshen College in April 2022 as the Director of Elkhart City Outreach within the Center for Community Engagement. She is also the Executive Director of Mennonite Women USA, where she provides leadership for women's groups and individuals domestically and internationally. She has also been a pastor, leading congregations and communities for over 17 years.
"I am excited to lead the Center for Community Engagement," said Millsaps. "The Center for Community Engagement has an opportunity to connect and empower a new generation of Anabaptist learners. Our Anabaptist faith and stance on peace and justice can be a welcoming message in these polarizing times."
Millsaps received her bachelor's degree in psychology and sociology at Bethel College (now University) in Mishawaka, in 2000 and her Master of Divinity degree from the Anabaptist Mennonite Biblical Seminary in 2008. She is the founder of BAPS (Black American Princesses), a mentoring program for young African American females between the ages of 8-17 as well as the Chair of the Board for the Tolson Center for Community Excellence in Elkhart. She is married to Steven Millsaps, and together they have seven children and 22 grandchildren.
Created in 2021, the Center for Community Engagement was launched by Goshen College to foster relationships between Goshen College and the surrounding communities. It strives to increase educational access and resources for learners of all ages in Elkhart County, through new educational partnerships with and for the local community.