Augusta Nafziger selected as finalist in Keating Competition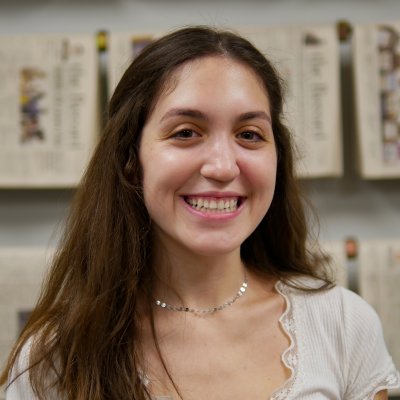 Augusta Nafziger, a senior double majoring in music and writing, is among the 10 finalists who will participate in the 36th annual Keating Writing Challenge in which the students have five hours to report and write a story.
The contest, which draws top journalism students from across the state, will take place in Indianapolis on Nov. 11-12.
This is the second time that Nafziger will participate in the contest. She took first place last year for an article that featured the return of the Indianapolis Symphony Orchestra's Yuletide Celebration show after the pandemic shutdown.
As before, Nafziger, who is from Weyers Cave, Virginia, submitted two published articles as part of her contest application this year. This semester Nafziger serves as the executive editor of The Record, Goshen College's weekly student newspaper.
Sadie Brenneman, a sophomore journalism major from Goshen, was selected as one of two alternates. Brenneman is the opinion editor of The Record.
The contest, sponsored by the Indianapolis Press Club Foundation, invites the 10 students to write a feature article on deadline about a topic provided to them that day.
"I'm so pleased that Gussie will have a chance to return to Indianapolis for the contest one more year," said Duane Stoltzfus, chair of the communication department and adviser to The Goshen College Record. "Those of us who read her work in The Record each week know that she is an exceptional journalist."
The finalists will arrive in Indianapolis on Friday, when they will have one-on-one mentoring sessions with seasoned journalists. On Saturday, they'll report and write the feature article. Judges will review the articles in the afternoon. In the evening, the finalists will gather for an awards banquet at which the top three articles will be announced, with $7,000 in prize money on the line.
The other finalists this year are from Ball State University, Butler University, Franklin College and Indiana University. The contest began in 1986 as a tribute to Thomas R. Keating, a former Indianapolis Star columnist.