Long-time art professor's significant impact highlighted in recent community sculpture exhibits
By Sadie Brenneman '25
This summer, connections between the local art scene and Goshen College were highlighted with the opening of the Elkhart County Art Trail from Epic Art Adventures.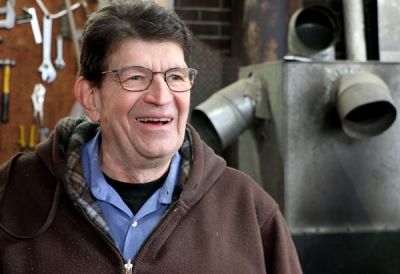 The public art project — which longtime associate professor of art and nationally-renowned sculptor John Mishler '79 served as "artist-curator" — features sculpture works from many GC students and alumni, as well as pieces by world-renowned sculptor John Seward and other regional artists. Of the 51 sculptures on the art trail, 20 were created by Goshen College students or alumni, including Mishler.
Epic Art Adventure allows students and alumni the chance to promote their work to the public, but also offers a glimpse of Goshen College's commitment to engaging with the community and helping students discover themselves in new ways through sculpture.
Many students and alumni participating in the Elkhart County Art Trail come from non-art programs, as GC encourages students to take classes outside of their majors. Mishler has taught all of them.
Mishler's love for public art is a critical part of his work as a sculptor. During his 37 years at Goshen College, he has been able to share the importance of public displays of art with his classes. "It's kind of for everyone. It's not just for people who are art educated," he said.
Emma Zuercher, a senior sign language interpreting major from Apple Creek, Ohio, and one of the artists on display agrees with Mishler's view. "There is no better place for artwork to be than in a space that is accessible to all," she said.
Mishler received a bachelor's degree from Goshen College in 1972, and a Master of Fine Arts degree from the University of Tennessee Knoxville in 1977. He specializes in sculpture using common metals like aluminum, steel and copper. Using these materials, Mishler often incorporates kinetic energy, forming a "moving sculpture."
Brian Byrn, director and curator for the Midwest Museum for American Art in Elkhart, has paid close attention to Mishler's work over the past three decades. "[John's sculptures] that have been placed outdoors in public settings add a unique charm to their surroundings as they animate the environment with shifts, turns and how they catch and reflect light," said Byrn.
In the last four decades, Mishler has received over 20 purchase awards and two Best of Show awards in the annual Elkhart Juried Regional. His work can be found scattered across the United States, Canada and France.
And significantly, Mishler was recently inducted into the Michiana Masters Series by the Midwest Museum for American Art in Elkhart, the fourth recipient of the award since its inception. His work was displayed in a spotlight exhibit at the Midwest Museum for American Art this summer along with several other award-winning artists.
Two coveted Mishler sculptures are displayed prominently on Goshen College's campus: "Sky Rhythms" just outside of the Roman Gingerich Recreation-Fitness Center  doors, and the "Broken Shield" at the heart of the campus, which represents the energy and commitment to peacemaking on campus.
Goshen College students and alumni participating in the Epic Art Adventures display around Elkhart County's Heritage Trail:
Orion Blaha, a 2011 graduate
Heather Gabel, a 2021 graduate
Brandon Jimenez, a senior peace, justice & conflict studies major from Wellman, Iowa
Olivia Krall, a senior history major from Carmel, Indiana
Haley Kirkton, a 2022 graduate
Joel Lara, a 2022 graduate
Sunday Mahaja, a 2014 graduate
Andrew Ness, a senior sustainable food systems major from Leavenworth, Washington
Benji Wall, a senior communication major from Goshen
Emma Zuercher, a senior sign language interpreting major from Apple Creek, Ohio
The Elkhart County Art Trail will be on display until April of 2023. You can find the locations of each artist and installation in the Epic Art Adventure Guide online.