Performing Arts Series: The Swingles – Together for the Holidays
Performing Arts Series: The Swingles – Together for the Holidays
Date and Time: Tuesday, Dec. 6, 2022, 7:30 p.m.
Location: Goshen College Music Center's Sauder Concert Hall
Tickets: $40, $35, $30, available online at goshen.edu/tickets or at the Box Office, 574.535.7566).
---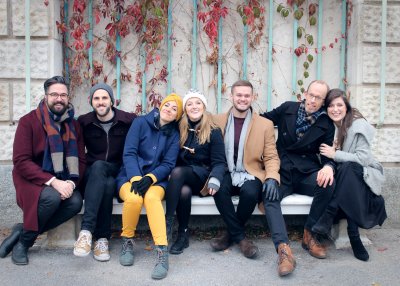 Ring in the holiday season with GRAMMY® award winners, The Swingles at Goshen College Tuesday, December 6th at 7:30 p.m. for a Performing Arts Series concert in the Music Center's Sauder Concert Hall.
The GRAMMY® winners will present a banquet of music to keep out the cold, with folk- and jazz-inspired original songs served alongside traditional carols and festive favorites. The Swingles' crystalline vocals evoke icebound worlds, blankets of snow and fireside singalongs. The unmistakable sound of The Swingles has long been associated with Christmas, and audiences can look forward to music from five decades of holiday releases including their most recent holiday album "Yule Songs vol. II". Alongside these seasonal specialities, the program includes favorite pieces from the group's year-round touring repertoire.
With a natural flair as entertainers, their stylish shows take them to venues and festival stages across the world. Praised for their "stunning reinventions… audacious harmonies… and superhero singing to truly raise goosebumps" (The Guardian), The Swingles have earned five Grammy Awards and are recipients of prestigious international accolades year-on-year.
Tickets are $40, $35 or $30 and are available online at goshen.edu/tickets or at the Box Office, 574.535.7566)
Upcoming concerts in the Performing Arts Series include:
An evening with Ira Glass: "Seven Things I've Learned", Saturday, January 21, 2023, 7:30 p.m. Non-package ticket pricing: $55, $50, $40
An Evening with Chris Thile, Saturday, February 4, 2023, 7:30 p.m. Non-package ticket pricing: $45, $40, $30
Kingdom Choir, Saturday, March 5, 2023, 7:30 p.m. Non-package ticket pricing: $40, $35, $25
Natalie MacMaster & Donnell Leahy, Saturday, March 25, 2023, 7:30 p.m. Non-package ticket pricing: $40, $35, $30
Eddie Palmieri Latin Jazz Band, Friday, May 12, 2023, 7:30 p.m. Non-package ticket pricing: $40, $35, $30