The Record wins state 'Newspaper of the Year' award for fifth consecutive year
The Indiana Collegiate Press Association (ICPA) named The Record "Newspaper of the Year" for the fifth consecutive time in the college division, with strong photography and page design providing the margin in a close competition.
Goshen College's student newspaper finished with 110 points, narrowly edging out Taylor University, which took second place, with 109 points. Wabash College finished in third, with 33 points.
More than 20 GC students collected 34 awards in the ICPA's annual awards contest. For the third year in a row, the awards were released online rather than at the traditional gala luncheon in Indianapolis.
Apart from driving the event online, the pandemic also continued to provide subject matter for many winning entries, including first place for a pullout section entitled "Covid Scan: Exploring Learning and Campus Life."
That special report included Sadie Brenneman's article on Jane Hiebert-White, a Goshen College graduate who serves as executive publisher of the journal Health Affairs; Greta Lapp Klassen's intimate look at how President Rebecca Stoltzfus managed the pandemic; and Augusta Nafziger's account of Pat Lehman teaching communication from Seattle.
This is the sixth time in seven years that The Record, which publishes a weekly print edition and competes against schools across the state with enrollment under 3,000, received the top billing.
The awards recognized Record staff from the spring of 2021, when Zachariah Begly and Nick Yutzy served as executive editors, and the fall of 2021, when Greta Lapp Klassen was editor.
Sierra Ross Richer, who served as executive editor in the spring of 2022, made her mark in sports reporting in the earlier calendar year, taking first and second for best sports news and first for best sports feature.
Commenting on her news article about the men's cross country team qualifying for the national championship two years in a row, judges wrote: "The writer is a deft storyteller and scene-setter. This story captures emotions and action through interviews and descriptions while presenting facts about the competition."
While The Record earned multiple first-place awards in writing categories, this was the second year in a row in which the visual contributors made a statement with their artistry.
The Record took first place and second place for overall design in both the fall and spring semesters. The design staff consisted of Caroline Greaser, Yujin Kim, Greta Lapp Klassen, Gabriella Klopfenstein, Anna Smucker and Nick Yutzy.
Gogo Liegise took first place for a feature photo of Elena Meyer Reimer and Hashem Ammari performing aerial silks at the fall Kickoff event; he also claimed first in a photo essay of that event.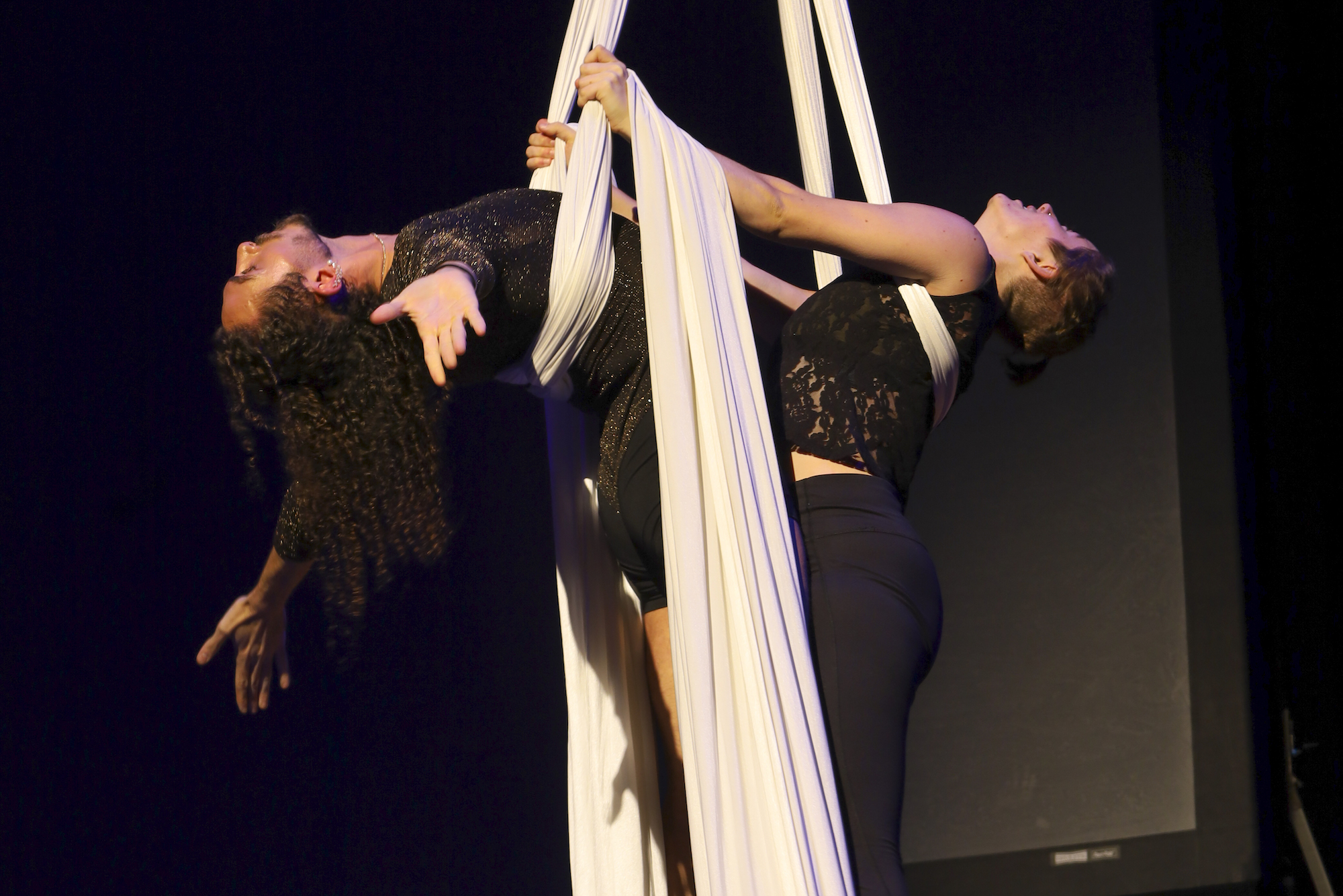 Spencer Waterman also took first, in sports photography, for a shot of cross country runners splashing through muddy water at the national  championship in Cedar Rapids, Iowa.
The other first-place awards included:
Dakota Cain, Caleb Gingerich, Greta Lapp Klassen, Tyson Miller, Liam Morris  and Sierra Ross Richer for best news or feature series, on sustainability;
Eli Reimer, for best entertainment column, for a tour of the best places to nap on campus; the library ranked high: "Something about this place just makes you feel sleepy. Ideal nap building. The basement is especially cozy.";
Jackson Steinmetz, for best sports column, recounting in first-person the preparation for the trip to the cross country national championship in Vancouver;
Albert Aguilar, Adrian Delgadillo, Meaghan Godzisz, Tyson Miller and Liam Morris for their contributions to the Covid Scan special section.
Staff, for best single issue and front-page design,
Second-place awards included:
Augusta Nafziger, best entertainment story;
Greta Lapp Klassen, Mackenzie Miller and Augusta Nafziger, best continuous coverage of a single story, for Covid reportage;
Sierra Ross Richer, opinion article;
Anna Osborne, entertainment column;
Lapp Klassen, feature page design;
Liam Morris, news photo;
Kiprop Kiprotich, sports photo;
Tyson Miller, feature photo;
Nathan Pauls, photo essay;
Nick Yutzy and Lapp Klassen, information graphic;
Yujin Kim, illustration; and staff, best special issue.
Third-place awards included:
Tyson Miller and Amelia Witmer Rich, continuous coverage of a single story, on Girl Named Tom;
and Lapp Klassen, for editorial, in-depth story, design of special section/front cover and illustration.
"This award reflects the contributions of the entire newsroom, which represents every class year and the full range of majors," said Duane Stoltzfus, professor of communication and adviser to The Record. "These student journalists were committed to providing the best possible first draft of college life during historic times. Their work will be deeply missed over the summer pause."